Textbook
Ouvertures: Cours Intermediaire de Francais, 4ème Édition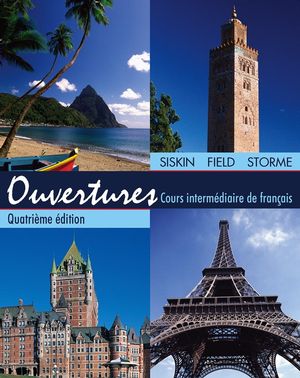 Ouvertures
is a comprehensive intermediate French program that uses culture as the organizing principle to its communicative approach in the teaching of speaking, reading, listening, and writing.  Language is used as a tool to explore the cultures of the Francophone world and their products and perspectives are fully integrated throughout the text and ancillaries. In addition, communication is fostered through the presentation of vocabulary in context, functional language, and opportunities for personalization and role play. Readings, writing assignments, video segments, and online activities provide students with numerous opportunities for making connections among discipline areas.
See More
Chapitre 1. Au seuil de la culture : L'enfant et la famille.
Chapitre 2. Passage vers la communication : Perspectives interculturelles.
Chapitre 3. Accès à la formation de l'esprit : L'enseignement.
Chapitre 4. Perspectives sur l'exil : L'immigration et l'assimilation.
Chapitre 5. Révélations audiovisuelles : Les médias.
Chapitre 6. Comment peut-on être français ? : Source culturelles de l'identité.
Chapitre 7. Regards sur la société : La diversité culturelle de la France.
Chapitre 8. Le Travail et les loisirs : Entrées dans le monde du travail.
Chapitre 9. Perspectives sur le passé : L'histoire et la memoire.
Chapitre 10. L'avenir de la France dans l'Europe : Frontières ouvertes.
Répertoire géographique.
Verb Appendix.
Glossary.
Index.
Credits.
See More
A revised, streamlined chapter structure.

New readings that update the cultural focus of the textbook.

New cultural sections (Notions de culture) that expand the chapter theme.

New, realia-based exercises (À la loupe) designed to encourage critical thinking.

Text-specific Website that enhances the already outstanding cultural presentation of the textbook and provides additional cultural resources and linguistic enrichment

A video program that expands the cultural theme of each chapter, and provides additional practice in listening comprehension

Updated photos and art that increase visual appeal and facilitate comprehension of cultural themes.
See More
Each chapter begins with a document from the Francophone world (an image, a chart, or realia) that students are invited to examine with the help of questions and a series of activities that are intended to stimulate thinking about culture.

Structure Section explains and practices new grammar that has been presented in context and the new grammar is recycled throughout the text.

The readings in Ouvertures represent a wide variety of francophone cultures and are fully integrated with the cultural focus of the particular chapter.

Ouvertures complements the five goal areas articulated by the National Standards: communication, culture, connections, comparisons, and communities.
See More
Instructors Resources
Request a print evaluation copy
Contact us

Contact your Wiley Representative
Find Your Rep

See More
See Less
Purchase Options

Information about Wiley E-Texts:
Wiley E-Texts are powered by VitalSource and accessed via the VitalSource Bookshelf reader, available online and via a downloadable app.
Wiley E-Texts are accessible online and offline, and can be read on a variety of devices, including smartphones and tablets.
Wiley E-Texts are non-returnable and non-refundable.
Wiley E-Texts are protected by DRM. For specific DRM policies, please refer to our FAQ.
WileyPLUS registration codes are NOT included with any Wiley E-Text. For informationon WileyPLUS, click here .
To learn more about Wiley E-Texts, please refer to our FAQ.

Information about e-books:
E-books are offered as e-Pubs or PDFs. To download and read them, users must install Adobe Digital Editions (ADE) on their PC.
E-books have DRM protection on them, which means only the person who purchases and downloads the e-book can access it.
E-books are non-returnable and non-refundable.
To learn more about our e-books, please refer to our FAQ.
Learn more about