Textbook
Horizontes: Repaso y conversacion, Quinta edicion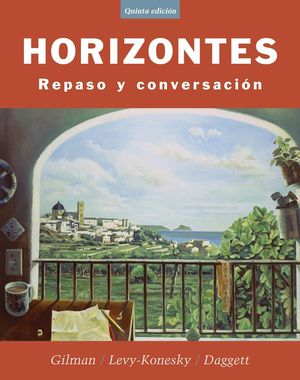 Designed for intermediate Spanish courses, this all-in-Spanish language program provides a strong review of language structures and concepts in practical, authentic and interactive contexts. New and enhanced features include the following:
Two-page lesson openers that serve as advance organizers to engage students and introduce each chapter's geographic region and culture theme.
Reorganized, updated chapter vocabulary followed by extensive practice.
Updated grammar presentations in the target language, presented in culture-rich contexts that facilitate independent learning.
Numerous thematic readings that integrate the chapters' review of language structures while reflecting the culture of the target regions.
Pre- and post-reading activities.
In-depth and fully integrated cultural component.
Communicative task- and realia-based activities.
Strategies for student involvement in real-life and virtual Hispanic communities.
TEXT ORGANIZATION
The fifth edition consists of ten lessons organized as follows: 
Enfoque
This section highlights a specific geographic region of the Hispanic world and serves as an invitation to visit.  A map of the area and colorful photographs reflect the theme of the lesson as well as the target country.  Warm-up questions immediately involve students in discussions related to the lesson theme.
Vocabulario para la comunicación
Each lesson opens with a drawing that depicts a scene from everyday life (such as Primer día de clase, En el aeropuerto, and Los quehaceres domésticos) followed by high-frequency vocabulary words to help students communicate at the intermediate level and beyond.  The exercises that follow offer ample opportunity to master the new words and phrases.
Perspectivas
Chosen with students' interests in mind, these reading develop reading comprehension while highlighting cultural, practical, and contemporary issues related to Spanish and Latin American life.  Pre- and post-reading activities encourage students to partner and participate in meaningful discussions.
Estructuras
Clear, concise grammar explanations are presented entirely in Spanish.  Reading selections, culled from authentic sources such as newspapers, magazines, advertisements, and other sources, showcase the all-important grammar concepts.  Students see "textbook Spanish" translated into daily interchanges among Spanish speakers, where verbs, pronouns, prepositions, and other grammatical items are used as genuine tools of communication. 
Práctica Exercises
Presented in a variety of formats, many exercises and activities are based on real-life situations. Some have specific answers; others are more open-ended and require creative input. All are closely related to the lesson theme and geographic area, and provide opportunities for students to practice the vocabulary and grammar in various contexts.  By the end of the lesson, students can express themselves with confidence about the chapter topics. 
Más allá del aula
This new section, which appears in each lesson starting in lesson six, gets students out into the community practicing their language skills with the more than forty million Spanish speaking people in the United States.
¡Ojo con estas palabras!
This section highlights tricky Spanish words whose meanings can fool the English speaker, such as saber vs. conocer and llevar vs. tomar, as well as false cognates like actualmente.
Ampliación y conversación
These sophisticated activities "put it all together," giving students a chance to practice the vocabulary and grammar structures that they have learned throughout the program.  As always, the emphasis is on real communication and in authentic cultural contexts.  Activities include Encuestas, Mesas redondas, and Minidramas.  Students particularly like these activities because they bring out the actor—and the philosopher—in themselves.  ¿Qué saben Uds. de... ? activities provide a wealth of suggestions for investigating important aspects of the highlighted country.
 ¡Revise su ortografía! provides basic spelling rules to help improve students' writing skills in Spanish. This section is particularly useful to native speakers or heritage language learners who have had little or no Spanish language instruction.
Ampliación y composición
These writing assignments ask students to compose a letter, an opinion essay, or a detailed description, giving them the opportunity to put their thoughts and feelings into words without the pressure of having to pronounce words correctly or speak extemporaneously.  
Available Versions