Textbook
Risks, Controls, and Security: Concepts and Applications, 1st Edition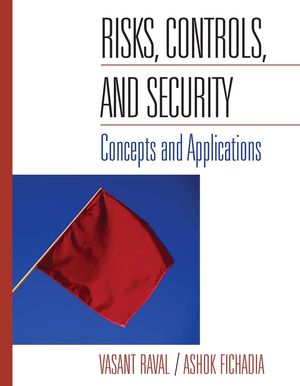 RISKS, CONTROLS AND SECURITY: Concepts and Applications, a new text authored by Vasant Raval and Ashok Fichadia, is a book designed to advance understanding of control and security issues. With this text, students can advance their basic systems controls and security awareness into a clear and current comprehension of concepts, issues, and answers in information security for today's networked world.  Each area discussed takes students from concepts to applications, while keeping real world issues and challenges at the forefront.
Throughout the book, several pedagogical features, including discussion questions, short exercises, and cases, give students the opportunity to solve real-world problem scenarios and help them become familiar with the most current challenges in protecting information assets.
The book is appropriate for advanced undergraduate level and introductory graduate level courses in Accounting, Accounting Information Systems, Management / Computer Information Systems and Computer Science.
See More
Preface.
1. Enterprise Risk Management.
2. Information Systems Concerns and Risks.
3. Control and Security Frameworks.
4. Systems Availability and Business Continuity.
5. Basic Cryptography.
6. Public Key Infrastructure.
7. Operating Systems Security.
8. Application Security.
9. Database Management Systems Security.
10. Telecommunications Security.
11. Network Security.
12. Web Security.
13. Policy, Regulation, and Ethics.
Glossary.
Index.
See More
Vasant Raval is currently Chairman of the Department of Accounting and Professor of Accounting at Creighton University.
See More
•     Helps accounting and business students understand today's control risks and how to manage them.  The book extends the basic understanding of information system control issues to current information technology and complex interconnected networks.
•     All chapters include several real world examples of "Security in Practice".
•     Primer on relevant technology is provided in chapters discussing complex areas of risk and controls.
•     "Concept Maps" throughout the book provide a common visual thread to better integrate relevant concepts.
•     Balanced discussions of technical and managerial content.
•     Key concepts are communicated clearly
•     Focus on security principles and issues for all businesses, including e-businesses.
See More
Purchase Options
Hardcover&nbsp&nbsp&nbsp
Risks, Controls, and Security: Concepts and Applications
ISBN : 978-0-471-48579-7
432 pages
January 2007, ©2007
$149.95&nbsp&nbsp&nbsp
BUY

Information about Wiley E-Texts:
Wiley E-Texts are powered by VitalSource technologies e-book software.
With Wiley E-Texts you can access your e-book how and where you want to study: Online, Download and Mobile.
Wiley e-texts are non-returnable and non-refundable.
WileyPLUS registration codes are NOT included with the Wiley E-Text. For informationon WileyPLUS, click here .
To learn more about Wiley e-texts, please refer to our FAQ.

Information about e-books:
E-books are offered as e-Pubs or PDFs. To download and read them, users must install Adobe Digital Editions (ADE) on their PC.
E-books have DRM protection on them, which means only the person who purchases and downloads the e-book can access it.
E-books are non-returnable and non-refundable.
To learn more about our e-books, please refer to our FAQ.