Textbook
RealTime Physics Active Learning Laboratories Module 1: Mechanics, 2nd Edition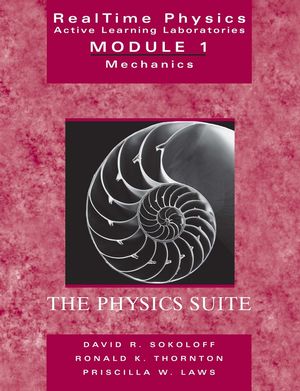 RealTime Physics is a series of introductory laboratory modules that use computer data acquisition tools (miscrocomputer-based lab or MBL tools) to help students develop important physics concepts while acquiring vital laboratory skills. Besides data acquisition, computers are used for basic mathematical modeling, data analysis, and more simulations.
See More
Lab 1: Introduction to Motion.
Lab 2: Changing Motion.
Lab 3: Force and Motion.
Lab 4: Combining Forces.
Lab 5: Force, Mass, and Acceleration.
Lab 6: Gravitational Forces.
Lab 7: Passive Forces and Newton's Laws.
Lab 8: One-Dimensional Collisions.
Lab 9: Newton's Third Law and Conservation.of Momentum.
Lab 10: Two-Dimensional Motion (Projectile Motion).
Lab 11: Work and Energy.
Lab 12: Conservation of Energy.
Appendix A: RealTime Physics Mechanics.
Experiment Configuration.
Files.
See More
Purchase Options
Paperback&nbsp&nbsp&nbsp
RealTime Physics Active Learning Laboratories Module 1: Mechanics, 2nd Edition
ISBN : 978-0-471-48770-8
288 pages
January 2004, ©2004

Information about Wiley E-Texts:
Wiley E-Texts are powered by VitalSource technologies e-book software.
With Wiley E-Texts you can access your e-book how and where you want to study: Online, Download and Mobile.
Wiley e-texts are non-returnable and non-refundable.
WileyPLUS registration codes are NOT included with the Wiley E-Text. For informationon WileyPLUS, click here .
To learn more about Wiley e-texts, please refer to our FAQ.

Information about e-books:
E-books are offered as e-Pubs or PDFs. To download and read them, users must install Adobe Digital Editions (ADE) on their PC.
E-books have DRM protection on them, which means only the person who purchases and downloads the e-book can access it.
E-books are non-returnable and non-refundable.
To learn more about our e-books, please refer to our FAQ.
This title is also available on :