Textbook
RealTime Physics Active Learning Laboratories Module 1: Mechanics, 2nd Edition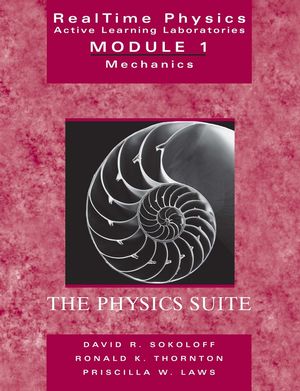 RealTime Physics is a series of introductory laboratory modules that use computer data acquisition tools (miscrocomputer-based lab or MBL tools) to help students develop important physics concepts while acquiring vital laboratory skills. Besides data acquisition, computers are used for basic mathematical modeling, data analysis, and more simulations.
Table of Contents
Lab 1: Introduction to Motion.
Lab 2: Changing Motion.
Lab 3: Force and Motion.
Lab 4: Combining Forces.
Lab 5: Force, Mass, and Acceleration.
Lab 6: Gravitational Forces.
Lab 7: Passive Forces and Newton's Laws.
Lab 8: One-Dimensional Collisions.
Lab 9: Newton's Third Law and Conservation.of Momentum.
Lab 10: Two-Dimensional Motion (Projectile Motion).
Lab 11: Work and Energy.
Lab 12: Conservation of Energy.
Appendix A: RealTime Physics Mechanics.
Experiment Configuration.
Files.
Available Versions