Textbook
Ensemble: Grammaire en action, 7th Edition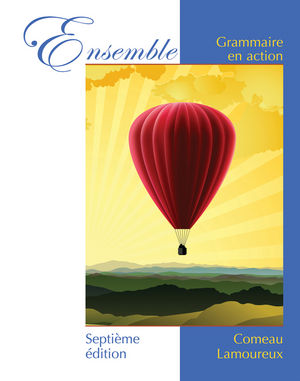 Ensemble: Grammaire en action integrates grammar review, culture, and thematic vocabulary. This integration helps students to express themselves more fully by using grammar in meaningful linguistic and cultural contexts. Grammaire en action is part of the Ensemble series, with Ensemble: Littérature, Ensemble: Culture et société, and Ensemble: Histoire.
See More
Preface.
1. Mini-review, Passé simple, and Dissertation.
2. Present Tense, Imperative, and Personal Pronouns.
3. Nouns and Articles.
4. Reflexives; Passé Composé and Imperfect.
5. Interrogatives and Negatives.
6. Descriptive Adjectives and Adverbs.
7. Future, Conditional, Pluperfect; Devoir.
8. Relative Pronouns and Demonstratives.
9. Subjunctive.
10. Possessives and Prepositions.
11. Passive Voice, Present Participle, and Causative Construction.
Appendix: A. Useful expressions.
Appendix: B. Verb charts.
Appendix: C. Answers to Chapter at a Glance Sections.
Vocabularies.
French-English.
English-French.
Index des noms propres.
Index.
Credits.
See More
The majority of the grammar activities have been revised so they can be done in pairs and groups in order to encourage more student interaction. 
There is a new two-part essay-writing activity.
Current cultural topics have been added in introductory activites and in culture capsules sprinkled throughout the chapters.  There is also a cultural index that includes French and Francophone names and places used in the activities.
The themes in some of the chapters have been reshaped to bring them in line with current cultural trends, and two new themes have been added, one on art, the other on sports. 
See More
Introductory chapter offers a brief review of basic grammatical structures in a clear and concise format that prepares students for the introduction of intermediate grammatical topics.
Chapter at a Glance is a capsule preview composed of model activities treating all the grammar points in the chapter.
The Vocabulaire du thème lists the thematic vocabulary of the chapter. Following each vocabulary list are four activities that allow students to use and expand the vocabulary, and also test their knowledge of current cultural issues.
Activities d' ensemble help students to synthesize grammar points and provide excellent recycling of previously-learned material.

Sujets de discussion sections relate to the chapter theme and suggest topics for oral and written presentations.
See More
Instructors Resources
Request a print evaluation copy
Contact us

Contact your Wiley Representative
Find Your Rep

See More
See Less
Purchase Options
Paperback
Ensemble: Grammaire en action, 7th Edition
ISBN : 978-0-471-48826-2
432 pages
November 2005, ©2006

Information about Wiley E-Texts:
Wiley E-Texts are powered by VitalSource and accessed via the VitalSource Bookshelf reader, available online and via a downloadable app.
Wiley E-Texts are accessible online and offline, and can be read on a variety of devices, including smartphones and tablets.
Wiley E-Texts are non-returnable and non-refundable.
Wiley E-Texts are protected by DRM. For specific DRM policies, please refer to our FAQ.
WileyPLUS registration codes are NOT included with any Wiley E-Text. For informationon WileyPLUS, click here .
To learn more about Wiley E-Texts, please refer to our FAQ.

Information about e-books:
E-books are offered as e-Pubs or PDFs. To download and read them, users must install Adobe Digital Editions (ADE) on their PC.
E-books have DRM protection on them, which means only the person who purchases and downloads the e-book can access it.
E-books are non-returnable and non-refundable.
To learn more about our e-books, please refer to our FAQ.
Learn more about