Textbook
Eccoci!, Euro Edition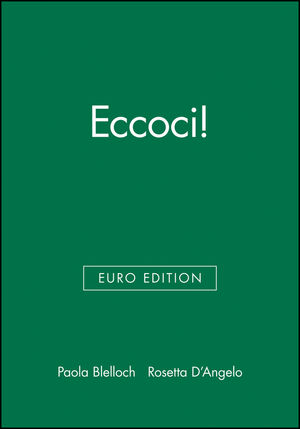 Eccoci! is a comprehensive beginning Italian program that features innovative student-oriented materials and learning goals. Grounded in what we believe is the most effective methodology, Eccoci! has been conceived and developed to provide sound language learning, dynamic interaction, and flexibility.
Because students learn best from materials that are fun, interesting, and relevant, the activities, readings, and authentic documents in Eccoci! foster creativity and encourage the use of Italian in meaningful, everyday situations while promoting cultural awareness and appreciation. Student learning, in fact, is supported throughout the book. Eccoci! is the first Italian textbook structured for manageable teaching and learning at different institutions. Its innovative presentation of grammar?in separate sections called Grammatica and Espansione grammaticale?offers both fundamental structures and optional, expanded grammatical explanations.
See More
Capitolo Preliminaire.
Capitolo 1: L'università.
Capitolo 2: Il mondo del lavoro.
Capitolo 3: La famiglia italiana.
Capitolo 4: Le compere: negozi e mercati.
Capitolo 5: La donna italiana.
Capitolo 6: Le vacanze.
Capitolo 7: Il tempo libero: i passatempi e lo sport.
Capitolo 8: Il carnevale.
Capitolo 9: Le feste italiane.
Capitolo 10: Il cinema italiano.
Capitolo 11: Il cibo i ristoranti.
Capitolo 12: L'arte.
Capitolo 13: La moda.
Capitolo 14: La città e i monumenti.
Capitolo 15: L'ecologia e l'ambiente.
Capitolo 16: La musica e le canzoni.
Capitolo 17: I mezzi di comunicazione.
Capitolo 18: Gli italiani in America.
Verbs.
Vocabulario.
See More
Presentation

A pair of striking photos announce the chapter region and theme. A geographical photo is accompanied by basic information about the region while a thematic photo introduces the communication goals, the grammatical structures, and the cultural topic. The photos may be used as a warm-up or as an end-of-chapter activity.

Per cominciare
This presents the thematic vocabulary and grammatical structures, which become the active material for the chapter, in two meaningful contexts: via an illustrated text or authentic document and via a dialogue (or dialogues), called Incontri.

Nota culturale
Presents topics related to the chapter theme. Specific terms are explained or pertinent statistics are provided at the outset, preparing students to understand and discuss the text. Each Nota culturale is followed by a set of comprehension questions or discussion points.

Grammatica
Is divided into several manageable sections, each built around the specific function the grammar serves. The structure iteself is introduced in context via a set of sample sentences. Each grammar explanation is followed by a set of Attivita, which progress from controlled manipulation of the structure to open-ended communication, with ample opportunity for student interaction in pairs and groups.
See More
Instructors Resources
Request a print evaluation copy
Contact us

Contact your Wiley Representative
Find Your Rep

See More
See Less
Purchase Options
Hardcover
Eccoci!, Euro Edition
ISBN : 978-0-471-64717-1
512 pages
January 2004, ©2004

Information about Wiley E-Texts:
Wiley E-Texts are powered by VitalSource and accessed via the VitalSource Bookshelf reader, available online and via a downloadable app.
Wiley E-Texts are accessible online and offline, and can be read on a variety of devices, including smartphones and tablets.
Wiley E-Texts are non-returnable and non-refundable.
Wiley E-Texts are protected by DRM. For specific DRM policies, please refer to our FAQ.
WileyPLUS registration codes are NOT included with any Wiley E-Text. For informationon WileyPLUS, click here .
To learn more about Wiley E-Texts, please refer to our FAQ.

Information about e-books:
E-books are offered as e-Pubs or PDFs. To download and read them, users must install Adobe Digital Editions (ADE) on their PC.
E-books have DRM protection on them, which means only the person who purchases and downloads the e-book can access it.
E-books are non-returnable and non-refundable.
To learn more about our e-books, please refer to our FAQ.
Learn more about