Textbook
Robot Modeling and Control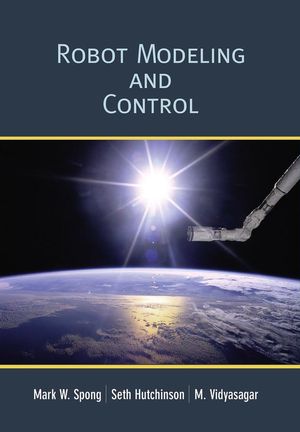 Robot Modeling and Control introduces the fundamentals of robot modeling and control and provides background material on terminology, linear algebra, dynamical systems and stability theory, followed by detailed coverage of forward and in-verse kinematics, Jacobians, Lagrangian dynamics, motion planning, robust and adaptive motion and force control, and com-puter vision.  Both basic and advanced material is presented in a style that is readable and mathematically rigorous.  The book provides relevant applications from industrial robotics and mobile robotics. Suitable for a one or two term course, this text is appropriate for undergraduate and graduate students from electrical engineering, mechanical engineering, computer science, and mathematics and can be used as a research reference. Many detailed worked examples and extensive problems illustrate theory and point the reader to more advanced topics.
See More
Preface.
1. Introduction.
2. Rigid Motions and Homogeneous Transformations.
3. Forward and Inverse Kinematics.
4. Velocity Kinematics-The Jacobian.
5. Path and Trajectory Planning.
6. Independent Joint Control.
7. Dynamics.
8. Multivariable Control.
9. Force Control.
10. Geometric Nonlinear Control.
11. Computer Vision.
12. Vision-Based Control.
Appendix A: Trigonometry.
Appendix B: Linear Algebra.
Appendix C: Dynamical Systems.
Appendix D: Lyapunov Stability.
Index.
See More
Mark W. Spong
is Donald Biggar Willett Professor of Engineering at the
University of Illinois
at Urbana-Champaign. Dr. Spong is the 2005 President of the IEEE Control Systems Society and past Editor-in-Chief of the IEEE Transactions on Control Systems Technology.
Seth Hutchinson
is currently a Professor at the
University of Illinois
in Urbana-Champaign, and a senior editor of the IEEE Transactions on Robotics and Automation. He has published extensively on the topics of robotics and computer vision.
Mathukumalli Vidyasagar
is currently Executive Vice President in charge of Advanced Technology at Tata Consultancy Services (TCS),
India
's largest IT firm. Dr. Vidyasagar was formerly the director of the Centre for Artificial Intelligence and Robotics (CAIR), under Government of India's Ministry of Defense.
See More
Computable treatment of kinematics and jacobians allows students to derive and compute the forward kinematics, inverse kinematics, and Jacobians for the most common robot designs.  No other text offers both the detailed theoretical development and step-by-step computational approach to kinematics.  All formulas are rigorously derived and proved.  For examples, see separate chapters on kinematics and on Jacobians that contain both step-by-step formulas and worked examples.
Vision and visual servo control provide a self contained introduction to the basics of computer vision as applied to robot manipulator.  Students will be able to program robots to manipulate objects sensed by cameras.  Many instructors have indicated a need for a text that includes computer vision in addition to kinematics and dynamics.  See chapters on vision and vision-based control.
Detailed treatment of dynamics allows students to compute the dynamics of the most common manipulator designs after reading the dynamics chapter.  Lagrange's equations are derived from first principles and applied to robotics.  The treatment is rigorous and complete.
Basic treatment of geometric nonlinear control is presented in a more basic and readable form than in more advanced texts.  Students will be able to study research articles and advanced texts more easily after going through this material. An entire chapter is devoted to this topic with worked examples on feedback linearization and control of nonholonomic systems such as mobile robots.
Advanced material is self-contained and easy to present.  See the section on feedback linearization of flexible joint robots.
See More
Instructors Resources
Request a print evaluation copy
Contact us

Contact your Wiley Representative
Find Your Rep

See More
See Less
Purchase Options
Hardcover
Robot Modeling and Control
ISBN : 978-0-471-64990-8
496 pages
November 2005, ©2006

Information about Wiley E-Texts:
Wiley E-Texts are powered by VitalSource and accessed via the VitalSource Bookshelf reader, available online and via a downloadable app.
Wiley E-Texts are accessible online and offline, and can be read on a variety of devices, including smartphones and tablets.
Wiley E-Texts are non-returnable and non-refundable.
Wiley E-Texts are protected by DRM. For specific DRM policies, please refer to our FAQ.
WileyPLUS registration codes are NOT included with any Wiley E-Text. For informationon WileyPLUS, click here .
To learn more about Wiley E-Texts, please refer to our FAQ.

Information about e-books:
E-books are offered as e-Pubs or PDFs. To download and read them, users must install Adobe Digital Editions (ADE) on their PC.
E-books have DRM protection on them, which means only the person who purchases and downloads the e-book can access it.
E-books are non-returnable and non-refundable.
To learn more about our e-books, please refer to our FAQ.