Textbook
Literate Lives: Teaching Reading and Writing in Elementary Classrooms, 1st Edition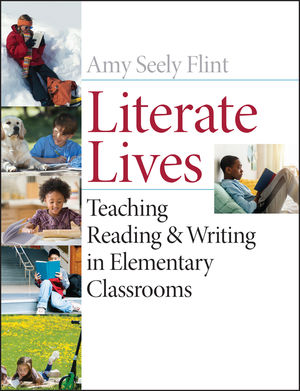 Literate Lives: Teaching Reading and Writing in Elementary Classrooms
invites readers to consider the complexities of the reading process in diverse settings.  The text is designed to meet the challenges and needs of undergraduate and graduate teacher candidates in elementary education programs, helping them to have a better first year (in the classroom) experience.
The text introduces teacher candidates to the notion that reading is a complex, multi-layered process that begins early in a child's life.  Reading by all accounts, is more than decoding symbols on a page. While this is one component of the reading process, it is important for teacher candidates to see a broader more complete picture of reading. Given the role that reading plays in the elementary school curriculum, it is imperative that teachers have a well-developed understanding of the reading process and what it means to be a teacher of readers.
 Literate Lives: Teaching Reading and Writing in the Elementary Classroom covers the major theories and application strategies of the reading process as well as current debates in the field using a unique framework that builds upon the following themes:
believing that literacy is based in social, cultural, and historical contexts
assuming an inquiry stance - being 'problem posers' and wondering 'why'
using "kidwatching" (Goodman, 1985) as an assessment tool to make informed instructional decisions
recognizing and using the multiple literacies that children bring to the classroom
lingering and reflecting on one's decisions in light of what one knows and believes.
See More
Part I. Gaining A Knowledge Base About Reading And Learners.
Chapter 1. Examining Literacy In The Twenty-First Century.
Chapter 2. Oral Language Learning In And Out Of The Classroom.
Chapter 3. Getting To Know Students. Developing Culturally Relevant Practices For Reading And Writing.
Chapter 4. Theories Of Literacy Development.
Chapter 5. Literacy Programs And Approaches.
Chapter 6. Entering Into The Literacy Landscape: Emergent Readers And Writers.
Chapter 7. Beginning Reading And Writing.
Chapter 8. Intermediate And Accomplished Readers And Writers.
Chapter 9. Effective Assessment Practices For Reading And Writing.
Chapter 10. Facilitating Meaningful Literature Discussions.
Chapter 11. Reading To Learn: Using Nonfiction And Electronic Media To Support Literacy Development.
Chapter 12. Factors That Influence Successful Reading And Writing.
Appendices.
Index.
See More
Amy Seely Flint
is an Associate Professor at Georgia State University. She regularly teaches courses in language and literacy for initial certification students, master degree students, and doctoral students. Dr. Flint works closely with teachers at a local elementary school, providing weekly professional development sessions in literacy development. Dr. Flint has received a number of grants to support teachers as they engage in professional development opportunities focused on literacy development. She was an elementary teacher for a number of years in Atlanta, Georgia and Los Angeles, California.
Previously, Dr. Flint taught at Indiana University in Bloomington, Indiana. While at Indiana University, Dr. Flint was selected to be a principle investigator and member of the National Commission on Excellence in Elementary Teacher Preparation for Reading Instruction, sponsored by the International Reading Association. She was also involved in the Critical Literacy Study Group, a collaborative of colleagues, teachers, and preservice teachers that researched the role of critical literacy in elementary classrooms. She served as president of the Whole Language Umbrella and was a member of the executive board for the National Council of Teachers of English for two years.
Dr. Flint is a co-author of one book, Buried Treasures in the Classroom: Using Hidden Influences to Enhance Literacy Teaching and Learning (with Dr. Mary Riordan-Karlsson, published by International Reading Association, 2002) and numerous articles in Journal of Literacy Research, Language Arts, The Reading Teacher, Elementary School Journal, and Young Child. She has authored chapters in Learning to Teach Reading: Setting the Research Agenda (edited by Cathy Roller, published by International Reading Association, 2001) and Improving Reading and Literacy in Grades 1-5 (edited by E P. St. John, S. Loester, and J. Barzdell, published by Corwin Press, 2003).
See More
Each chapter opens with a vignette highlighting teaching decisions made by current teachers and reading specialists in the field.
Following the vignette, "I Wonder" questions are asked to generate reflective thinking. The vignette and follow up questions set the stage for the key concepts that are introduced in the chapter.
Creating Connections boxes are integrated throughout the chapters. These are tasks that a student teacher can do or questions they can think about to bring the text material closer to them personally.
Did You Know is a feature that offers interesting and relevant information about various aspects of teaching literacy. These are often useful topics for further class discussion.
A Chapter Overview further introduces the chapter theme and asks several Guiding Questions for students to think about as they progress through each chapter.
Marginal Technology Links in every chapter that give students additional web resources for research and important information relevant to the chapter topics.
Realia: examples of real student work illustrate the text. These examples provide an important visual component so that new teachers can see how a class may look.
Each chapter ends with In Closing, a brief summary of the main points of the chapter, as well as a review list of Terms to Remember and Resources for More Information.
Marginal Key Terms definitions call out important new terminology that students need to understand and remember.
Invitation for the Classroom assignments are highly practical opportunities for student teachers to bring something they have learned into the class and apply it to the students they will be teaching.
Final Questions for Further Reflection encourage readers to tie together what has been learned in each chapter.
See More
"This vision is grand! … I truly believe that the purpose of literacy education is not just to get answers, but to construct better questions." -- Professor Terri Brandvold, Idaho State University
"Bravo!!! I am so excited to see that you have included such topics as reading aloud, reader's workshop, and specific aspects of these concepts. … The writing flows easily and gives in-depth information which he writing style makes easily understood." -- Nancy Kennedy, Lewis University
See More
Instructors Resources
Digital evaluation copy available for this title
Request Copy

Contact your Wiley Representative
Find Your Rep

See More
See Less
Purchase Options
Literate Lives: Teaching Reading and Writing in Elementary Classrooms
ISBN : 978-0-470-45926-3
464 pages
December 2008, ©2009
Loose-leaf
Literate Lives: Teaching Reading and Writing in Elementary Classrooms, Binder Ready Version
ISBN : 978-0-470-27978-6
464 pages
January 2008, ©2008
Paperback
Literate Lives: Teaching Reading and Writing in Elementary Classrooms
ISBN : 978-0-471-65298-4
464 pages
November 2007, ©2008

Information about Wiley E-Texts:
Wiley E-Texts are powered by VitalSource and accessed via the VitalSource Bookshelf reader, available online and via a downloadable app.
Wiley E-Texts are accessible online and offline, and can be read on a variety of devices, including smartphones and tablets.
Wiley E-Texts are non-returnable and non-refundable.
Wiley E-Texts are protected by DRM. For specific DRM policies, please refer to our FAQ.
WileyPLUS registration codes are NOT included with any Wiley E-Text. For informationon WileyPLUS, click here .
To learn more about Wiley E-Texts, please refer to our FAQ.

Information about e-books:
E-books are offered as e-Pubs or PDFs. To download and read them, users must install Adobe Digital Editions (ADE) on their PC.
E-books have DRM protection on them, which means only the person who purchases and downloads the e-book can access it.
E-books are non-returnable and non-refundable.
To learn more about our e-books, please refer to our FAQ.