Textbook
Guiding Learning With Technology, 1st Edition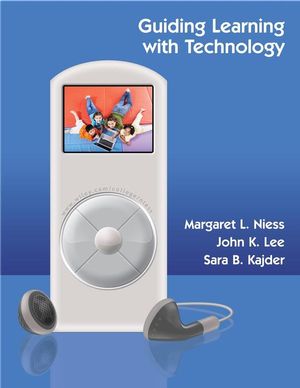 Intended to support the entire teacher preparation program, this text is designed to help teachers guide their students in learning with multiple information and communication technologies -- both existing and emerging. The text challenges thinking in ways that will stimulate interest, preparation, and continued learning in guiding students as they learn with technology. Great focus is placed on preparation of teaching content that develops a strong integrated knowledgebase about technology, teaching content with technology, and incorporating sound teaching and learning practices with technologies as integral learning tools.
See More
Part I: Preparing Teachers to Guide Learning with Technology in the 21st Century.
1. Teaching in the 21st Century.
2. Technology Standards for Teachers.
3. Learning and Knowledge in the 21 Century.
4. Technology Standards for Students.
Part II: Connecting Technology With Learning.
5. Writing and Word Processing.
6. Spreadsheets.
7. The Internet and Databases.
8. Multimedia and Media Literacy.
9. Hypermedia and Web Authoring.
10. Responding to Emerging Technologies.
Part III. Connecting Technology with Teaching.
11. Models and Strategies for Technology-Infused Lessons.
12. Designing, Implementing, and Reflecting on Instruction with Technology.
13. Assessing Learning with Technology.
Part IV. Standards, References and More.
See More
Classroom Snapshots: Vignettes that provide a look into the classroom where technology is enhancing learning.
Focus on TPCK: TPCK describes the knowledgebase that teachers need when using technology in classroom.
NETS-S Standards: Current standards for both students and teachers are interwoven throughout the text.
Each chapter focuses on integrating technologies in subject matter as students learn with the technology.
Includes instructional ideas for integrating learning about technologies in language arts, mathematics, science, and social studies.
Multimedia Literacy: Curriculum focused toward multiple media applications in identifying and developing literacy for the 21st century.
In the Classroom Matrix: Summarizes all activities in the text, describing the content and grade level.
Technology Links: Publisher website provides current links to key websites referred to in the text.
End of Chapter Activities: Supported by sets of annotated resources to guide student activities beyond the chapter.
Chapter Learning Objectives: Prepare students for reading and applying the ideas in each chapter.
See More
Instructors Resources
ENHANCE YOUR COURSE
Digital evaluation copy available for this title
Request Copy

Contact your Wiley Representative
Find Your Rep

See More
See Less
Students Resources
See More
See Less
Purchase Options

Information about Wiley E-Texts:
Wiley E-Texts are powered by VitalSource technologies e-book software.
With Wiley E-Texts you can access your e-book how and where you want to study: Online, Download and Mobile.
Wiley e-texts are non-returnable and non-refundable.
WileyPLUS registration codes are NOT included with the Wiley E-Text. For informationon WileyPLUS, click here .
To learn more about Wiley e-texts, please refer to our FAQ.

Information about e-books:
E-books are offered as e-Pubs or PDFs. To download and read them, users must install Adobe Digital Editions (ADE) on their PC.
E-books have DRM protection on them, which means only the person who purchases and downloads the e-book can access it.
E-books are non-returnable and non-refundable.
To learn more about our e-books, please refer to our FAQ.
This title is also available on :