Textbook
Guided Inquiry Experiments for General Chemistry: Practical Problems and Applications, 1st Edition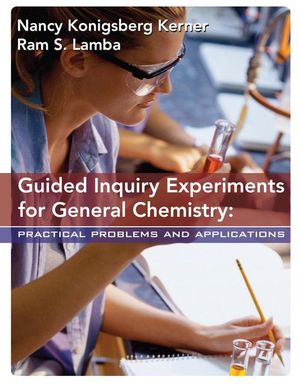 I
nquiry Experiments for General Chemistry: Practical Problems and Applications
is a lab manual designed for students in introductory chemistry courses.  The manual is the result of several projects funded primarily by the National Science Foundation and developed chiefly at the
University
of
Puerto Rico
at Cayey,
Inter
American
University
of Puerto Rico, Metropolitan Campus, and the
University
of
Michigan
at
Ann Arbor
.  The experiments have been thoroughly tested with undergraduate non-chemistry and non-science majors as well as with pre-med, engineering, science (including chemistry), and future teachers majors.  Successful use of the experiments has occurred outside the institutions of origin including secondary institutions, community colleges and universities.
See More
Unit 1. Scientific Method.
Unit 2. Stoichiometry.
Unit 3. Solutions, Atomic Structure, and Periodicity.
Unit 4. Reactivity and Periodicity.
Unit 5. Gases.
Unit 6. Thermochemistry.
Unit 7. Structure and Property Relationships.
Unit 8. Equilibrium.
Unit 9. Acids and Bases.
Unit 10. Oxidation and Reduction.
Unit 11. Electrochemistry.
Unit 12. Kinetics.
See More
Approach encourages scientific thinking which closely reflects what occurs in scientific research

Stresses the skills associated with the processes of science that research scientists' use
Enhances students' thinking skills and understanding of key chemical concepts within a practical problem-solving context
Based on accepted educational theory that students construct their knowledge from involvement, experience, and models
Details are streamlined in later experiments to promote active learning
See More
"There are few inquiry-based lab manuals available, and this one is perhaps the best I've seen. The use of scenarios to set each experiment in a context is engaging.  The format appeals to students and helps them develop knowledge and skills that many instructors claim are essential, but few students actually learn and few instructors actually teach in traditional lab courses.  The emphasis on science writing skills is a plus.  Another plus is the emphasis on teamwork in the experiments, and collaborative work to gather a large set of data that the students then analyze."
Kristine Kirk, College of Notre Dame of Maryland.
"I like the added real-world framework.  The Extensions/Application sections are excellent, and would I think have a very positive impact on learning."
Roderick M. Macrae, Marian College
"This is a great way to teach lab to general chemistry students.  It emphasizes a more realistic way in which a scientific problem is approached, and requires students to think, interpret and draw conclusions from data they obtained."
Kathie Snyder, Winthrop University
"I believe that students would be the real winners in a laboratory approach like this. They get to see the relationships and develop an understanding of the content rather than just memorize information.  The approach is truly making the lab an extension of the lecture.  They are not just validation labs which in my opinion are the least effective means of teaching." 
Donnie Byers, Johnson County Community College
"This type of inquiry-based chemical laboratory experimentation will improve student's thinking and problem solving skills.  It will also give them a sense of accomplishment when they complete a lab and its report especially is they must pretend that they are part of a company team and must make an oral/written report with supported recommendations to the group."
Patrick Barber, Longwood University
"This project is well thought-out, well-organized, and high quality.  It is clear that the authors took the time to carefully design and test these labs.  The risk you run with this material is that users who are not familiar with guided-inquiry instruction might be tempted to "improve" the labs by making ill-considered changes and additions.  With a properly documented lab manual, the authors can take advantage of a valuable opportunity to educate their peers and help promote increased acceptance of the method."
Edward Baum, Grand Valley State University
See More
Instructors Resources
Digital evaluation copy available for this title
Request Copy

Contact your Wiley Representative
Find Your Rep

See More
See Less
Purchase Options
Paperback
Guided Inquiry Experiments for General Chemistry: Practical Problems and Applications
ISBN : 978-0-471-69842-5
436 pages
October 2007, ©2008

Information about Wiley E-Texts:
Wiley E-Texts are powered by VitalSource and accessed via the VitalSource Bookshelf reader, available online and via a downloadable app.
Wiley E-Texts are accessible online and offline, and can be read on a variety of devices, including smartphones and tablets.
Wiley E-Texts are non-returnable and non-refundable.
Wiley E-Texts are protected by DRM. For specific DRM policies, please refer to our FAQ.
WileyPLUS registration codes are NOT included with any Wiley E-Text. For informationon WileyPLUS, click here .
To learn more about Wiley E-Texts, please refer to our FAQ.

Information about e-books:
E-books are offered as e-Pubs or PDFs. To download and read them, users must install Adobe Digital Editions (ADE) on their PC.
E-books have DRM protection on them, which means only the person who purchases and downloads the e-book can access it.
E-books are non-returnable and non-refundable.
To learn more about our e-books, please refer to our FAQ.
Learn more about