Textbook
Child Psychology: Development in a Changing Society, 5th Edition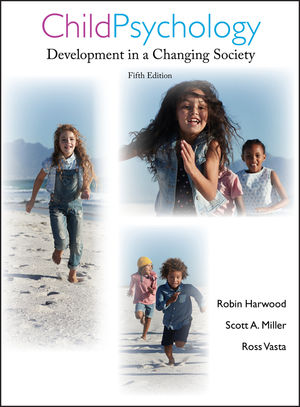 This new fifth edition captures the excitement and relevance of child psychology at the beginning of the 21st century; a theme that is exemplified in the text's new subtitle: Child Development in a Changing Society. In addition to extensive research coverage, each chapter includes an additional section that relates the chapter subject to social and cultural contexts, or implications of research for social policy, public practice, or societal change. This new edition places children, child development, and the contexts in which development occurs at the center of the discourse. Thus, this edition has a strong balance of theory, research, and real-world application.
See More
Part I. Understanding the Contexts of Child Development.
1. Frameworks for Development.
2. Studying Child Development and its Contexts.
3. The Biological Context of Development.
Part II. Contexts of Physical Development.
4. Prenatal Development, Birth, and the Newborn.
5. Early Capacities in Infancy.
6. The Brain, Physical Growth, and Health.
Part III Contexts of Cognitive Development.
7. Piaget and Vygotsky.
8. Information Processing and Core Knowledge Approaches.
9. Intelligence and Schooling.
10. Language and Communication.
Part IV. Contexts of Social and Emotional Development.
11. Social and Emotional Worlds of Infants and Young Children.
12. Self and Identity.
13. Sex Differences and Gender Role Development.
14. Moral Development. 
15. Relationships with Peers.
16. Families and Society.
See More
Robin Harwood
is a Research Scientist at the University of Connecticut, Department of Anthropology, and a Faculty Associate, Psychology Department, Ruhr University, Bochum, Germany.
Scott A. Miller is a Professor at the University of Florida. He is a member of the American Psychological Association - Division of Developmental Psychology.
Contributing Authors
Frances  Waksler, Wheelock College
Alastair Younger, Imperial College
Lisa Comparini, Clark University
Vivian Carlson, St. Joseph's College
Jeannine Pinto, Lafayette College
Patricia Greenfield, UCLA
Katheryn Hirsh-Pasek, Temple University
Roberta Golinkoff, University of Delaware
Gail Rollins, University of Connecticut
Amy Miller, Public Policy Director
Caroline Johnston, University of Connecticut
Chloe Bland, New School for Social Research
Ronald P. Rohner, University of Connecticut
Abdul Khaleque, University of Connecticut
See More
New lead author Robin Harwood.
Chapter Summaries: Each chapter ends with a summary of the major points and issues to help students organize and review the material and facilitate learning by linking to chapter objectives.
Updated Illustration Program: New full-color figures and drawings were selected that depict situations and events described in the text, along with illustrations of lab and research techniques.
See More
Emphasis on the contextualist view of human development. In addition to discussing effects of schools, families, and peers in separate chapters, contextual factors are also considered.
Cultural Diversity: Discussions of development in different cultures are woven throughout the text.
Research and Society sections are designed to make students aware of recent and exciting research findings that have high real-world relevance and application.
A number of pedagogical aids, including chapter-opening vignettes, a running glossary, internal summaries, and Test Your Mastery and For Discussion questions.
See More
Instructors Resources
Digital evaluation copy available for this title
Request Copy

Contact your Wiley Representative
Find Your Rep

See More
See Less
Purchase Options

Information about Wiley E-Texts:
Wiley E-Texts are powered by VitalSource and accessed via the VitalSource Bookshelf reader, available online and via a downloadable app.
Wiley E-Texts are accessible online and offline, and can be read on a variety of devices, including smartphones and tablets.
Wiley E-Texts are non-returnable and non-refundable.
Wiley E-Texts are protected by DRM. For specific DRM policies, please refer to our FAQ.
WileyPLUS registration codes are NOT included with any Wiley E-Text. For informationon WileyPLUS, click here .
To learn more about Wiley E-Texts, please refer to our FAQ.

Information about e-books:
E-books are offered as e-Pubs or PDFs. To download and read them, users must install Adobe Digital Editions (ADE) on their PC.
E-books have DRM protection on them, which means only the person who purchases and downloads the e-book can access it.
E-books are non-returnable and non-refundable.
To learn more about our e-books, please refer to our FAQ.