Textbook
Visualizing Elementary Social Studies Methods, 1st Edition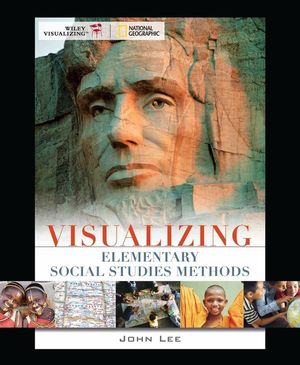 This debut edition of
Visualizing Elementary Social Studies
offers students a unique way to explore issues and ideas about how to teach social studies using text, pictures, and graphics brought together in a stimulating and thoughtful design.
In this book, content and pedagogy are blended to take advantage of the rich visual context that National Geographic images provide. Students who use this book will explore central teacher education topics in elementary social studies along with concepts and ideas from social studies disciplines including history, geography, political science, economics and behavioral sciences.
Visualizing Elementary Social Studies is infused with explorations of how to teach in subject matter contexts given the democratic purposes of social studies.
This Wiley Visualizing title is a unique book that combines Wiley's expertise in creating top quality textbooks with rich visual resources such as photographs, maps, illustrations, diagrammatic art, and videos, and the content and teaching expertise of new and current authors and unique partnerships. Visualizing Elementary Social Studies relies heavily on the integration of these visuals with text to elucidate concepts for students and solidify their understanding of them. The goal is to help students understand the world around them and interpret what they see in a meaningful, accurate and exciting way. The content, design and layout of the titles take advantage of the full capacity in which students process information – visual as well as verbal.  
Looking for a more cost-effective way to purchase this text? Check out www.wiley.com/college.wileyflex to learn more!
See More
1. What is Social Studies?
2. Reflective Social Studies Teaching.
3. Inquiry in Social Studies.
4. Standards, Curriculum, and Testing.
5. Teaching for Historical Understanding.
6. Teaching for Geographic Awareness.
7. Teaching for Civic Competency.
8. Direct Teaching and Learning.
9. Interactive Teaching and Learning.
10. Literacy in Social Studies.
11. Planning for Active Student Learning.
12. Teaching Social Studies in a Diverse Society.
13. Assessing Learning.
14. Promoting Student Learning with Technology.
See More
John Lee is an associate professor of social studies education at North Carolina State University. His research and teaching are focused on methods of instruction and pedagogical content knowledge.
See More
Visualizing features: Multi-part visual spreads that focus on a key issue, concept, or topic in the chapter, exploring it in detail or in broader context using a combination of photos.
Chapter Introductions: Illustrate a particular idea with relevant stories, as a way to heighten and initiate consideration of the chapter theme.
Unique Lesson Plans include illustrations, photos and maps that are focused on authentic, curriculum-based subject matter for elementary audiences.
Process Diagrams: Diagrams and figures presented along with photos or illustrations that describe and depict a complex process.
In the Classroom: Features specific events or a series of events from an elementary classroom that highlight a specific idea from each chapter.
Social and Cultural Explorations: Focuses on social studies methods and issues through the lens of culture and society using images of people from various countries.
What is Happening in This Picture?: An end-of-chapter feature that presents students with a photograph paired with questions designed to stimulate creative thinking.
Critical and Creative Thinking Questions: Encourage critical thinking and highlight each chapter's important concepts and applications.
See More
Instructors Resources
ENHANCE YOUR COURSE
Digital evaluation copy available for this title
Request Copy

Contact your Wiley Representative
Find Your Rep

See More
See Less
Students Resources
See More
See Less
Purchase Options
Visualizing Elementary Social Studies Methods
ISBN : 978-0-470-46553-0
November 2008, ©2009
Loose-leaf&nbsp&nbsp&nbsp
Visualizing Elementary Education Social Studies, Binder Ready Version
ISBN : 978-0-470-30488-4
448 pages
January 2008, ©2008
Paperback&nbsp&nbsp&nbsp
Visualizing Elementary Social Studies Methods
ISBN : 978-0-471-72066-9
448 pages
September 2007, ©2008

Information about Wiley E-Texts:
Wiley E-Texts are powered by VitalSource technologies e-book software.
With Wiley E-Texts you can access your e-book how and where you want to study: Online, Download and Mobile.
Wiley e-texts are non-returnable and non-refundable.
WileyPLUS registration codes are NOT included with the Wiley E-Text. For informationon WileyPLUS, click here .
To learn more about Wiley e-texts, please refer to our FAQ.

Information about e-books:
E-books are offered as e-Pubs or PDFs. To download and read them, users must install Adobe Digital Editions (ADE) on their PC.
E-books have DRM protection on them, which means only the person who purchases and downloads the e-book can access it.
E-books are non-returnable and non-refundable.
To learn more about our e-books, please refer to our FAQ.
This title is also available on :