Textbook
Understanding Abnormal Child Psychology, 2nd Edition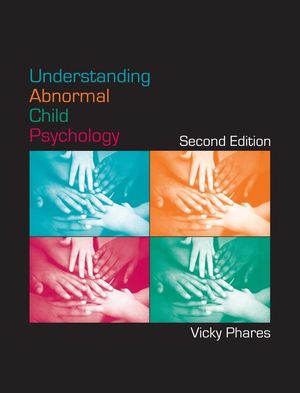 Understanding Abnormal Child Psychology emphasizes developmental psychopathology as a means for understanding and treating abnormal behavior in children.  The text emphasizes strengths and healthy outcomes as a means for designing effective therapies to help children and families, as well as focusing on prevention as a cornerstone of managing child behavior.  Throughout this book, special attention is given to issues of diversity, inclusion, and understanding. The text also examines the relationships between children and their fathers as well as with other primary figures within families (i.e., siblings, step-parents, care-taking grandparents, foster parents, etc.).  In this second edition, a wealth of new research is reviewed and a number of features have been added to make the book more student-friendly.
See More
Foundations.
1.  Conceptualizations in Normality and Abnormality in Children and Adolescents.
2.  Theories of Abnormality in Children and Adolescents.
3.  Research Methods in the Study of Developmental Psychopathology.
4.  Assessment and Treatment of Emotional/Behavioral Problems in Children, Adolescents and Families.
Risk and Protective Factors.
5.  Risk Factors and Issues of Prevention.
6.  Protective Factors and Issues of Prevention.
Internalizing Problems.
7.  Mood Disorders.
8.  Anxiety Disorders.
Externalizing Problems.
9.  Attention Deficit/Hyperactivity Disorder.
10.  Disruptive Disorders.
11.  Substance Use, Abuse, and Dependence.
Other Problems.
12.  Pervasive Developmental Disorders and Schizophrenia.
13.  Learning Disorders and Mental Retardation.
14.  Pediatric Psychology and Health Psychology for Children and Adolescents.
Applying What You've Learned.
15.  How You Can Help Children.
See More
Additional emphasis has been placed on developmental disabilities and mental retardation. 

Additional information highlighted in a number of areas, including the new Individuals with Disabilities Act in Education (IDEA), childhood obesity, binge eating disorder, new nation-wide outcome studies for the treatment of attention deficit/hyperactivity disorder (ADHD) and depression, multicultural issues, young children and feeding disorders, and the parent-child relationship. 

Current controversies and issues receiving a great deal of media attention are included, such as the use of antidepressant medication with youth and the controversies associated with the diagnosis of ADHD and bipolar disorder.

New!  "You Decide" - intended to help students remain engaged in critical thinking and relevant material - students are provided with research data on a "hot topic" regarding children and invited to make up their minds on the topic.  
See More
Highlighted sections help students to see the commonalities and differences of abnormal child behavior within a cross-cultural and international context.
Case studies and stories about children, adolescents, and families  throughout apply the scholarly literature to real life.
Readings and films suggestions at the end of each chapter for first-hand accounts of abnormal child psychology.
See More
Purchase Options
Hardcover&nbsp&nbsp&nbsp
Understanding Abnormal Child Psychology, 2nd Edition
ISBN : 978-0-471-72411-7
566 pages
April 2007, ©2008
$219.95&nbsp&nbsp&nbsp
BUY

Information about Wiley E-Texts:
Wiley E-Texts are powered by VitalSource technologies e-book software.
With Wiley E-Texts you can access your e-book how and where you want to study: Online, Download and Mobile.
Wiley e-texts are non-returnable and non-refundable.
WileyPLUS registration codes are NOT included with the Wiley E-Text. For informationon WileyPLUS, click here .
To learn more about Wiley e-texts, please refer to our FAQ.

Information about e-books:
E-books are offered as e-Pubs or PDFs. To download and read them, users must install Adobe Digital Editions (ADE) on their PC.
E-books have DRM protection on them, which means only the person who purchases and downloads the e-book can access it.
E-books are non-returnable and non-refundable.
To learn more about our e-books, please refer to our FAQ.