Textbook
Psychological Testing: A Practical Introduction, 2nd Edition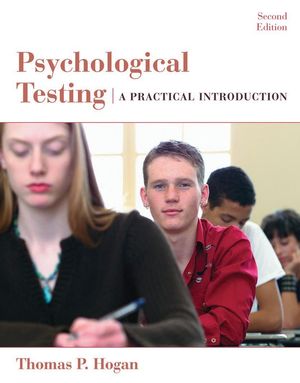 Psychological Testing:  A Practical Introducation, 2nd Edition provides a comprehensive introduction to major psychometric principles, accompanied by "real world" examples demonstrating test usage in contemporary practice.  The text explores concepts including reliability, validity, norms development, approaches to both norm-referenced and criterion-referenced interpretation, methods of studying test bias, and procedures for test development.  Additionally, the book is written in clear, student-friendly language, without ommitting difficult issues and concepts.  The book describes examples of tests in major domains, including intelligence, personality (both objective and projective), clinical methods, achievement, interests and attitudes, and neuropsychology. 
See More
PREFACE.
ACKNOWLEDGMENTS.
PART ONE.
CHAPTER 1. THEWORLD OF PSYCHOLOGICAL TESTING.
CHAPTER 2. SOURCES OF INFORMATION ABOUT TESTS.
CHAPTER 3. TEST NORMS.
CHAPTER 4. RELIABILITY.
CHAPTER 5. VALIDITY.
CHAPTER 6. TEST DEVELOPMENT AND ITEM ANALYSIS.
PART TWO.
CHAPTER 7. INTELLIGENCE:THEORIES AND ISSUES.
CHAPTER 8. INDIVIDUAL TESTS OF INTELLIGENCE.
CHAPTER 9. GROUP TESTS OF MENTAL ABILITY.
CHAPTER 10. NEUROPSYCHOLOGICAL ASSESSMENT.(BROOKE CANNON).
CHAPTER 11. ACHIEVEMENT TESTS.
CHAPTER 12. OBJECTIVE PERSONALITY TESTS.
CHAPTER 13. CLINICAL INSTRUMENTS AND METHODS.
CHAPTER 14. PROJECTIVE TECHNIQUES.
CHAPTER 15. INTERESTS AND ATTITUDES.
CHAPTER 16. ETHICAL AND LEGAL ISSUES.
APPENDIXES.
A. TEST REVIEWING AND SELECTION.
B. HOW TO BUILD A (SIMPLE) TEST.
C. CONTACT INFORMATION FOR MAJOR TEST PUBLISHERS.
D. SAMPLE DATA SETS.
E. ANSWERS TO SELECTED EXERCISES.
GLOSSARY.
REFERENCES.
TEXT AND ILLUSTRATION CREDITS.
INDEX.
See More
Thomas P. Hogan teaches in the Education and Psychology Departments of the University of Scranton. Having written over 100 articles, presentations, papers, and chapters on educational measurement and assessment issues, he has also coauthored several widely used standardized and criterion-referenced assessment instruments. Dr. Hogan frequently serves as a consultant to school, state, and national organizations on assessment issues.
See More
Chapter 15, Special Applications has been eliminated, yet the section on Behavioral Assessment has been transferred to Chapter 13.

Chapter 12 has been split in two to better coverage of self-report inventories and clinical instruments and methods.

The Test Bank and Instructor's Manual have been updated to reflect all changes in the text.

Descriptions of tests are thoroughly up-to-date.
See More
"Try It" exercises require application of concepts and procedures treated in the text to real-life, contemporary situations.

Each chapter features Chapter Objectives, Key Point Summaries accompanying major sections of material within each chapter, and end-of-chapter summaries and exercises help students organize their learning.

The major conceptual and procedural approaches for each category of psychological test are delineated with examples given for each.
See More
Purchase Options
Hardcover&nbsp&nbsp&nbsp
Psychological Testing: A Practical Introduction, 2nd Edition
ISBN : 978-0-471-73807-7
736 pages
October 2006, ©2007
$239.95&nbsp&nbsp&nbsp
BUY

Information about Wiley E-Texts:
Wiley E-Texts are powered by VitalSource technologies e-book software.
With Wiley E-Texts you can access your e-book how and where you want to study: Online, Download and Mobile.
Wiley e-texts are non-returnable and non-refundable.
WileyPLUS registration codes are NOT included with the Wiley E-Text. For informationon WileyPLUS, click here .
To learn more about Wiley e-texts, please refer to our FAQ.

Information about e-books:
E-books are offered as e-Pubs or PDFs. To download and read them, users must install Adobe Digital Editions (ADE) on their PC.
E-books have DRM protection on them, which means only the person who purchases and downloads the e-book can access it.
E-books are non-returnable and non-refundable.
To learn more about our e-books, please refer to our FAQ.