Textbook
Energy and the Environment, 2nd Edition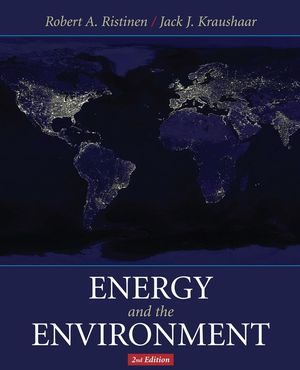 The cover photo showing illuminated areas of the Earth at night as seen from space satellites illustrates global energy use patterns. The global extent of increasing energy use is cause to examine the ramifications of resource consumption and its effects on the world in which we live. This text examines several critical topics of global importance associated with our increasing use of resource consumption and its impact on our environment.

Energy and the Environment, 2e provides updated information on pivotal issues that surround the study of energy through the exploration of basic concepts, resources applications, and problems of current interest. The text presents up-to-date research and data from the pages of current journals and government publications.
See More
Chapter 1. Energy Fundamentals, Energy Use in an Industrial Society.
Chapter 2. The Fossil Fuels.
Chapter 3. Heat Engines.
Chapter 4. Renewable Energy Sources I: Solar Energy.
Chapter 5. Renewable Energy Sources II: Alternatives.
Chapter 6. The Promise and Problems of Nuclear Energy.
Chapter 7. Energy Conservation.
Chapter 8. Transportation.
Chapter 9. Air Pollution.
Chapter 10. Global Effects.
Epilogue: Looking Ahead.
Appendix A: Linear Plots, Semilogarithmic Plots, and Exponential Growth.
Appendix B: Fahrenheit, Celsius, and Kelvin Temperature Scales.
Answers to Selected End-of-Chapter Problems.
Index.
See More
Robert A. Ristinen is a retired Professor pf Physics at the University of Colorado in Boulder. Since 1974, he has taught the Energy and Environment course several times. Ristinen is a Former Chair of the University Energy Conservation Committee and has served for many years as Chair of the University's Radiation Safety Committee.
Jack J. Kraushaar is a retired Professor of Physics at the University of Colorado in Boulder. He started teaching the course on Energy and the Environment in 1971 and has taught it several times since then. He has served on the Rocky Flats Citizens Advisory Committee, on the Boulder County Energy Conservation Board, and on the University Energy Conservation Committee.
See More
Updated energy use and statistics
On-line Instructor's Manual with resources to help instructors with lectures and assignments
See More
Most current book on the market
Written for liberal arts and general interest students
Good balance of basic science and current topics
See More
Purchase Options

Information about Wiley E-Texts:
Wiley E-Texts are powered by VitalSource technologies e-book software.
With Wiley E-Texts you can access your e-book how and where you want to study: Online, Download and Mobile.
Wiley e-texts are non-returnable and non-refundable.
WileyPLUS registration codes are NOT included with the Wiley E-Text. For informationon WileyPLUS, click here .
To learn more about Wiley e-texts, please refer to our FAQ.

Information about e-books:
E-books are offered as e-Pubs or PDFs. To download and read them, users must install Adobe Digital Editions (ADE) on their PC.
E-books have DRM protection on them, which means only the person who purchases and downloads the e-book can access it.
E-books are non-returnable and non-refundable.
To learn more about our e-books, please refer to our FAQ.
Learn more about