Textbook
Dicho y hecho: Beginning Spanish, 8th Edition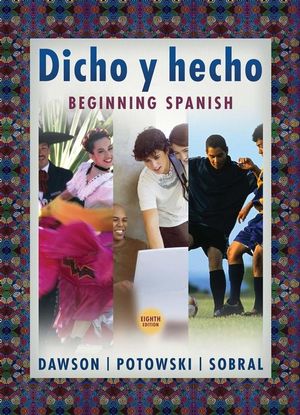 <
>
Resources for Instructors
Resources for Instructors
Dicho 8e Activities Manual
The activities manual contains two components:
1. The Workbook links reading and writing, builds vocabulary, practices grammar, and helps students develop personal expression and composition skills. Some activities are self correcting and the answer key appears at the end of the Activities Manual.
2. The Lab Manual can be used with the Lab Audio Program available on CDs and in WileyPLUS. The Lab Manual includes a variety of contextualized listening comprehension activities.
---
Dicho 8e Lab Audio CDs
The Lab Audio Program is coordinated with the Lab Manual in the Activities Manual. The audio program is available on CD and in WileyPLUS for students and instructors. The audioscript is included in the Instructor's Resource Manual.
---
Dicho 8e Quia® Activities Manual Reg Card
Offers an electronic version of the Activities Manual with its workbook, lab manual, and DVD activities. This electronic version allows instructors to assign work to students that will be automatically graded as well as work that can be manually graded by the professor. Quia® also contains a gradebook that allows instructors to view class statistics in a variety of ways and that provides students with individual feedback.
---
Dicho y hecho 8e AIE & Audio CDs
Contains side notes with suggestions for teaching, meaningful structural exercises, suggestions for varying or expanding communicative activities, and scripts for comprehension activities. These annotations are especially helpful for first-time instructors. The Annotated Instructor's Edition includes CDs that contain the listening activities plus the audio materials for the student edition.
---
Instructor's Companion Site with Testing Program and PowerPoint Slides
www.wiley.com/college/dawson
The website for instructors features an online Instructor Resource Manual, including Word and computerized versions of exams and digital exam audio files. It also includes image gallery, answer key for the exams and the Lab Manual, audio and video scripts, and PowerPoint presentations.
---
by Laila M. Dawson
978-0-470-38169-4
---
Video to Accompany Dicho y hecho, 8E: Documentales culturales (DVD)
The DVD set for Dicho y hecho 8e includes 2 discs: 1) Documentales y diálogos DVD -- Main DVD. Features 15 dialogues tightly connected to the grammar and vocabulary from each chapter, and 15 documentaries featuring real-life people interviewed in authentic settings. The videos within this DVD contain a variety of characters, with a variety of accents, in numerous settings; a good way to expose students to different experiences. 2) Documentales culturales DVD -- An "extra" with short documentary-style cultural films. This DVD set is complementary for instructors and can be purchased by students. They are also available digitally in WileyPLUS.
---
WileyPLUS
WileyPLUS for Spanish No other suite of resources keeps Spanish students as motivated and as on-task as WileyPLUS! WileyPLUS helps students optimize language acquisition, allowing them to practice and assess their progress in both written and spoken Spanish. Instructors get an array of tools to manage and create consistent classroom materials.
• Easy-to-conduct interactive activities immerse students in the culture while providing grammar, structure and vocabulary practice.
 • Assessment and remedial support tools help you monitor student progress.
• Audio recording functions allow students to record themselves and compare the waveforms with examples from native speakers.
• WileyPLUS standardizes creation of materials, grading, assessment, and more across all the instructors in your institution.
Find out more about WileyPLUS at www.wiley.com/college/experience.
 For more information on Wiley texts, visit us at www.wiley.com/college/spanish.
---