Textbook
Dicho y hecho: Beginning Spanish, 8th Edition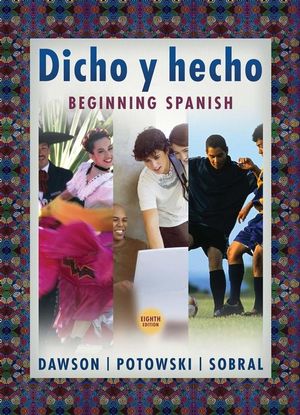 Building on
Dicho y hecho
's strong tradition, now beyond its 25
th
year, this eighth edition seeks to maintain the features that have made
Dicho y hecho
extremely successful while incorporating an unwavering focus on authentic communication. 
This textbook is available with WileyPLUS, which contains the full online version of this text, plus an integrated suite of easy-to-use teaching and learning resources. Using WileyPLUS, instructors automate the assigning and grading process; create interactive class presentations, and provide students with self-guided practice and context-sensitive help as they work on assignments. Learn more at www.wileyplus.com.
Dicho y hecho, 8th Edition is  also available in the following versions:
ISBN 978-0-470-17117-2:   Dicho y hecho, 8th Edition, Annotated Instructor's Edition (with CD-ROM).
ISBN 978-0-470-28079-9:   Dicho y hecho, 8th Edition with WileyPLUS (Main Student Text with WileyPLUS).
ISBN 978-0-470-27977-9:  Dicho y hecho, 8th Edition, Binder Ready Version (Binder Ready Version of Main Student Text).
Table of Contents
Capítulo 1: Nuevos encuentros.
Capítulo 2: La vida universitaria.
Capítulo 3: Así es mi familia.
Capítulo 4: ¡A la mesa!
Capítulo 5: Recreaciones y pasatiempos.
Capítulo 6: La rutina diaria.
Capítulo 7: Por la ciudad.
Capítulo 8: De compras.
Capítulo 9: La salud.
Capítulo 10: Así es mi casa.
Capítulo 11: Amigos y algo más.
Capítulo 12: Aventuras al aire libre.
Capítulo 13: De viaje.
Capítulo 14: En la carretera.
Capítulo 15: El mundo en las noticias.
New To This Edition
Notas culturales: Three to four short boxes on cultural themes in the margins of each chapter. Questions about culture are also included in the Autoprueba and Repaso at the end of each chapter.
Entrando en tema: Thought-provoking questions designed to get students thinking about the major cultural themes of the chapter, featured at the beginning of each chapter.
Cultural readings are dispersed thoughout the chapter instead of being heavily concentrated at the end. Several have been updated to reflect current political, social, and geographic changes.
Revised grammar presentations result in a simpler, clearer, and more precise format.
Two new chapter themes (De viaje and El medioambiente) and modification of former themes, as well as a restructuring of the countries of focus in several chapters.
Hallmark Features
Authentic communicative activities that simulate exchanges as they occur in the real world. Approach is based on current research in second language acquisition.
Vocabulary is presented with clear illustrations, with very few English translations, pushing students to make a connection between the new word and its referent.
Escenarios: Informal, interactive problem-solving situations in each chapter that require students to create brief original dialogues.
Available Versions