Textbook
Design and Equipment for Restaurants and Foodservice: A Management View, 3rd Edition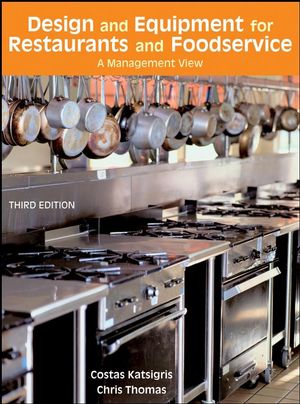 This student friendly text covers how to plan, design, and purchase equipment for a restaurant ,or foodservice facility. Topics covered include concept design, equipment identification and procurement, design principles, space allocation, electricity and energy management, environmental concerns, safety and sanitation, and considerations for purchasing small equipment, tableware, and table linens. This books offers the most comprehensive and updated coverage of the latest equipment and design trends to help students acquire the knowledge they need to go into the industry.
See More
Preface.
Chapter 1: Economics of Site Selection.
Chapter 2: Restaurant Atmosphere and Design.
Chapter 3 Principles of Kitchen Design.
Chapter 4: Space Allocation.
Chapter 5: Electricity and Energy Management.
Chapter 6: Gas, Steam, and Water.
Chapter 7: Design and Environment.
Chapter 8: Safety and Sanitation.
Chapter 9: Buying and Installing Foodservice Equipment.
Chapter 10: Storage Equipment: Dry and Refrigerated.
Chapter 11: Preparation Equipment: Ranges and Ovens.
Chapter 12: Preparation Equipment: Fryers and Fry Stations.
Chapter 13: Preparation Equipment: Broilers, Griddles, and Tilting Braising Pans.
Chapter 14: Steam Cooking Equipment.
Chapter 15: Cook-Chill Technology.
Chapter 16: Dishwashing and Waste Disposal.
Chapter 17: Miscellaneous Kitchen Equipment.
Chapter 18: Smallware for Kitchens.
Chapter 19: Tableware.
Chapter 20: Linens and Laundry.
Glossary.
Index.
See More
Costas Katsigris
is the Director Emeritus of the Food and Hospitality Services Program at El Centro Community College in Dallas, Texas, and Adjunct Lecturer at the University of North Texas in Denton, Texas. He is also coauthor of
The Bar and Beverage Book
, Fourth Edition, published by Wiley.
Chris THomas is a professional writer who specializes in food- and wine-related topics. She is also coauthor of The Bar and Beverage Book, Fourth Edition and Off-Premise Catering Management, Second Edition, both published by Wiley. She divides her time between Boise, Idaho, and Seattle, Washington.
See More
Over the past 10 years, the restaurant industry has reinvented itself in many ways to meet the changing demands of customers as well as the new expectations that customers and government entities have for many types of businesses – from environmental sensitivity to conservation of natural resources, to use of local products and vendors to minimize one's "carbon footprint." This
Third Edition
reflects these changes, which include:
2 new  and 1 updated "Conversations" features

More information about the terms of leases for rented restaurant space in Chapter 1, as well as updated trends in the business including multi-chain operators and branding concepts

Updated information about the Americans with Disabilities Act, including restroom and parking requirements in Chapters 1 and 4

A discussion of mobile foodservice options and industry trends for pleasing customers who have less time to spend dining out, but still want (and will pay for) top-quality food and service in Chapter 2

Two design examples, a restaurant (between Chapters 2 and 3) and a school cafeteria (between Chapters 4 and 5), complete with layouts and equipment keys

In Chapters 5 and 6, more extensive information about many aspects of "green building," from energy efficiency and water conservation, to new forms of recycling and waste reduction, alternative energy sources, smarter use of smaller spaces, and LEED certification

More safety and sanitation information, including top-of-the-line handwashing stations, slip-and-fall prevention, fire safety, "green" cleaning products, anti-microbials, and electrolyzed water, detailed in Chapter 8.

Equipment-specific trends, including the use of proprietary (no-substitution) specifications, the growth of warranty servicing companies, leasing vs. purchasing, and the advent of equipment breakdown insurance, all in Chapter 9.

Updated information about acceptable refrigerants for foodservice in Chapter 10

Discussion of healthier forms of cooking oil being developed for fryers in chapter 12

Discussion about new uses for technology in foodservice, including the NAFEM Data Protocol and a restaurateur's ability to do pre-purchase research and calculate an appliance's Total Cost of Ownership online in Chapter 9.

Updated trends in the business overall, including designing for smaller spaces, and the growing use of cook-chill for quality control rather than volume cooking   in Chapter 15

New tabletop trends, including streamlining glassware purchases (Chapter 19), and interesting alternatives to table linens, and how to rent rather than purchase linens (Chapter 20).
See More
The chapters are organized roughly according to the steps one would take to open a restaurant, or foodservice business

Coverage of the latest equipment and design trends

Clear, student-friendly writing style

Interesting highlights, lists, and short features to augment the points made in the text, in boxes throughout the chapters, and organized into five categories:
The Dining Experience

Budgeting and planning

In the Kitchen

Building and Grounds

Foodservice Equipment
See More
Instructors Resources
ENHANCE YOUR COURSE

Instant access to textbooks as eTextbooks.
Learn more

Digital evaluation copy available for this title
Request Copy

Contact your Wiley Representative
Find Your Rep

See More
See Less
Purchase Options
Wiley E-Text&nbsp&nbsp&nbsp

Design and Equipment for Restaurants and Foodservice: A Management View, 3rd Edition
ISBN : 978-0-470-59803-0
624 pages
November 2010, ©2009
Hardcover&nbsp&nbsp&nbsp
Design and Equipment for Restaurants and Foodservice: A Management View, 3rd Edition
ISBN : 978-0-471-76248-5
624 pages
October 2008, ©2009
$115.95&nbsp&nbsp&nbsp
BUY

Information about Wiley E-Texts:
Wiley E-Texts are powered by VitalSource technologies e-book software.
With Wiley E-Texts you can access your e-book how and where you want to study: Online, Download and Mobile.
Wiley e-texts are non-returnable and non-refundable.
WileyPLUS registration codes are NOT included with the Wiley E-Text. For informationon WileyPLUS, click here .
To learn more about Wiley e-texts, please refer to our FAQ.

Information about e-books:
E-books are offered as e-Pubs or PDFs. To download and read them, users must install Adobe Digital Editions (ADE) on their PC.
E-books have DRM protection on them, which means only the person who purchases and downloads the e-book can access it.
E-books are non-returnable and non-refundable.
To learn more about our e-books, please refer to our FAQ.
This title is also available on :