Textbook
Wiley Pathways Introduction to U.S. Health Care, 1st Edition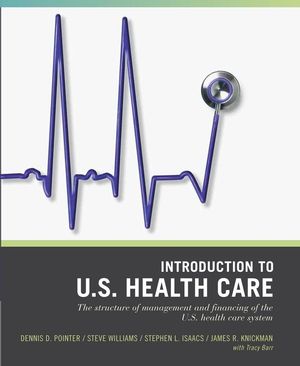 You can get there

Where do you want to go? You might already be working in a health care or business setting. You may be looking to expand your skills. Or, you might be setting out on a new career path.

Wherever you want to go, Introduction to U.S. Health Care will help you get there. Easy-to-read, practical, and up-to-date, this text not only helps you learn fundamental concepts of the American health care system; it also helps you master the core competencies and skills you need to succeed in the classroom and beyond. The book's brief, modular format and variety of built-in learning resources enable you to learn at your own pace and focus your studies.

With this book, you will be able to:
* Understand the role of governing boards and the challenges they face.
* Compare and contrast the primary-care and specialty-care models.
* Explore recent health care reforms that affect the primary-care model.
* Examine how we pay for health care.
* Learn about the many different roles played by the health care workforce.
* Discover how medical miracles are financed.
* Trace the evolution of hospitals throughout the nation's history and through their current state.
* Assess the reasons behind the growing reliance on ambulatory care.
* Understand who needs long-term care, why, and what the choices are.
* Explore the challenges of providing health services for society's most vulnerable groups.
* Identify obstacles in caring for the uninsured.
* Examine the types of managed care organizations, such as HMOs, PPOs, and POS plans.
* Explore current and future challenges for the health care industry.
* Understand the impact of new and emerging laws, regulations, and initiatives.

Wiley Pathways helps you achieve your goals

When it comes to learning about health care, not everyone is on the same path. But everyone wants to succeed. The new Wiley Pathways series in Health Care Management helps you achieve your goals with its brief, inviting format, clear language, and focus on core competencies and skills.

The books in this series--Introduction to U.S. Health Care, Health Care Economics, Health Care Management, and Health Care Law and Ethics--offer a coordinated curriculum for learning health care management. Learn more at www.wiley.com/go/pathways.


Table of Contents
Part I: Foundations
* The U.S. Health Care System
* Boards and Governance

Part II: Health Care Organization and Financing
* Health Care Provision
* Financing the U.S. Health Care System

Part III: Health Care Resources
* The Health Care Workforce
* Research and Technology

Part IV: The Health Care Delivery System
* Hospitals in the U.S.
* Ambulatory Care
* Long-Term Care
* Caring for Special Populations
* Caring for Uninsured Patients
* Managed Care

Part V: Challenges of US Health Care
* Promoting Health and Preventing Disease
* Public Health Policy
Hallmark Features
Pre-test: Pre-reading assessment tool in multiple-choice format. Introduces chapter material and helps students get an idea of what they know and where they need to focus their efforts.
What You ll Learn in this Chapter and After Studying this Chapter: Presents the subject matter that the student will learn and emphasizes capabilities and skills students will build.
Goals and Outcomes. These lists identify specific student capabilities that will result from reading the chapter. They help the student set expectations and show them what to reach for.
Figures and tables. Line art and photos are carefully chosen to be instructional. Tables distill and present information clearly so students can focus on the essential ideas.
Introduction. This section orients the student by introducing the chapter and explaining its importance. Short summaries of chapter sections preview the topics to follow.
Chapters. Each chapter is broken down into an average of four or five concise sections. A short assessment is provided at the end of each section.
For Example Boxes: Found within each segment, a real world example is anchored to each section that illustrates and applies the preceding content.
Self-Check: Short answer questions at the end of the chapter let students know if they ve mastered the content. Each question set includes a link to a section of the pre-test for further review.
Summary: Each chapter concludes with a summary paragraph that captures and reviews the major concepts in the chapter and links back to the What you ll learn list.
Key Terms and Glossary: A convenient list of all terms that appear in boldfaced throughout the chapter are listed at the end of the chapter and in the glossary.
Summary Questions help students summarize the chapter s main points by asking a series of multiple choice and true/false questions that emphasize how well they understand the concepts and content.
Review Questions in short answer format review the major points in each chapter. It encourages critical thinking skills while reinforcing and confirming that the concepts and content are understood.
Applying this Chapter Questions drive home key ideas by asking students to combine and apply chapter concepts to new, real-life situations and scenarios.
You Try It! Questions encourage students to draw conclusions using chapter material applied to real-world situations, which promotes both mastery of the content and independent learning.
Post-test should be taken after students have completed the chapter. It includes all of the questions in the pre-test, so that students can see how their learning has progressed and improved.
Available Versions