Textbook
Functions Modeling Change: A Preparation for Calculus, 3rd Edition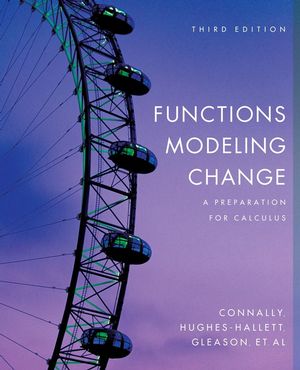 The third edition of this ground-breaking text continues the authors' goal - a targeted introduction to precalculus that carefully balances concepts with procedures. Overall, this text is designed to provide a solid foundation to precalculus that focuses on a small number of key topics thereby emphasizing depth of understanding rather than breath of coverage. Developed by the Calculus Consortium, FMC 3e is flexible enough to be thought-provoking for well-prepared students while still remaining accessible to students with weaker backgrounds. As multiple representations encourage students to reflect on the material, each function is presented symbolically, numerically, graphically and verbally (the Rule of Four). Additionally, a large number of real-world applications, examples and problems enable students to create mathematical models that will help them understand and interpret the world in which they live.
See More
Chapter 1: Linear Functions and Change

Chapter 2: Functions

Chapter 3: Exponential Functions

Chapter 4: Logarithmic Functions

Chapter 5: Transformations of Functions and Their Graphs

Chapter 6: Trigonometric Functions

Chapter 7: Trigonometry

Chapter 8: Compositions, Inverses, and Combinations of Functions

Chapter 9: Polynomial and Rational Functions

Chapter 10: Vectors

Chapter 11: Sequences and Series

Chapter 12: Parametric Equations and Conic Sections
See More
ConcepTests for precalculus are now available for instructors looking for innovative ways to promote active learning in the classroom.

WileyPLUS This powerful and highly integrated suite of online teaching and learning resources provides course management options to instructors and students.

The material on trigonometric identities in Chapter 7 has been expanded, and new problems added.

The former section 3.4 has been split into 2 separate sections, the first on continuous growth and "e" and the second on compound interest.

The introduction of "e" has been rewritten to increase understanding.

Brief introduction to compositions of functions in chapter 2 with full coverage still in chapter 8.

Algebra review is integrated thoughout the text.  The algebraic tools are summarized in a "tools" section.

A new section on the geometric properties of conics  has been added to chapter 12.

Data and problems have been updated and revised as appopriate.  Many new problems have been added.
See More
Exceptional Problems: Examples and problems based on real data help students create mathematical models to help them understand their world. An appropriate number of drill problems are included to assist students in learning techniques. The problems are varied and some are more challenging. Most cannot be done by following a template in the text.

Allows for a broad range of teaching styles. This text is flexible enough for use in large lecture halls, small classes, or in group or lab settings.
Focuses on fewer topics than is customary, but each topic is treated in greater depth. Only those topics essential to the study of calculus are included.
Reflects the spirit of the standards established by the Mathematical Association of America (MAA) and the American Mathematical Association of Two-Year Colleges (AMATYC), and meets the recommendations of the National Council of Teachers of Mathematics (NCTM).
Assumes technology has a place in modern mathematics. This text takes full advantage of technology when appropriate, although no specific technology is emphasized. It is important for students to learn how and when to use technology as a tool, as well as its limitations. However the focus of the text is on conceptual understanding not technology.
The Rule of Four: Each function is represented symbolically, numerically, graphically, and verbally.
See More
Instructors Resources
ENHANCE YOUR COURSE
Request a print evaluation copy
Contact us

Contact your Wiley Representative
Find Your Rep

See More
See Less
Students Resources
Wiley Student Companion Site
Coming Soon!
View Sample content below:
See More
See Less
Purchase Options
Paperback&nbsp&nbsp&nbsp
Functions Modeling Change: A Preparation for Calculus, 3rd Edition
ISBN : 978-0-471-79303-8
624 pages
November 2006, ©2007
$206.95&nbsp&nbsp&nbsp
BUY
Paperback&nbsp&nbsp&nbsp
Functions Modeling Change: A Preparation for Calculus 3rd Edition with WebAssign 1 Semester Set
ISBN : 978-0-470-40396-9
May 2008, ©2007
$206.95&nbsp&nbsp&nbsp
BUY
Hardcover&nbsp&nbsp&nbsp
Functions Modeling Change: A Preparation for Calculus, 3rd Edition
ISBN : 978-0-471-79302-1
624 pages
November 2006, ©2007
$214.95&nbsp&nbsp&nbsp
BUY

Information about Wiley E-Texts:
Wiley E-Texts are powered by VitalSource technologies e-book software.
With Wiley E-Texts you can access your e-book how and where you want to study: Online, Download and Mobile.
Wiley e-texts are non-returnable and non-refundable.
WileyPLUS registration codes are NOT included with the Wiley E-Text. For informationon WileyPLUS, click here .
To learn more about Wiley e-texts, please refer to our FAQ.

Information about e-books:
E-books are offered as e-Pubs or PDFs. To download and read them, users must install Adobe Digital Editions (ADE) on their PC.
E-books have DRM protection on them, which means only the person who purchases and downloads the e-book can access it.
E-books are non-returnable and non-refundable.
To learn more about our e-books, please refer to our FAQ.
This title is also available on :