Textbook
Visualizing Weather and Climate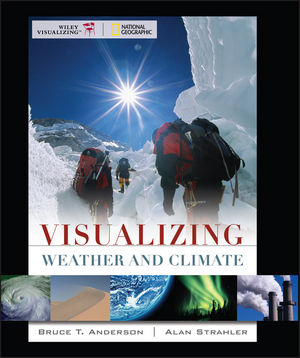 Visualizing Weather and Climate
offers students a valuable opportunity to identify and connect the central issues of weather, climate, and the atmosphere through a visual approach. The text is organized around the premise that weather and climate are two, interrelated and equally important influences upon environmental processes and human activity. As students explore the critical topics of weather and climate, their study of the role of the atmosphere is interwoven with the behavior of the oceans, land surfaces, ecosystems, and human activity.
Visualizing Weather and Climate integrates visuals with text to elucidate concepts for students and solidify their understanding of them. The accessible format allows students to navigate through the material with greater ease.



Table of Contents
1. Introducing Weather and Climate
2. The Earth's Atmosphere
3. The Earth's Global Energy Balance
4. Surface Temperature and its Variation
5. Atmospheric Moisture
6. Winds
7. Global Atmospheric and Oceanic Circulation
8. Midlatitude Weather Systems
9. Tropical Weather Systems
10. Thunderstorms and Tornadoes
11. Global Scope of Climate
12. Climate Regimes
13. Climate Variability
14. Human Interaction with Weather and Climate
15. Weather Forecasting and Numerical Modeling
16. Human-Induced Climate Change and Climate Forecasting
Hallmark Features
Learning Objectives at the beginning of each section head indicate in behavioral terms what the student must be able to do to demonstrate mastery of the material in the chapter.
Visualizing Features are specially designed multi-part visual spreads that focus on a key concept or topic in the chapter, exploring it in detail or in broader context using photos and figures.
Concept Check questions at the end of each section give students the opportunity to test their comprehension of the learning objectives.
Marginal Glossary Boxes introduce each chapter s most important terms, often reinforced with a thumbnail photograph.
What a Scientist Sees highlight a concept or phenomenon, using photos and figures that would stand out to a professional in the field, and help students develop observational skills.
Process Diagrams present a series of figures or a combination of figures and photos that describe and depict a complex process, helping students to observe, follow and understand the process.
The illustrated Case Studies that cap off the text sections of each chapter offer a wide variety of in-depth examinations that address important issues in the field of environmental science.
Illustrations, Photos, and Cartoons support concepts covered in the text, elaborate relevant issues, and add visual detail. Many of the photos originate from National Geographic s rich sources.
Global Locator Maps, prepared specifically for this text by National Geographic, accompany figures addressing issues encountered in a particular geographic region.
Tables and graphs, with data sources cited at the end of the text, summarize and organize important information.
Critical Thinking Questions encourage critical thinking and highlight each chapter s important concepts and applications.
The Chapter Summary revisits each learning objective and redefines each marginal glossary term, featured in boldface here, and included in a list of Key Terms.
Self Tests, often including a visual, help students evaluate their readiness to move on to the next chapters, and to prepare for classroom quizzes and exams.
Available Versions