Textbook
Abnormal Psychology, 11th Edition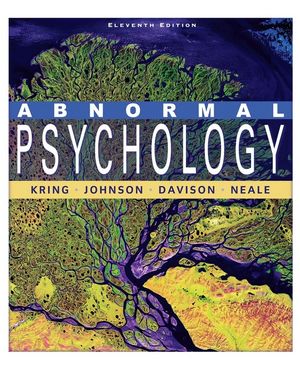 Thirty years after its original publication,
Abnormal Psychology
enters its 11
th
edition, continuing the tradition of giving students the opportunity to explore the latest theories and research in the field.
 The authors, distinguished scholars and leaders in the field of Psychology, continue to emphasize recent and comprehensive research coverage that has been the hallmark of the text.  While the writing across all the chapters has been streamlined to increase the clarity of presentation and to highlight the key issues in the field, several chapters have been expounded upon to provide greater understanding of the material provided. Abnormal Psychology 11th Edition emphasizes an integrated approach, showing how psychopathology is best understood by considering multiple perspectives, and how these varying perspectives can provide us with the clearest accounting of the causes of these disorders as well as the best possible treatments.
 A new, powerful videos series for your Abnormal Psychology course:
 Created for this 11th edition, John Wiley & Sons offers a series of 7-10 minute video clips to show in class or for student to review outside of class to help understand the patients experience. Unlike other videos, these feature patients and their families, in the context of their lives, describing symptoms from their own perspective. Each video provides concise infomation about the available treatment options.
 To view a sample of this powerful video series visit:
http://www.wiley.com/college/sc/kring/

for
Abnormal Psychology, 11th Edition
. Learn more at
WileyPLUS.com

Table of Contents
Part One Introduction and Fundamental Issues
1. Introduction and Historical Overview
2. Current Paradigms in Psychopathology
3. Diagnosis and Assessment
4. Research Methods in the Study of Psychopathology 
Part Two Psychological Disorders 
5. Anxiety Disorders
6. Dissociative Disorders and Somatoform Disorders
7. Stress and Health
8. Mood Disorders
9. Eating Disorders 
10. Substance-Related Disorders
11. Schizophrenia
12. Personality Disorders
13. Sexual and Gender Identity Disorders
Part Three Life-Span Developmental Disorders 
14. Disorders of Childhood
15. Late Life and Psychological Disorders
Part Four Intervention and Legal and Ethical Issues 
16. Psychological Treatment
17.Legal and Ethical Issues
New To This Edition
New illustrations and tables provide additional visual clarification and explanation for more complex material
Authors have streamlined writing across all chapters to increase the clarity of presentation and highlighting the key issues in the field
Over 700 new references threaded throughout this Eleventh Edition!
Authors have expanded and added on to the Clinical Case Boxes
New Clinical Case boxes and Focus on Discovery boces have been added, some have been contributed by a UK based author
New videos series, for your Abnormal Psychology course, designed to help students understand the patients experience.  These videos are available in WileyPLUS
Hallmark Features
Clinical Case Boxes provide a clinical context for the theories and research and help make vivid the real-life implications of the empirical work of psychopathologists and clinicians
Check your Knowledge Questions to help students assess understanding and retention of the material. Answers to these questions can be found at the end of each chapter
Focus on Discovery boxes allows reader to become most involved in specialized topics and does not detract from the flow of the regular text
Makes considerable use of DSM-IV-TR throughout the text, in a selective and critical vein, the end papers of the text contain a summary of the current psychiatric nomenclature found in the DSM IV
Quick Summaries have been threaded throughout each chapter, allowing learners to pause and assimilate the material
Available Versions