Textbook
International Economics, 10th Edition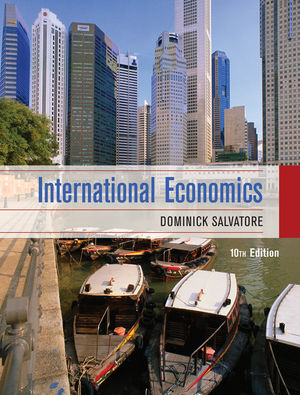 Back in its tenth edition, Dominick Salvatore's International Economics presents a comprehensive, up-to-date, and clear exposition of the theory and principles of international economics that are essential for understanding, evaluating, and suggesting solutions to the important international economic problems and issues facing the United States and the world in this age of globalization. Neither overly complex nor too simplistic, it helps students see the immediate relevance and importance of the material and contains an unparalleled number of real-world applications and examples.
See More
Chapter 1: Introduction.
PART ONE: INTERNATIONAL TRADE THEORY.
Chapter 2: The Law of Comparative Advantage.
Chapter 3: The Standard Theory of International Trade.
Chapter 4: Demand and Supply, Offer Curves, and the Terms of Trade.
Chapter 5: Factor Endowments and the Heckscher-Ohlin Theory.
Chapter 6: Economies of Scale, Imperfect Competition, and International Trade.
Chapter 7: Economic Growth and International Trade.
PART TWO: INTERNATIONAL TRADE POLICY.
Chapter 8: Trade Restrictions: Tariffs.
Chapter 9: Nontariff Trade Barriers and the New Protectionism.
Chapter 10: Economic Integration: Customs Unions and Free Trade Areas.
Chapter 11: International Trade and Economic Development.
Chapter 12: International Resource Movements and Multinational Corporations.
PART THREE: THE BALANCE OF PAYMENTS, FOREIGN EXCHANGE MARKETS, AND EXCHANGE RATES.
Chapter 13: Balance of Payments.
Chapter 14: Foreign Exchange Markets and Exchange Rates.
Chapter 15: Exchange Rate Determination.
PART FOUR: OPEN-ECONOMY MACROECONOMICS AND THE INTERNATIONAL MONETARY SYSTEM.
Chapter 16: The Price Adjustment Mechanism with Flexible and Fixed Exchange Rates.
Chapter 17: The Income Adjustment Mechanism and Synthesis of Automatic Adjustments.
Chapter 18: Open-Economy Macroeconomics: Adjustment Policies.
Chapter 19: Prices and Output in an Open Economy: Aggregate Demand & Aggregate Supply.
Chapter 20: Flexible versus Fixed Exchange Rates, the European Monetary System, and Macroeconomic Policy Coordination.
Chapter 21: The International Monetary System: Past, Present, and Future.
Glossary of Key Terms.
Author Index. 
Subject Index.
See More
New coverage on the following current issues and topics:
Analysis of the major international economic problems facing the United States and the World Economy today
Globalization, job losses, and stagnant wages in the United States
The new protectionist threat to world trade and welfare
The global financial crisis and recession in the United States and abroad
Structural Imbalanced and world monetary instability
The dollar, the euro, and reforms of the international monetary system
See More
All the principles and theories are presented on an intuitive level in the text and then more rigorously in the optional appendices.
The same basic graphical and numerical model is utilized in all the trade chapters and another one in all the finance chapters. This makes learning easier and increases students' understanding.
118 real-world case studies (from 4 to 10 in each chapter) deepen understanding and show the relevance of principles and theories.
Actual numbers are used in the examples and graphs are presented on scales for easier comprehension.
There is a full range of learning aids: each chapter ends with a summary, a look ahead, key terms, questions for review, problems, selected bibliography, and Internet exercises. There is also a website and a student study guide.
See More
"The approach of the text is exactly right and merits an
A
.  It's a good time to be teaching economics in that the students seem much more interested in the subject, and the incorporation of new international issues and cases should reinforce this.  It will certainly make things easier for me!
I teach two different courses to two very different groups of students and would prefer to use the same text.  It seems as if this text could accomplish such a goal."
  - Darrin V. Gulla, Department of Economics, Gatton College of Business & Economics, University of Kentucky
"Well organized overall and lucid presentation… The author explains things in a clear, simple way."

   - Basanta Chaudhuri, Rutgers University, New Brunswick
See More
Instructors Resources
ENHANCE YOUR COURSE
Digital evaluation copy available for this title
Request Copy

Contact your Wiley Representative
Find Your Rep

See More
See Less
Students Resources
See More
See Less
Purchase Options

Information about Wiley E-Texts:
Wiley E-Texts are powered by VitalSource technologies e-book software.
With Wiley E-Texts you can access your e-book how and where you want to study: Online, Download and Mobile.
Wiley e-texts are non-returnable and non-refundable.
WileyPLUS registration codes are NOT included with the Wiley E-Text. For informationon WileyPLUS, click here .
To learn more about Wiley e-texts, please refer to our FAQ.

Information about e-books:
E-books are offered as e-Pubs or PDFs. To download and read them, users must install Adobe Digital Editions (ADE) on their PC.
E-books have DRM protection on them, which means only the person who purchases and downloads the e-book can access it.
E-books are non-returnable and non-refundable.
To learn more about our e-books, please refer to our FAQ.
This title is also available on :