Textbook
Contemporary Business, 13th Edition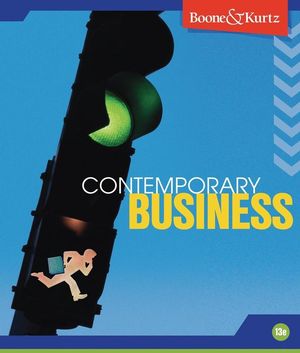 Moving Business Forward...Faster
Opening new doors of possibility can be difficult.  CONTEMPORARY BUSINESS 13e gives students the business language they need to feel confident in taking the first steps toward becoming successful business majors and successful businesspeople.
As with every good business, though, the patterns of innovation and excellence established at the beginning remain steadfast. The goals and standards of Boone & Kurtz, Contemporary Business, remain intact and focused on excellence, as always. We present to you a text and supplement package that will not only move your COURSE FORWARD FASTER but also move your STUDENTS FORWARD FASTER into the new business era.
Table of Contents
Chapter 1: The Changing Face of Business.
Chapter 2: Business Ethics and Social Responsibility.
Chapter 3: Economic Challenges Facing Contemporary Business.
Chapter 4: Competing in World Markets.
Chapter 5: Options for Organizing Small and Large Businesses.
Chapter 6: Starting Your Own Business: The Entrepreneurship Alternative.
Chapter 7: E-Business: Doing Business Online
Chapter 8: Management, Leadership, and the Internal Organization.
Chapter 9: Human Resource Management, Motivation, and Labor-Management Relations.
Chapter 10: Improving Performance through Empowerment, Teamwork, and Communication.
Chapter 11: Production and Operations Management.
Chapter 12: Customer-Driven Marketing.
Chapter 13: Product and Distribution Strategies.
Chapter 14: Promotion and Pricing Strategies.
Chapter 15: Using Technology to Manage Information.
Chapter 16: Understanding Accounting and Financial Statements.
Chapter 17: The Financial System.
Chapter 18: Financial Management.
Appendix A: Business Law.
Appendix B: Insurance and Risk Management.
Appendix C: Personal Financial Planning.
Appendix D: Developing a Business Plan.
Appendix E: Careers in Contemporary Business
New To This Edition
NEW Greensburg,Kansas   – Continuing Video Cases Boone/ Kurtz chose Greenburg, KS rebuilding story to show how business works in the real world. Throughout the text, the new video cases combine the entrepreneurial and creative spirit with which Greensburg is being rebuilt. In these videos you will visit the town devastated by a horrific tornado, and the people who are rebuilding their lives and their town with a little business ingenuity and a lot of persistence.
NEW Opening Vignettes and Statistics: Opening vignettes in each chapter and the statistics throughout the text have been updated for 13th Edition.
NEW End-of-Chapter Self-Quizzes: Review questions at the end of each chapter, designed to quickly assess whether students understand the basic concepts in the chapter.
Business Etiquette: A NEW box feature focusing on business etiquette, addressing the trend of more and more schools to add business etiquette to the curriculum.
All media examples within the text and supplements have been updated for 2008 references
Hallmark Features
Best Business Practices: These features, formerly known as "Clicks and Mortar," give examples of what real-world businesses have done as a "best business practice," illustrating to readers various situations that many businesses face.
Hits & Misses: Throughout the text, this feature highlights various companies and includes a discussion of their successes and failures. Readers get a quick look at what made certain companies thrive, while others were not so lucky.
Teamwork: To further prepare students to enter business and MOVE FORWARD FASTER, we've incorporated new teamwork exercises at the end of each chapter.
Assessment Checks: In every business department in the country, assessment and assurance of learning among students has become increasingly important. As a result, the 12th edition has assessment checks after every main head in every chapter.
Available Versions