Textbook
Nutrition: Science and Applications, 2nd Edition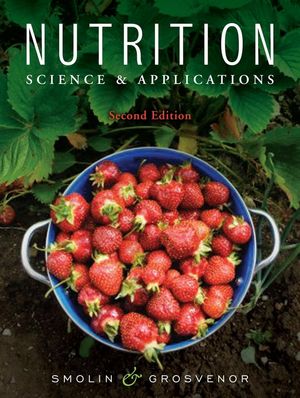 Nutrition: Science and Applications, 2e
helps students develop the scientific understanding to support their personal and professional decisions.  Using a critical thinking approach, Smolin brings nutrition out of the classroom and allows students to apply the logic of science to their own nutrition concerns – both as consumers and as future scientists and health professionals.  The text and WileyPLUS course has been developed through a collaboration between the authors and the Nutrition Advisory Board, a team of dedicated nutrition instructors who help review and develop all of Wiley's nutrition resources.
WileyPLUS
Different learning styles, different levels of proficiency, different levels of preparation—each of your students is unique. WileyPLUS empowers them to take advantage of their individual strengths:  Students receive timely access to resources that provide immediate feedback and remediation when needed, integrated multi-media resources—including audio and visual exhibits, demonstration problems provide multiple study-paths to fit each student's learning preferences and encourage more active learning, many opportunities for self-assessment linked to the relevant portions of the content.
WileyPLUS empowers faculty with the tools and resources you need to make your teaching even more effective: customize your classroom presentation with a wealth of resources and functionality from PowerPoint slides to a database of rich visuals,  identify those students who are falling behind and intervene accordingly, simplify and automate tasks such as student performance assessment, creating assignments by learning objective, reporting outcomes of groups or individuals.
WileyPLUS is a powerful online tool that provides instructors and students with an integrated suite of teaching and learning resources in one easy-to-use website.  Organized around learning objectives, WileyPLUS allows instructors to assign homework and quiz questions that help students achieve specific learning outcomes.  A learning styles survey, developed by Wiley and the Institute for Learning Styles research, allows students to discover their blend of learning styles.  WileyPLUS resources and general study tips for each learning style are provided.  Resources, such as How It Works animations, have been developed specifically to strengthen student understanding of the most difficult topics in Nutrition.  These animations break difficult processes into manageable modules.   These animations have been developed by the Nutrition Advisory Board and are available, along with a host of other tools in WileyPLUS. 
Visualizing Nutrition comes packaged with Grosvenor & Smolin's Nutritient Composition of Foods ISBN: 9780470555019.

for
Nutrition: Science and Applications, 2nd Edition
. Learn more at
WileyPLUS.com

Table of Contents
1 Nutrition: Food for Health.
Nutrition and the Modern Diet.
Food Provides Nutrients.
Food Choices for a Healthy Diet.
Understanding Science Helps Understand Nutrition.
Nutrition Research.
Sorting Out Nutrition Information.
APPLICATIONS.
Summary.
Review Questions.
References.
2 Nutrition Guidelines: Applying the Science of Nutrition.
Nutrition Recommendations for the Modern Diet.
Dietary Reference Intakes.
The Dietary Guidelines for Americans.
MyPyramid: Applying the Dietary Guidelines.
Food and Supplement Labels.
Other Guidelines.
APPLICATIONS.
Summary.
Review Questions.
References.
3 Digestion, Absorption, and Metabolism.
Food Becomes Us.
An Overview of the Digestive System.
Digestion and Absorption.
Digestion and Health.
Transporting Nutrients to Body Cells.
Metabolism of Nutrients: An Overview.
Elimination of Metabolic Wastes.
APPLICATIONS.
Summary.
Review Questions.
References.
4 Carbohydrates: Sugars, Starches, and Fiber.
Carbohydrates in the Modern Diet.
Simple and Complex Carbohydrates.
Your Choice Choosing Whole Grains.
Carbohydrates in the Digestive Tract.
Carbohydrates in the Body.
Blood Glucose Regulation.
Carbohydrates and Health.
Meeting Carbohydrate Recommendations.
APPLICATIONS.
Summary.
Review Questions.
References.
5 Lipids.
Fat in the Modern Diet.
Types of Lipid Molecules.
Lipids in the Digestive Tract.
Lipid Transport in the Body.
Lipid Functions in the Body.
Lipids and Health.
Meeting Recommendations for Fat Intake.
APPLICATIONS.
Summary.
Review Questions.
References.
6 Proteins and Amino Acids.
Protein in the Modern Diet.
Protein Molecules.
Protein in the Digestive Tract.
Protein in the Body.
Protein, Amino Acids, and Health.
Meeting Protein Needs.
Meeting Needs with a Vegetarian Diet.
APPLICATIONS.
Summary.
Review Questions.
References.
7 Energy Balance and Weight Management.
The Obesity Epidemic.
Exploring Energy Balance.
Estimating Energy Needs.
Body Weight and Health.
Guidelines for a Healthy Body Weight.
Regulation of Energy Balance.
Why Are Americans Getting Fatter?
Genes Versus Lifestyle.
Achieving and Maintaining a Healthy Body Weight.
Diets, Diets, Everywhere.
Weight-Loss Drugs and Surgery.
APPLICATIONS.
Summary.
Review Questions.
References.
8 The Water-Soluble Vitamins.
What are Vitamins?
Thiamin.
Riboflavin.
Niacin.
Biotin.
Pantothenic Acid.
Vitamin B6.
Folate or Folic Acid.
Vitamin B12.
Vitamin C.
Choline: Is It a Vitamin?
APPLICATIONS.
Summary.
Review Questions.
References.
9 The Fat-Soluble Vitamins.
Fat-Soluble Vitamins in the Modern Diet.
Vitamin A.
Vitamin D.
Vitamin E.
Vitamin K.
APPLICATIONS.
Summary.
Review Questions.
References.
10 Water and the Electrolytes.
Water: The Internal Sea.
Electrolytes: Salts of the Internal Sea.
Hypertension.
APPLICATIONS.
Summary.
Review Questions.
References.
11 Major Minerals and Bone Health.
What Are Minerals?
Calcium.
Calcium and Bone Health.
Phosphorus.
Magnesium.
Sulfur.
APPLICATIONS.
Summary.
Review Questions.
References.
12 The Trace Elements.
Trace Elements in the Modern Diet.
Iron (Fe).
Zinc (Zn).
Copper (Cu).
Manganese (Mn).
Selenium (Se).
Iodine (I).
Chromium (Cr).
Fluoride (F).
Molybdenum (Mo).
Other Trace Elements.
APPLICATIONS.
Summary.
Review Questions.
References.
13 Nutrition and Physical Activity.
Exercise, Fitness, and Health.
Exercise Recommendations.
Fueling Exercise.
Energy and Nutrient Needs for Physical Activity.
Fluid Needs for Physical Activity.
Food and Drink to Maximize Performance.
Ergogenic Aids: Do Supplements Enhance Athletic Performance?
APPLICATIONS.
Summary.
Review Questions.
References.
14 Nutrition During Pregnancy and Lactation.
The Physiology of Pregnancy.
The Nutritional Needs of Pregnancy.
Factors that Increase the Risks of Pregnancy.
Lactation.
The Nutritional Needs of Infancy.
Feeding the Newborn.
APPLICATIONS.
Summary.
Review Questions.
References.
15 Nutrition from Infancy to Adolescence.
Starting Right for a Healthy Life.
Nourishing Infants, Toddlers, and Young Children.
Nutrition and Health Concerns in Children.
Adolescents.
Special Concerns of Teenagers.
APPLICATIONS.
Summary.
Review Questions.
References.
16 Nutrition and Aging: The Adult Years.
What Is Aging?
What Causes Aging?
Nutritional Needs and Concerns of Older Adults.
Factors that Increase the Risk of Malnutrition.
Keeping Older Adults Healthy.
APPLICATIONS.
Summary.
Review Questions.
References.
17 Food Safety.
How Can Food Make Us Sick?
Keeping Food Safe.
Pathogens in Food.
Chemical Contaminants in Food.
Food Technology.
APPLICATIONS.
Summary.
Review Questions.
References.
18 World Hunger and Malnutrition.
The Two Faces of Malnutrition.
The Cycle of Malnutrition.
Causes of Undernutrition.
Eliminating World Hunger.
Hunger at Home.
APPLICATIONS.
Summary.
Review Questions.
References.
Appendices.
A Additional DRI Tables.
B Standards for Body Size.
C Normal Blood Values of Nutritional Relevance.
D Sources of Information on Nutrition.
E Canadian Nutritional Recommendations and Guidelines.
F World Health Organization Nutrition Recommendations.
G U.S. Nutrition Recommendations.
H Ethnic and Alternative Pyramids for Diet and Lifestyle Planning.
I Exchange Lists.
J Food Labeling Information.
K Energy Expenditure for Various Activities.
L Chemistry, Metabolism, and Structures.
M Critical Thinking Answers.
N Calculations and Conversions.
Glossary.
Index.
New To This Edition
•    
New Metabolism Artwork: 
Metabolism is one of the most difficult concepts for students to understand.  Improved the art for this concept makes it easier for students to follow each step in this process.
•     Updated for Currency:   New research has been added to the book, to give students the most up to date information on      nutrition.  New Information on topics such as obesity, diets, herbal supplements, nonvitamin/nonmineral supplements.
•      New Videos:  Each chapter will include a video icon that directs students to their WileyPlus course, where they can view a video from BBC or CBS that connects with the chapter topic
•     New Learning Objectives:  Each section of the book now has learning objectives.  These learning objectives will guide students through the chapters and connect to the WileyPLUS course.
•     New Chapter Summary:  The summaries have been redesigned and reorganized, to make them more useful to student.
•     New iProfile icon:  This icon points out places where students can go to iProfile to look up relevant information.  For example, in Chapter 4, in the Critical Thinking case "Becoming Less Refined" the iProfile activity asks students to find substitutions for the high sugar, low fiber snacks mentioned in the case study.
Hallmark Features
Develop Scientific Understanding. Nutrition: Science and Applications, 2e equips students with the resources they need to understand challenging concepts.

Nutritent Metabolism is presented via an integrated approach making it more accessible, to students. Metabolism is introduced in Chapter 3: Digestion, Absorption, and Metabolism. Then in Chapter 4: Carbohydrates, glucose metabolism is covered and explained through newly designed diagrams. In Chapter 5: Lipids, lipid metatbolism is explained. Protein metabolism is covered in Chapter 6: Proteins. In Chapter 7, Energy Balance and Weight Manangement, metabolism and weight loss and weight gain is explained. By incorporating both metabolism and health and disease information throughout the text students can see that a nutrient's function in metabolism is related to its role in health and disease.

Metabolism Icons are integrated throughout the text. These allow for easy identification of where metabolism information has been integrated in each chapter.

Science Applied. These boxed features included in every chapter focus on nutrition research studies that have led to discoveries key to our current understanding of nutrition. These boxes help students appreciate how research is done as well as expose them to the rich, colorful history of nutrition.

Process Diagrams. Sometimes the hardest part of understanding an illustration following the layout. To help students understand the more complex line art, the text correlates the sequential processes in text and art through the use of special numbered lists in the narrative and legend that correspond to numbered segments in the accompanying figure. This is used most often in metabolism figures to help students reduce this often intimidating topic to a series of easy-to-follow steps.

Making Nutrient Decisions. Nutrition: Science and Applications 2e takes science out of the classroom by encouraging students to apply the logic of science to their own nutrient decisions - both as consumers and future health professionals.

Chapter Introductions. Each chapter is introduced with a short case study. These relevant health- and disease-oriented cases help capture student interest and provide a taste of some of the concepts that will be explained in the chapter. Intriguing and fun to read introductions help students recognize how the material in the chapter applies to everyday health and disease issues. This case is revisited in a Postscript at chapters' end, helping students draw conclusions to thoroughly make the connection between the science learned and its application.

Critical Thinking Exercises. These unique exercises help students learn to apply their nutrition knowledge to everyday situations by presenting a nutrition-related problem and then showing the student the logical progression of thought needed to collect information and solve the problem.

Active Student Engagement. Science and Applications 2e captures student interest by introducing each chapter with a clinical case study highlighting a role of nutrition in health that applies to the chapter at hand. This integration continuously reinforces the applicability of nutrition science to the student's lives, and also helps them understand how and why their diet affects their health.

Applications These exercises, which appear at the end of each chapter, are divided into two parts; one that focuses on the student's personal diet and nutrition concerns and a second that relates to more general nutrition issues. Both require the student to think critically and apply key nutrition concepts.

Focus On… Focus on are separate sections throughout the text that provide coverage of interesting nutritionally related topics relevant to student interests and health. These sections allow instructors to cover this material or skip it if they feel it is not pertinent to their curriculum. There are 5 of these throughout the book: Focus on Alcohol, Focus on Eating Disorders, Focus on Phytochemicals, Focus on Nonvitamin/Nonmineral Supplements, and Focus on Biotechnology.

Your Choice These boxed features included in each chapter provide a critical view of products and issues that are the focus of individual consumer choices. Each one focuses on a choice to which consumers might be exposed such as whether to choose a cereal with 100% of the Daily Value for vitamins or whether to eat sports bars during a workout.

"Off the Label." These boxes present in-depth information on food, supplement, and even drug labels as they apply to specific nutrients or issues. This boxed material is designed to show students how to use these labels to make wise food and supplement choices.
Available Versions