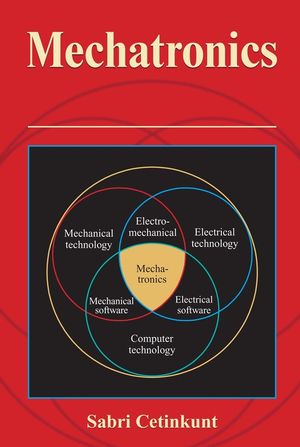 This timely new text gives engineering students a thorough grounding in the growing field of Mechatronics, the design and development of computer-controlled mechanical systems, such as the fuel-efficient engine of today's family car.
 Mechatronics brings together the knowledge and techniques of the major technical fields-- traditionally studied under different disciplines-- and explores the theory behind a wide range of basic devices, from gears and pumps, to servomotors and microchips. It then brings all this knowledge together in various motion control lab experiments, which provide ME students with practical experience in designing circuits and writing software.
Intended Courses
This text is appropriate for a one-semester course in Mechatronics at the Senior/Graduate level. Offered within the Mechanical, Industrial, Aerospace and Electrical Engineering departments.
Also appropriate for a one-semester course in Automation and Robotics, and as a supplement for Measurement Systems courses at the Senior/Graduate Level. Offered within the Mechanical, Industrial, Aerospace and Electrical Engineering departments.
See More
Preface.
Chapter 1. Introduction to Mechatronics.
Chapter 2. Closed-Loop Control.
Chapter 3. Mechanisms for Motion Transmission.
Chapter 4. Microcontrollers.
Chapter 5. Electronic Components for Mechatronic Systems.
Chapter 6. Sensors.
Chapter 7. Electrohydraulic Motion Control Systems.
Chapter 8. Electric Actuators: Motor and Drive Technology.
Chapter 9. Programmable Logic Controllers.
Chapter 10. Programmable Motion Control Systems.
Appendix A: Tables.
Appendix B: Modeling and Simulation of Dynamic Systems.
Bibliography.
Index.
See More
Sabri Cetinkunt is a professor of Mechanical Engineering at the University of Illinois at Chicago. He received the B.S. degree from the Technical University of Istanbul in 1982, M.S. and Ph.D. degrees from the Georgia Institute of Technology in 1984 and 1987, respectively. His research interests include mechatronics, motion control, servo control systems, high speed automated machine design, robotics, nano positioners, precision systems, electro-hydraulic control and applications in earth moving equipment technology, expert systems, neural networks, real time systems.
See More
Review of the basic concepts of kinematics and common motion conversion mechanisms.
Practical coverage of electronics, focusing on information mechanical engineers need to know to analyze and design systems containing electronic components.
Comprehensive coverage of electro-hydraulic systems with real-world examples from the construction equipment industry. This positions students to work effectively in the automotive and aerospace industries.
Extensive and accurate coverage of all types of sensors, enabling students to work in any project that involves measurement and testing.
Detailed discussion of electric motors: DC motors, steppers, AC motors, and SR motors, enabling students to effectively work as a designer on factory automation and robotic projects.
Coverage of microcontroller hardware and software issues using PIC-18F452 microcontroller as an example. 
Lab Experiments: Various motion control related lab experiments involving the construction of electronic interface circuits and writing real time controls software are included.
Modeling of mechatronic systems and components, control system design, analysis and simulation in Matlab.
Examples and applications throughout the text use or reference real devices or components. 
See More
Instructors Resources
ENHANCE YOUR COURSE

Instant access to textbooks as eTextbooks.
Learn more

Digital Evaluation Available
Request Copy

Contact your Wiley Representative
Find Your Rep

See More
See Less
Purchase Options

Information about Wiley E-Texts:
Wiley E-Texts are powered by VitalSource technologies e-book software.
With Wiley E-Texts you can access your e-book how and where you want to study: Online, Download and Mobile.
Wiley e-texts are non-returnable and non-refundable.
WileyPLUS registration codes are NOT included with the Wiley E-Text. For informationon WileyPLUS, click here .
To learn more about Wiley e-texts, please refer to our FAQ.

Information about e-books:
E-books are offered as e-Pubs or PDFs. To download and read them, users must install Adobe Digital Editions (ADE) on their PC.
E-books have DRM protection on them, which means only the person who purchases and downloads the e-book can access it.
E-books are non-returnable and non-refundable.
To learn more about our e-books, please refer to our FAQ.
This title is also available on :