Textbook
Cases in Hospitality Management: A Critical Incident Approach, 2nd Edition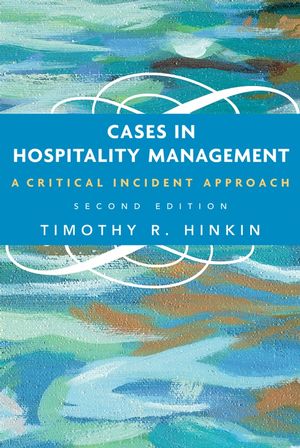 Cases in Hospitality Management: A Critical Incident Approach, Second Edition is one of the few casebooks on the market that focuses specifically on hospitality management. It adopts a critical incident approach, a powerful teaching methodology whereby customers and employees are asked to identify actual experiences regarding service in the hospitality industry – both positive and negative - and then to describe the organization's response to it.  This approach encourages thorough analysis of a prominent issue, thus highlighting the wide range of complexities that face managers on the hospitality industry on a daily basis.   Cases involving many segments of the industry - including airlines, railroads, private clubs, conference centers, travel agents, and restaurants – are included, as are fifteen new cases and a new section on hospitality technology. 
See More
Preface.
Introduction.
PART ONE: ETHICS.
Case 1. Sunspot Resorts.
Case 2. The Hawaiian Village.
Case 3. A Dog-Eat-Dog World.
Case 4. Seaside Plantations.
Case 5. The Decision to Serve.
PART TWO: TRAINING AND DEVELOPMENT.
Case 6. The Promotion Decision.
Case 7. The Swimming Pool.
Case 8. Spas International.
Case 9. The Apprentice Chef.
Case 10. Bongo's.
PART THREE: REWARD SYSTEMS.
Case 11. The University Conference Center.
Case 12. The New Sales Manager.
Case 13. The Incentive System.
Case 14. The River Walk Café.
Case 15. The Cedars.
PART FOUR: COMMUNICATION.
Case 16. The Shared Suite.
Case 17. Leaving From Rome.
Case 18. Room Service, Please.
Case 19. The Wounded Bird.
Case 20. The Three Hour Brunch.
PART FIVE: POLICIES.
Case 21. The Service Guarantee.
Case 22. The Parking Lot.
Case 23. Bank of USA.
Case 24. The Minibar Charge.
Case 25. 100% Occupancy.
PART SIX: GROUP DYNAMICS.
Case 26. The Reinstatement.
Case 27. The Job Opening.
Case 28. The Suarro Inn.
Case 29. Burrito Sisters.
Case 30. The Department Meeting.
PART SEVEN: TECHNOLOGY.
Case 31. The Amateur Travel Agent.
Case 32. The Concierge's Computer.
Case 33. Direct Deposit.
Case 34. The Wireless Internet.
Case 35. Casino CRM.
PART EIGHT: PROCESS ANALYSIS.
Case 36. The Broadbeach.
Case 37. The Tarragassett Inn.
Case 38. The Tour Voucher.
Case 39. The Headwaiter.
Case 40. The Mystery Shopper.
PART NINE: SERVICE EXEMPLARS.
Case 41. The CD Player.
Case 42. Special Needs.
Case 43. First Class Upgrade.
Case 44. The Spanish Homework.
Case 45. The Antler Hotel.
PART TEN: SERVICE RECOVERY.
Case 46. The Stolen Sunglasses.
Case 47. The ICO Conference.
Case 48. The Airline's Response.
Case 49. It Stinks.
Case 50. Rob Jones Corporation.
See More
TIMOTHY R. HINKIN is a Professor at the Cornell School of Hotel Administration. He is the author of the first edition of Cases in Hospitality Management as well as numerous articles in the Academy of Management Journal, the Journal of Applied Psychology, the Hospitality Research Journal, and the Cornell Hotel and Restaurant Administration Quarterly. His primary research focuses are supervisor-subordinate relationships, power and influence in organizations, group dynamics, and service quality.
See More
15 new cases
New "Technology" section dals with issues such as data warehousing, the internet, and electronic banking
New "Service Exemplars" section presents incidents involving truly exceptional service in a variety of contexts
New "Service Recovery" section presents examples of companies failing to salvage service encounters that have gone awry
See More
Incidents include a lot of the "language of the industry" to familiarize students with the hospitality context
A broad array of industry segments are represented throughout the cases:  airlines, railroads, private clubs, conference centers, travel agents, auto rental, hotels, restaurants
Contains 50 actual cases and situations which illustrate concepts and issues of hotel, restaurant and travel/tourism management
Cases deal with a variety of managerial topics including decision making, communication, compensation, planning, discrimination, performance appraisal, organization design, sexual harassment, ethics and group dynamics
Section introductions, case headnotes and questions aid students in analyzing diverse situations
See More
Instructors Resources
Request a print evaluation copy
Contact us

Contact your Wiley Representative
Find Your Rep

See More
See Less
Purchase Options
Paperback
Cases in Hospitality Management: A Critical Incident Approach, 2nd Edition
ISBN : 978-0-471-68693-4
172 pages
November 2005, ©2006

Information about Wiley E-Texts:
Wiley E-Texts are powered by VitalSource and accessed via the VitalSource Bookshelf reader, available online and via a downloadable app.
Wiley E-Texts are accessible online and offline, and can be read on a variety of devices, including smartphones and tablets.
Wiley E-Texts are non-returnable and non-refundable.
Wiley E-Texts are protected by DRM. For specific DRM policies, please refer to our FAQ.
WileyPLUS registration codes are NOT included with any Wiley E-Text. For informationon WileyPLUS, click here .
To learn more about Wiley E-Texts, please refer to our FAQ.

Information about e-books:
E-books are offered as e-Pubs or PDFs. To download and read them, users must install Adobe Digital Editions (ADE) on their PC.
E-books have DRM protection on them, which means only the person who purchases and downloads the e-book can access it.
E-books are non-returnable and non-refundable.
To learn more about our e-books, please refer to our FAQ.