Textbook
The Marketing Plan, 5th Edition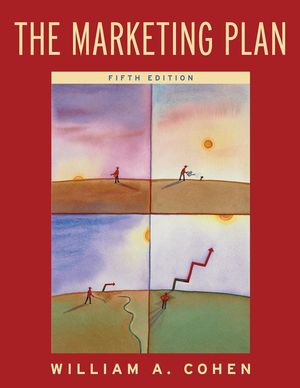 The Marketing Plan, 5th Edition
gives students the knowledge, tools, and techniques they need to develop marketing plans like the pros. Throughout the text, step-by-step procedures guide students through each phase in creating marketing plans??from scanning the environment and establishing goals and objectives, to developing marketing strategies and tactics, to presenting and implementing the plan, and everything in between.
This text is not just a how-to book; it also explains the importance of a well-formulated marketing plan and encourages student participation through activities. Moreover, it contains seven actual student marketing plans which can be used as models.
This text can be used as a supplement to another text, or as a stand-alone in a Principles of Marketing, Marketing Management, Strategic Marketing, Entrepreneurship, or Internet Marketing course.
See More
Chapter 1. Planning the Development of a Marketing Plan.
Chapter 2. Scanning Your Environment.
Chapter 3. Establishing Goals and Objectives.
Chapter 4. Developing Marketing Strategy.
Chapter 5. Developing Marketing Tactics.
Chapter 6. Forecasting for Your Marketing Plan.
Chapter 7. Calculating Important Financial Ratios for Your Marketing Plan.
Chapter 8. Presenting the Marketing Plan.
Chapter 9. Implementation.
Appendix A: Sample Marketing Plans.
Appendix B: Sources of Secondary Research.
Appendix C: Examples of Simple Marketing Research and a Marketing Research Checklist.
Appendix D: How to Lead a Tam.
Appendix E: The Concept and Application of Marketing Strategy.Appendix.
Appendix F: Useful Worksheets for Market Planning.
Appendix G: Useful Web Site that can Help You Develop a Marketing Plan.
Index.
See More
Dr. William A. Cohen
is Professor of Business Administration, Touro University International, and past Chairman of the Marketing Department and Director of the Small Business Institute at
California
State
University
,
Los Angeles
. He has also taught at the
University
of
Southern California
and the Peter Drucker School of Management at
Claremont
Graduate
University
and was President of California American University.
Professor Cohen has a B.S. from the
United States
Military
Academy
at West Point, an M.B.A. from the
University
of
Chicago
, and an M.A. and Ph.D. in management from
Claremont
Graduate
University
. He is also a distinguished graduate of the
Industrial
College
of the Armed Forces,
National
Defense
University
, and a retired major general in the U.S. Air Force Reserve.
See More
3 New marketing plans added.
20 new work sheets all also available online at www.wiley.com/college/cohen to help students with information that may be needed for marketing plan such as:

Developing profiles of target markets
Establishing an advertising and publicity budget
Quick go/no-go new product checklist

New Appendix: Useful Internet Sites for Marketing Planning
See More
Step-by-step approach for producing a professional marketing plan.
Time-saving forms for a variety of marketing planning tasks, such as defining the target market and making decisions about products using a portfolio approach.
Actual student plans prepared in the classroom.
Proven classroom-tested method for teaching basic marketing ideas, incorporating accounting, finance, and management principles, and translating those ideas and principles into a finished plan.
See More
"I thought the book was very well done. It brings out very clearly the steps in a Marketing Plan. I am considering this book as a supplement to my marketing text."
David Nemi, Niagara County Community College
"I found the book to be comprehensive and interesting. It promotes active learning and application of concepts."
Raj Devasagyam, Siena College
"Great book. It is very comprehensive and at the same time well structured. I have adapted this text book and I can only recommend. The students get a clear idea about how to tackle a strategic marketing plan."  
Ozcan Kilic, University of Wisconsin-River Falls
See More
Instructors Resources
Contact your Wiley Representative
Find Your Rep

See More
See Less
Purchase Options
Paperback
The Marketing Plan, 5th Edition
ISBN : 978-0-471-75529-6
350 pages
December 2005, ©2006

Information about Wiley E-Texts:
Wiley E-Texts are powered by VitalSource and accessed via the VitalSource Bookshelf reader, available online and via a downloadable app.
Wiley E-Texts are accessible online and offline, and can be read on a variety of devices, including smartphones and tablets.
Wiley E-Texts are non-returnable and non-refundable.
Wiley E-Texts are protected by DRM. For specific DRM policies, please refer to our FAQ.
WileyPLUS registration codes are NOT included with any Wiley E-Text. For informationon WileyPLUS, click here .
To learn more about Wiley E-Texts, please refer to our FAQ.

Information about e-books:
E-books are offered as e-Pubs or PDFs. To download and read them, users must install Adobe Digital Editions (ADE) on their PC.
E-books have DRM protection on them, which means only the person who purchases and downloads the e-book can access it.
E-books are non-returnable and non-refundable.
To learn more about our e-books, please refer to our FAQ.