Textbook
Professional Baking, College Version with CD-ROM, 5th Edition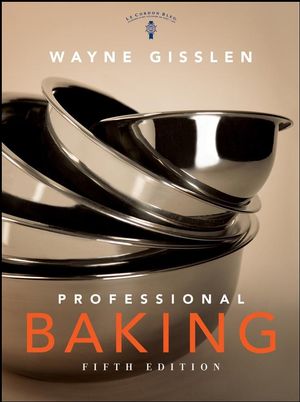 Wayne Gisslen's Professional Baking and Professional Cooking textbooks have educated hundreds of thousands of students and professional chefs—with clear, detailed instructions in the theory and techniques necessary to meet the demands of the professional kitchen.  Packed with close to 900 recipes, this new Fifth Edition of Professional Baking continues to comprehensively cover baking basics while also offering enhanced coverage of higher-level techniques such as pastry, chocolate, and sugar work. Balancing theory and practice, Professional Baking gives students both the understanding and performance abilities they need to progress and develop in a successful baking career.
See More
Recipe Contents.
About Le Cordon Bleu.
Foreword.
Preface.
Chapter 1. The Baking Profession.
Chapter 2. Basic professional Skills: Bakeshop Math and Sanitation.
Chapter 3. Baking and Pastry Equipment.
Chapter 4. Ingredients.
Chapter 5. Basic Baking Principles.
Chapter 6. Understanding Yeast Doughs.
Chapter 7. Understanding Artisan Breads.
Chapter 8. Lean Yeast Doughs.
Chapter 9. Rich Yeast Doughs.
Chapter 10. Quick Breads.
Chapter 11. Doughnuts, Fritters, Pancakes, and Waffles.
Chapter 12. Basic Syrups, Creams, and Sauces.
Chapter 13. Pies.
Chapter 14. Pastry Basics.
Chapter 15. Tarts and Special Pastries.
Chapter 16. Cake Mixing and Baking.
Chapter 17. Assembling and Decorating Cakes.
Chapter 18. Specialty Cakes, Gâteaux, and Torten.
Chapter 19. Cookies.
Chapter 20. Custards Puddings, Mousses, and Soufflés.
Chapter 21. Frozen Desserts.
Chapter 22. Fruit Desserts.
Chapter 3. Dessert Presentation.
Chapter 24. Chocolate.
Chapter 25. Marzipan, Nouogatine, and Pastillage.
Chapter 26. Sugar Techniques.
Chapter 27. Baking for Special Diets.
Appendix 1. Large-Quantity Measurements.
Appendix 2. Metric Conversion Factors.
Appendix 3. Decimal Equivalents of Common Fractions.
Appendix 4. Approximate Volume Equivalents of Common Fractions.
Appendix 4. Approximate Volume Equivalents of Dry Foods.
Appendix 5. Temperature Calculations for Yeast Doughs.
Appendix 6. Eggs and Safety.
Glossary.
Bibliography.
Recipe Index.
Subject Index.
See More
Wayne Gisslen is the IACP award-winning author of the bestselling series of culinary books that includes Professional Cooking, Professional Baking, Essentials of Professional Cooking, Advanced Professional Cooking, and The Chef's Art: Secrets of Four-Star Cooking at Home, all published by Wiley. A graduate of the Culinary Institute of America, he has written and worked extensively in the field of culinary arts, with experience as a restaurant chef, test kitchen supervisor, and food and beverage consultant.
See More
Includes 24 completely new recipes - dozens more have been revised and improved

Includes a new chapter on baking for special diets, including low-fat, low-sugar, gluten-free, and dairy-free diets

Features 105 new photographs of finished dishes, techniques and product identification.

More detailed information on controlling gluten development, the baking process, and basic yeast dough techniques

Each copy of the text includes a new recipe management software program, Wiley CulinarE-Companion™, features user-friendly navigation, flexibility, and robust content—which means no special training necessary!
This edition can be packaged with new method cards featuring step-by-step instructions of the key methods used in creating yeast doughs, quick breads, cakes and cookies
Includes new sidebars explaining the history and cultural background of various bakery products, as well as details concerning specialty equipment, ingredients, nutrition, and other topics of interest
See More
The most widely used textbook for the introductory baking course
Includes close to 900 recipes
Offers complete, step-by-step instruction in the art of making delicious pastries, cakes, desserts, and artisan breads
Covers advanced pastry work including special pastries, specialty cakes, frozen desserts, sugar work and show pieces, dessert presentation, and chocolate work
Its comprehensiveness is unmatched in the market and its clear and technically accurate content provide readers with the base of knowledge that they need to further their skills
Provides comprehensive coverage of the basics (bread making and cake mixing) and enhanced coverage of higher level techniques (pastry, chocolate, sugar work), which are becoming increasingly common in the introductory course
See More
Instructors Resources
Wiley Instructor Companion Site
Coming Soon!
View Sample content below:
ENHANCE YOUR COURSE
Request a print evaluation copy
Contact us

Contact your Wiley Representative
Find Your Rep

See More
See Less
Students Resources
Wiley Student Companion Site
Coming Soon!
View Sample content below:
See More
See Less
Purchase Options
Wiley E-Text&nbsp&nbsp&nbsp

Professional Baking, College Version with CD-ROM, 5th Edition
ISBN : 978-0-470-62328-2
768 pages
November 2010, ©2009
Hardcover&nbsp&nbsp&nbsp
Professional Baking, College Version with CD-ROM, 5th Edition
ISBN : 978-0-471-78348-0
800 pages
May 2008, ©2009
$137.95&nbsp&nbsp&nbsp
BUY

Information about Wiley E-Texts:
Wiley E-Texts are powered by VitalSource technologies e-book software.
With Wiley E-Texts you can access your e-book how and where you want to study: Online, Download and Mobile.
Wiley e-texts are non-returnable and non-refundable.
WileyPLUS registration codes are NOT included with the Wiley E-Text. For informationon WileyPLUS, click here .
To learn more about Wiley e-texts, please refer to our FAQ.

Information about e-books:
E-books are offered as e-Pubs or PDFs. To download and read them, users must install Adobe Digital Editions (ADE) on their PC.
E-books have DRM protection on them, which means only the person who purchases and downloads the e-book can access it.
E-books are non-returnable and non-refundable.
To learn more about our e-books, please refer to our FAQ.
This title is also available on :