Textbook
Wiley Pathways Business Communication, 1st Edition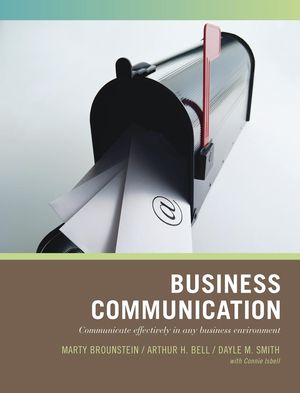 You can get there

Where do you want to go? You might already be working in a business setting. You may be looking to expand your skills. Or, you might be setting out on a new career path.

Wherever you want to go, Business Communication will help you get there. Easy-to-read, practical, and up-to-date, this text not only helps you learn fundamental business communication concepts; it also helps you master the core competencies and skills you need to succeed in the classroom and beyond. The book's brief, modular format and variety of built-in learning resources enable you to learn at your own pace and focus your studies.

With this book, you will be able to:
* Incorporate active listening, assertive speaking, and non-verbal communication techniques into your daily communications.
* Resolve conflicts effectively.
* Choose the best words and voice for your audience.
* Craft persuasive business letters.
* Avoid common writing mistakes.
* Plan and lead successful business meetings.
* Overcome your fears of public speaking.
* Write winning business proposals.
* Create a resume that helps you get the job you want.
* Present yourself professionally in an interview.

Wiley Pathways helps you achieve your goals

When it comes to learning about business, not everyone is on the same path. But everyone wants to succeed. The new Wiley Pathways series in Business helps you achieve your goals with its brief, inviting format, clear language, and focus on core competencies and skills.

The books in this series--Business Communication, Finance, Marketing, Business Math, and Real Estate--offer a coordinated curriculum for learning business. Learn more at www.wiley.com/go/pathways.
See More
Part I: Foundations of Business Communication 1
1 Understanding Business Communication 1
2 Mastering Communication Skills 29
3 Effective Conflict Resolution 59
Part II: The Writing Process 100
4 Writing for Business Audiences 100
5 Writing and Revising Business Communications 121
Part III: Letters, Memos, E-Mail, and Other Brief Messages 143
6 Managing Memos and E-Mail 143
7 Writing Positive Business Letters 162
8 Writing Negative Messages 189
9 Writing Persuasively 209
Part IV: Developing Speaking Skills 231
10 Spoken Communication 231
11 Giving Speeches and Oral Presentations 257
Part V: Reports and Proposals 285
12 Writing Business Reports 285
13 Writing Business Proposals 308
Part VI: Employment Messages 337
14 Writing Resumes and Job Letters 337
15 Interviewing for Employment 361
Appendix A 385
Appendix B 391
Appendix C 411
Glossary 423
Index 431
See More
Marty Brounstein is the Principal of The Practical Solutions Group, a training and consulting firm based in the San Francisco Bay area that specializes in management and organizational effectiveness. Marty's consulting work includes one-on-one coaching with managers and executives, assistance to groups working to become productive teams, and guidance and direction for organizations establishing practices for high performance and employee retention. His training programs target management as well as employee-development issues including leadership, team development, customer service, and effective communication. As a consultant, speaker, and trainer since 1991, Marty has served a wide variety of organizations from high tech to government, for profit to non-profit. He has a bachelor's degree in education and history and a master's degree in industrial relations. Prior to beginning his consulting career, he spent a couple of years as a human resources executive.
See More
Pre-test: Pre-reading assessment tool in multiple-choice format. Introduces chapter material and helps students get an idea of what they know and where they need to focus their efforts.
What You ll Learn in this Chapter and After Studying this Chapter: Presents the subject matter that the student will learn and emphasizes capabilities and skills students will build.
Goals and Outcomes. These lists identify specific student capabilities that will result from reading the chapter. They help the student set expectations and show them what to reach for.
Figures and tables. Line art and photos are carefully chosen to be instructional. Tables distill and present information clearly so students can focus on the essential ideas.
Introduction. This section orients the student by introducing the chapter and explaining its importance. Short summaries of chapter sections preview the topics to follow.
Chapters. Each chapter is broken down into an average of four or five concise sections. A short assessment is provided at the end of each section.
For Example Boxes: Found within each segment, a real world example is anchored to each section that illustrates and applies the preceding content.
Self-Check: Short answer questions at the end of the chapter let students know if they ve mastered the content. Each question set includes a link to a section of the pre-test for further review.
Summary: Each chapter concludes with a summary paragraph that captures and reviews the major concepts in the chapter and links back to the What you ll learn list.
Key Terms and Glossary: A convenient list of all terms that appear in boldfaced throughout the chapter are listed at the end of the chapter and in the glossary.
Summary Questions help students summarize the chapter s main points by asking a series of multiple choice and true/false questions that emphasize how well they understand the concepts and content.
Review Questions in short answer format review the major points in each chapter. It encourages critical thinking skills while reinforcing and confirming that the concepts and content are understood.
Applying this Chapter Questions drive home key ideas by asking students to combine and apply chapter concepts to new, real-life situations and scenarios.
Post-test should be taken after students have completed the chapter. It includes all of the questions in the pre-test, so that students can see how their learning has progressed and improved.
See More
Instructors Resources
Digital evaluation copy available for this title
Request Copy

Contact your Wiley Representative
Find Your Rep

See More
See Less
Purchase Options

Information about Wiley E-Texts:
Wiley E-Texts are powered by VitalSource and accessed via the VitalSource Bookshelf reader, available online and via a downloadable app.
Wiley E-Texts are accessible online and offline, and can be read on a variety of devices, including smartphones and tablets.
Wiley E-Texts are non-returnable and non-refundable.
Wiley E-Texts are protected by DRM. For specific DRM policies, please refer to our FAQ.
WileyPLUS registration codes are NOT included with any Wiley E-Text. For informationon WileyPLUS, click here .
To learn more about Wiley E-Texts, please refer to our FAQ.

Information about e-books:
E-books are offered as e-Pubs or PDFs. To download and read them, users must install Adobe Digital Editions (ADE) on their PC.
E-books have DRM protection on them, which means only the person who purchases and downloads the e-book can access it.
E-books are non-returnable and non-refundable.
To learn more about our e-books, please refer to our FAQ.