Textbook
Adolescence, Risk and Resilience: Against the Odds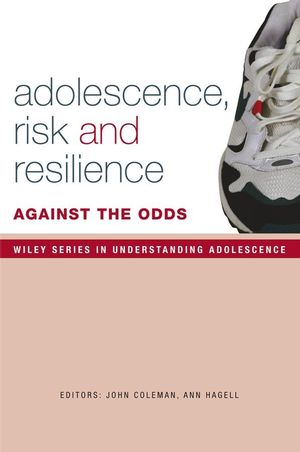 Table of Contents
Chapter 1. The Nature of Risk and Resilience in Adolescence (John Coleman and Ann Hagell)
Chapter 2. The Role of the Family (Catherine O'Brien and Jacqueline Scott)
Chapter 3. Growing Up in Substitute Care: Risk and Resilience Factors for Looked-after Young People and Care Leavers (Sue Mills and Nick Frost)
Chapter 4. Sex and Risk ( Jennifer J. Pearce)
Chapter 5. Mental Health and Mental Disorders (Panos Vostanis)]
Chapter 6. Young Disabled Peopel ( Kirsten Stalker)
Chapter 7. Anti-social Behaviour (Ann Hagell)
Chapter 8. Social  Exclusion, Risk and Young Adulthood (Robert MacDonald)
Chapter 9. Adolescence, Risk and Resilience: A Conclusion (John Coleman and Ann Hagell)
References.
Index.
Author Information
Dr John Coleman O.B.E
is Founder of the Trust for the Study of Adolescence. He has written widely in this field, and is the former editor of the Journal of Adolescence. He is a Senior Research Fellow at the Department of Educational Studies, University of Oxford.
Dr Ann Hagell is Co-Director of the Policy Research Bureau, an independent social policy centre focusing children, families and at-risk adolescents.
Hallmark Features
Textbook layout and features
Up-to-date, comprehensive and written for student/professionals
"Risk" is a big topic in adolescence studies
Available Versions