Textbook
Mobile Interaction Design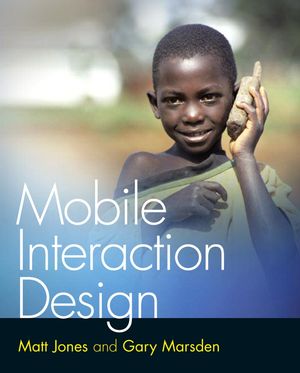 Preface
.
Acknowledgements.
PART I: INTRODUCTION.
Chapter 1: Possibilities.
Key points.
1.1 Introduction.
1.2 What are mobile devices?.
1.2.1 Communication or information device?
1.2.2 Appliance or swiss-army knife?
1.2.3 Cherished device or commodity tool?
1.3 Impoverished or extraordinary interfaces?
1.3.1 The Fastap keypad.
1.3.2 Peephole displays.
1.3.3 Accommodating human capabilities and limitations.
1.4 Impoverishing interactions?
1.4.1 Reasons for poor design.
1.4.2 Impacts of poor design.
1.5 Outline of the rest of this book.
Summary.
Workshop questions.
Designer tips.
Chapter 2: Products for people.
Key points.
2.1 Introduction.
2.2 Useful.
2.2.1 Function before form.
2.2.2 Evolving uses.
2.3 Usable.
2.3.1 Usable in itself.
2.3.2 Usable in life.
2.4 User experience.
2.4.1 Strong identity.
2.4.2 Interaction as package.
2.5 Technology acceptance.
Summary.
Workshop questions.
Designer tips.
Chapter 3: Innovating.
Key points.
3.1 Introduction.
3.2 Technology-centered approaches.
3.3 Transferring from the desktop.
3.3.1 Applications.
3.3.2 Interface styles.
3.4 Building on past mobile success.
3.5 Drama.
3.6 Frameworks for human-centered thinking.
Summary.
Workshop questions.
Designer tips.
PART II: DEVELOPING EFFECTIVE MOBILE APPLICATIONS.
Chapter 4: Interaction design.
Key points.
4.1 Introduction.
4.2 Designing what? Designing how?
4.3 Understanding users.
4.3.1 From biology to psychology.
4.3.2 Field studies.
4.3.3 Direct questioning.
4.3.4 Distilling the findings.
4.4 Developing prototype designs.
4.4.1 Shaping and managing the design space.
4.4.2 Prototyping.
4.5 Evaluation.
4.5.1 Testing with users.
4.5.2 Testing in the absence of users.
4.6 Iterative development.
4.7 Multiple viewpoints.
4.7.1 Many techniques and tools.
4.7.2 Many disciplines.
4.7.3 Participation and collaboration.
4.8 From interaction design to deployment.
Summary.
Workshop questions.
Designer tips.
Chapter 5: Watching, asking, probing.
Key points.
5.1 Introduction.
5.2 Focusing the study.
5.2.1 How focused should the study be?
5.2.2 Finding people to study.
5.3 Top techniques for understanding people.
5.3.1 Observing.
5.3.2 Enquiring.
5.3.3 Diary studies.
5.3.4 Discount methods.
5.3.5 Focus groups.
5.3.6 Creatively engaging methods.
5.4 Making sense of observations.
5.4.1 Activities.
5.4.2 Analysis perspectives.
5.5 Personas and scenarios.
5.5.1 Personas.
5.5.2 Scenarios.
Summary.
Workshop questions.
Designer tips.
Chapter 6: Prototypes.
Key points.
6.1 Introduction.
6.2 What is a prototype?
6.3 Different prototypes for different purposes.
6.4 Low-fidelity.
6.4.1 Self-checking.
6.4.2 Communicating with others.
6.4.3 Interaction prototyping.
6.4.4 Empowering users.
6.5 Higher-fidelity.
6.5.1 Deciding what to prototype.
6.5.2 Hardware and software integration.
6.6 Finishing the process.
6.6.1 Evolutionary.
6.6.2 Revolutionary.
6.6.3 Process.
6.7 Issues in prototyping.
6.7.1 Some considerations.
6.8 A final note on development.
Summary.
Workshop questions.
Designer tips.
Chapter 7: Evaluation.
Key points.
7.1 Introduction.
7.2 Classifying evaluation.
7.3 'Quick And Dirty'.
7.4 Conceptual model extraction.
7.5 Direct observation.
7.5.1 Finding out what users are thinking.
7.5.2 How to record observations.
7.5.3 How to not bias the experiment.
7.5.4 Happy users.
7.6 Interviews.
7.7 Questionnaires.
7.8 Non-user methods.
7.8.1 Heuristic evaluation.
7.8.2 No people whatsoever.
7.9 Experimental evaluation.
7.9.1 Hypothesis.
7.9.2 The users.
7.9.3 Tasks.
7.9.4 Experiment design.
7.9.5 Conducting experiments.
7.9.6 Experimental results.
7.10 Considering context – evaluating mobile systems.
7.10.1 Physical context.
7.10.2 Technological context.
7.10.3 Social context.
7.10.4 Other contexts.
7.11 Complementary evaluation.
7.12 Conclusion.
Summary.
Workshop questions.
Designer tips.
PART III: DESIGN GALLERY – DIRECTIONS AND GUIDELINES.
Chapter 8: Controlling Complex Functions.
Key points.
8.1 Introduction.
8.2 Menus and memory.
8.3 Hierarchical menus.
8.3.1 Learning structure.
8.3.2 Improving classification.
8.3.3 Context information.
8.4 Icons.
8.5 Manuals.
8.5.1 Online manuals.
8.5.2 Website manuals.
8.6 No menus?.
8.6.1 Data structures.
8.6.2 Alternatives.
8.6.3 Design ideas – data structures.
8.6.4 Evaluation via experiment.
8.7 More complex menus.
8.8 Some concluding thoughts.
Summary.
Workshop questions.
Designer tips.
Chapter 9: Information access.
Key points.
9.1 Introduction.
9.2 Small-screen impacts.
9.2.1 Lessons from the past.
9.2.2 Impact on browsing complex content.
9.2.3 Impact on searching.
9.3 Designs for browsing.
9.3.1 Guidelines.
9.3.2 Schemes.
9.3.3 Packaging content.
9.4 Improving search.
9.4.1 Assessing sets of results.
9.4.2 Judging the value of individual results.
9.5 Mobile information ecologies.
9.5.1 Fitting in.
9.5.2 Case study: the laid-back search tool.
9.5.3 Peer-to-peer schemes.
Summary.
Workshop questions.
Designer tips.
Chapter 10: Beyond text – using images on mobile devices.
Key points.
10.1 Introduction.
10.2 Ethnography.
10.2.1 Where have all the photographs gone?
10.2.2 Digital ethnography.
10.3 Finding photos.
10.3.1 Meta-data.
10.3.2 Meta-data management.
10.4 Browsing photos.
10.4.1 Timeline.
10.4.2 Treemaps.
10.4.3 RSVP.
10.4.4 Speed Dependent Automatic Zooming.
10.5 Downscaling case study.
10.5.1 Arranging photos.
10.5.2 Screen size.
10.5.3 Write once, run anywhere.
10.5.4 Meanwhile, back with the users.
10.5.5 User testing.
10.5.6 Platform.
10.6 Advanced technology.
10.7 What are photos for?
10.7.1 What are we sharing?
10.7.2 Using audio with photographs.
10.7.3 Video.
10.8 Looking to the future.
Summary.
Workshop questions.
Designer tips.
Chapter 11: Impacting the community; impacting the world.
Key points.
11.1 Introduction.
11.2 The digital divide.
11.3 Mobiles work.
11.3.1 The rise and rise of mobile technology.
11.4 Planning a project.
11.5 That culture thing.
11.6 Case studies.
11.6.1 Empowering people – Cybertracker.
11.6.2 Education.
11.6.3 Communitization.
11.7 Call to arms.
Summary.
Workshop questions.
Designer tips.
Resources.
References.
Index.
See More
Mobile Interaction Design shifts the design perspective away from the technology and concentrates on usability; in other words the book concentrates on developing interfaces and devices with a great deal of sensitivity to human needs, desires and capabilities.
Presents key interaction design ideas and successes in an accessible, relevant way
Exercises, case studies and study questions make this book ideal for students.
Provides ideals and techniques which will enable designers to create the next generation of effective mobile applications.
Critiques current mobile interaction design (bloopers) to help designers avoid pitfalls.
Design challenges and worked examples are given to reinforce ideas.
Discusses the new applications and gadgets requiring knowledgeable and inspired thinking about usability and design.
Authors have extensive experience in mobile interaction design, research, industry and teaching
See More
Purchase Options
Mobile Interaction Design
ISBN : 978-0-470-06425-2
394 pages
September 2010, ©2010
Mobile Interaction Design
ISBN : 978-0-470-09090-9
398 pages
June 2006, ©2006
Paperback&nbsp&nbsp&nbsp
Mobile Interaction Design
ISBN : 978-0-470-09089-3
398 pages
February 2006, ©2006

Information about Wiley E-Texts:
Wiley E-Texts are powered by VitalSource technologies e-book software.
With Wiley E-Texts you can access your e-book how and where you want to study: Online, Download and Mobile.
Wiley e-texts are non-returnable and non-refundable.
WileyPLUS registration codes are NOT included with the Wiley E-Text. For informationon WileyPLUS, click here .
To learn more about Wiley e-texts, please refer to our FAQ.

Information about e-books:
E-books are offered as e-Pubs or PDFs. To download and read them, users must install Adobe Digital Editions (ADE) on their PC.
E-books have DRM protection on them, which means only the person who purchases and downloads the e-book can access it.
E-books are non-returnable and non-refundable.
To learn more about our e-books, please refer to our FAQ.