Textbook
Knowledge and the Probation Service: Raising Standards for Trainees, Assessors and Practitioners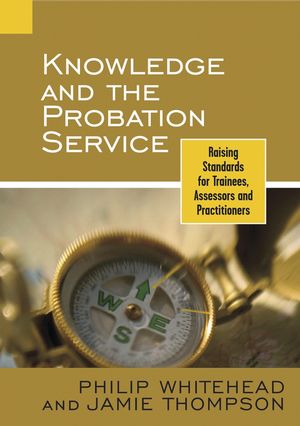 Knowledge and the Probation Service
 is designed to help trainee probation officers study for the Diploma in Probation Studies, focusing particularly on the NVQ elements and making the link to the degree programme in probation. Written by Philip Whitehead and Jamie Thompson, each with over 25 years' experience of the probation service, it will also be valuable to those assessing and managing trainees.
Opening with an historical overview of training in probation, the book moves on to examine key aspects of the NVQ: report writing, information for Practice Development Assessors, how to put training into practice once qualified, and how to progress beyond the codification of knowledge to achieving vocational excellence as a probation officer.
Timely and relevant, Knowledge and the Probation Service will stimulate and motivate trainees, offer food for thought for those involved in the planning and development of probation training, and will contribute to the wider debate about the nature of probation identity in these changing times for the service.
Teaching and learning features include:
Chapter menus and summaries
Further reading
Glossary
Appendices
Available Versions