Textbook
Computer Networks: Principles, Technologies and Protocols for Network Design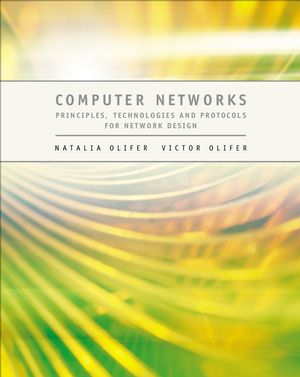 The new text on networking adopts a consistent approach to covering both the theory of basic networking technologies as well as practical solutions to networking problems. The structure of the book helps students to form a picture of the network as a whole. Essential and supplemental material to help both instructors and students will be made available from the booksite which will include visualisations of networking problems and solutions.
See More
Preface.
Part I: Networking Basics.
Chapter 1: Evolution of Computer Networks.
Chapter 2: General Principles of Network Design.
Chapter 3: Packet and Circuit Switching.
Chapter 4: Network Architecture and Standardization.
Chapter 5: Examples of Networks.
Chapter 6: Network Characteristics.
Chapter 7: Methods of Ensuring Quality of Service.
Part II: Physical Layer Technologies.
Chapter 8: Transmission Links.
Chapter 9: Data Encoding and Multiplexing.
Chapter 10: Wireless Transmission.
Chapter 11: Transmission Networks.
Part III: Local Area Networks.
Chapter 12: Ethernet.
Chapter 13: High-Speed Ethernet.
Chapter 14: Shared Media LANs.
Chapter 15: Switched LAN Basics.
Chapter 16: Advanced Features of Switched LANs.
Part IV: TCP/IP Internet-working.
Chapter 17: Addressing in TCP/IP Networks.
Chapter 18: Internet Protocol.
Chapter 19: Core Protocols of the TCP/IP Stack.
Chapter 20: Advanced Features of IP Routers.
Part V: Wide-Area Networks.
Chapter 21: Virtual Circuit WAN.
Chapter 22: IP WANs.
Chapter 23: Remote Access.
Chapter 24: Secure Transport Services.
Summary.
Review questions.
Problems.
Conclusion.
References and recommended reading.
Index.
See More
Takes an engineering approach to how networks are constructed
Networking concepts explained plainly with emphasis on how networks work together
Practical solutions backed up with examples and case studies
Balance of topics reflects modern environments
Instructor and Student book site support including motivational courseware
See More
'Excellent book... one of the most comprehensive I have come across in years. The clear concise nature of the text makes it a joy to teach from. Concepts are introduced beautifully and the author proceeds to build layer upon layer of information in an extraordinary manner. This book deserves to be on the bookshelf of every self-respecting computer scientist - it is certainly taking pride of place on mine.'
Kevin Curran, Ulster University
'Very good book with a lot of practical examples, which will enrich students understanding and experience in the area.'
Frederick Mtenzi, Dublin Institute of Technology
'It is unbelievable to find such a wealth of networking concepts compiled into one book.'
Freddy Nailana, University of Limpopo
'I am using this book for an undergraduate level course that I am teaching. This book was an extremely pleasant surprise. The language is clear, the organization is fantastic and the overall presentation makes this extremely dense text easy to read and understand.'
Daniel Lefebvre, Vermont, USA
See More
Instructors Resources
Contact your Wiley Representative
Find Your Rep

See More
See Less
Purchase Options
Wiley E-Text

Computer Networks: Principles, Technologies and Protocols for Network Design
ISBN : 978-0-470-06407-8
1000 pages
September 2010, ©2005
Hardcover
Computer Networks: Principles, Technologies and Protocols for Network Design
ISBN : 978-0-470-86982-6
1000 pages
December 2005, ©2005

Information about Wiley E-Texts:
Wiley E-Texts are powered by VitalSource and accessed via the VitalSource Bookshelf reader, available online and via a downloadable app.
Wiley E-Texts are accessible online and offline, and can be read on a variety of devices, including smartphones and tablets.
Wiley E-Texts are non-returnable and non-refundable.
Wiley E-Texts are protected by DRM. For specific DRM policies, please refer to our FAQ.
WileyPLUS registration codes are NOT included with any Wiley E-Text. For informationon WileyPLUS, click here .
To learn more about Wiley E-Texts, please refer to our FAQ.

Information about e-books:
E-books are offered as e-Pubs or PDFs. To download and read them, users must install Adobe Digital Editions (ADE) on their PC.
E-books have DRM protection on them, which means only the person who purchases and downloads the e-book can access it.
E-books are non-returnable and non-refundable.
To learn more about our e-books, please refer to our FAQ.