Textbook
Psychopathology: Research, Assessment and Treatment in Clinical Psychology
September 2008, ©2008, Wiley-Blackwell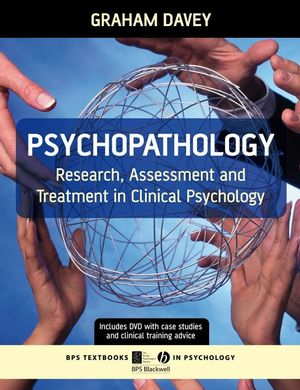 Psychopathology
is a comprehensive introductory textbook covering all facets of psychopathology and clinical practice for students at all levels supplemented by a wide range of features to facilitate effective teaching and learning. The text's accessible format and case study approach provide a valuable opportunity to understand how a broad range of diagnoses are reached in clinical settings.There is a fully comprehensive website with resources for students and lecturers available at
www.blackwellpublishing.com/psychopathology
Facilitates more effective teaching and learning by including highlighted boxes throughout text for more in-depth coverage

Includes DVD of patient interviews to be viewed in conjunction with text and an introduction to clinical psychology training for students interested in pursuing a career in the field

Features case studies, questions, further reading advice and exercises

Offers more learning and teaching opportunities than existing texts
See More
PART I: GENERAL CONCEPTS, PROCESSES AND PROCEDURES
.
1. Psychopathology: Concepts and Classification.
2. Clinical Assessment.
3. Research Methods in Clinical Psychology.
4. Treating Psychopathology.
PART II: ADULT MENTAL HEALTH.
5. Anxiety-Based Problems.
6. Depression and Mood Disorders.
7. Experiencing Psychosis: Schizophrenia and its Symptoms.
8. Substance Abuse and Dependency.
9. Eating Disorders.
10. Sexual and Gender Identity Problems.
11. Personality Disorders.
12. Somatoform Disorders.
13. Dissociative Experiences.
14. Neurological Disorders.
PART III: DEVELOPMENTAL PSYCHOPATHOLOGY.
15. Childhood Psychological Problems.
16. Learning, Intellectual and Developmental Disabilities
See More
Graham Davey is Professor of Psychology at the University of Sussex where he teaches courses in psychopathology, clinical psychology, and learning theory. He has published more than 130 articles in scientific and professional journals, and written or edited 14 books on topics related to clinical psychology, psychopathology, and learning theory.
See More
• A BPS Textbook in Psychology, combining UK perspective with international coverage
• Supplemented by a range of pedagogical features to facilitate teaching and learning – including focus points, case histories, client's perspective boxes, treatment in practice boxes and self-test questions. All classroom tested
• Companion website featuring testbank of MCQs for instructors, student selftest questions and extensive weblinks, including links directly through to key journal articles
• Accompanying DVD features video clips of case material on 18 psychopathologies covered in the text plus an introduction to clinical psychology training
See More
"This text provides a superb coverage of the psychopathology and treatment for adult and child mental health. The scope of disorders addressed is comprehensive and the combination of eloquent descriptions of historical context along with in-depth reviews of contemporary models for each group of disorders provides a completeness that is rarely achieved. Indeed, Professor Davey's inclusion of the most cutting edge research and pressing clinical issues makes his text stand above others. In addition, he brings his discussion alive with the intertwining of clinical vignettes that makes his text a delight to read. Finally, this is a masterpiece of organization, with a variety of features that undoubtedly will pique and maintain student interest and learning."
Michelle Craske, UCLA
"This superb book brings to life in a highly accessible way the realities of clinical disorders and clinical practice. The reader cannot fail to be fascinated by the range of symptoms people display and by the ingenious ways in which psychologists have sought to treat them. The range and depth of learning Davey displays is truly impressive." Chris Brewin, UCL

"Graham Davey has accomplished a feat seldom attempted in the field of psychopathology. He has produced a text of extraordinary depth and breadth and managed to do so in a single voice. In an era of exploding knowledge, multiple-authored texts are far more common. Davey not only tackles the whole of psychopathology himself, but does so with a level of integration of various factors contributing to causation and successful treatment that is difficult to achieve even with teams of authors. All students of psychopathology will benefit." David H. Barlow, Boston University

"This new book brings together material regarding a range of clinical problems in a lively and engaging manner. The author is an established clinician and researcher in this field and has produced an excellent resource for students at various levels. The chapters are interspersed with sound contemporary clinical theory, which is supported by rich case examples to illustrate the content." Rudi Dallos, Plymouth University

"Graham Davey has produced a comprehensive and eminently accessible work that provides a rich and unrivalled grounding in the theory and methods of abnormal psychology whilst covering the major diagnostic categories. Unique in its coverage of experimental psychopathology which is blended with clinical psychology it is an indispensable resource for undergraduate students and their teachers. The book is backed by audio-visual resources and links to key published articles making it one of the most useful and informative texts at this level." Adrian Wells, University of Manchester
See More
Purchase Options
Paperback&nbsp&nbsp&nbsp
Psychopathology: Research, Assessment and Treatment in Clinical Psychology
ISBN : 978-1-4051-3224-4
752 pages
September 2008, ©2008

Information about Wiley E-Texts:
Wiley E-Texts are powered by VitalSource technologies e-book software.
With Wiley E-Texts you can access your e-book how and where you want to study: Online, Download and Mobile.
Wiley e-texts are non-returnable and non-refundable.
WileyPLUS registration codes are NOT included with the Wiley E-Text. For informationon WileyPLUS, click here .
To learn more about Wiley e-texts, please refer to our FAQ.

Information about e-books:
E-books are offered as e-Pubs or PDFs. To download and read them, users must install Adobe Digital Editions (ADE) on their PC.
E-books have DRM protection on them, which means only the person who purchases and downloads the e-book can access it.
E-books are non-returnable and non-refundable.
To learn more about our e-books, please refer to our FAQ.
More in this series