Textbook
Introduction to Information Systems, Canadian Edition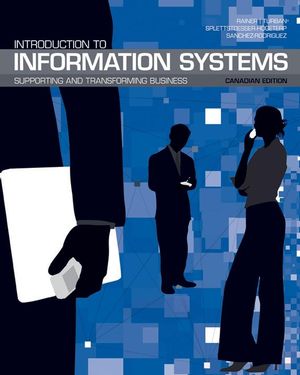 Information technology lives all around us in how we communicate, how we do business, how we shop, and how we learn.  Smart phones, iPods, PDAs, and wireless devices dominate our lives, and yet it s all too easy for students to take Information Technology for granted.
Introduction to Information Systems, Canadian Edition   helps make Information Technology come alive in the classroom.  This text takes students where IT lives in today s businesses and in our daily lives while helping students understand how valuable information technology is to their future careers. 
Introduction to Information Systems, Canadian Edition provides concise and accessible coverage of core IT topics while connecting these topics to Accounting, Finance, Marketing, Management, Human Resources, and Operations, so students can discover how critical IT is to each functional area and every business.
Table of Contents
Chapter 1: The Modern Organization in the Global, Web-Based Environment
Chapter 2: Information Systems: Concepts and Management
Chapter 3: Ethics, Privacy, and Information Security
Chapter 4: Data, Information, and Knowledge Management 
Chapter 5: Network Applications
Chapter 6: E-Business and E-Commerce.
Chapter 7: Wireless, Mobile Computing, and Mobile Commerce
Chapter 8: Organizational Information Systems
Chapter 9: Managerial Support Systems
Chapter 10: Acquiring Information Systems and Applications
Technology Guide 1: Computer Hardware
Technology Guide 2: Computer Software
Technology Guide 3: Protecting Your Information Assets
Technology Guide 4: Telecommunications, Networks, and the Internet and the World Wide Web 
Hallmark Features
A Media Resource Library (available on the instructor's site and in WileyPLUS) provides links to videos, animations, cases, and other web resources to help engage students in IT.  Each Media Resource includes lecture lead-ins, class discussion questions, and assessment questions.

What's in IT for Me? - show how IT topics relate to students in each major––Accounting, Finance, Marketing, Operations Management, MIS, and Human Resource Management.

IT's About Business – extensive use of vivid examples from large corporations, small businesses, government and non-for-profit organizations to show the connection between IT and business.

Active Learning - featuring hands-on exercises, activities, mini-cases with exercises that incorporate software application tools, and an online Virtual Company continuing case (Club IT).

Successes and Failures – present examples of IT successes and IT failures with lessons learned.

Global Focus – provides a broad selection of international cases and examples showing how IT facilitates export and import, the management of multinational companies, and electronic trading around the globe.

Technology Guides – offer additional material on current hot topics in the IT market.

Focus on Ethics – In addition to a chapter dedicated to ethics, privacy and security (Chapter 3), ethical cases and examples are integrated throughout the text.
Available Versions