Textbook
Personality Theory and Research: An International Perspective, Canadian Edition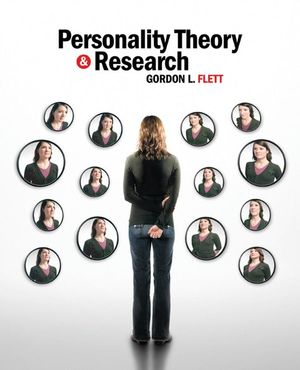 Personality Theory and Research provides an excellent balance between theory and research, and between new developments and important historical contributions to the study of personality.  This text is uniquely dedicated to providing a truly international and cross-cultural perspective on personality by discussing theories and examining research from Canada and around the world.  The extensive focus on applied research encourages a person-centred approach and illustrates that personality and individual differences matter greatly. The text's use of relevant personality examples, a lively and engaging writing style, and four-colour design helps today's student reader connect with this dynamic discipline.
See More
Chapter 1 -
Personality: An Introduction
Chapter 2 -
Units of Personality: Traits versus Traits
Chapter 3 -
The Development of Personality
Chapter 4 -
Personality Research Methods and Assessment Issues
Chapter 5 -
Psychodynamic Theories
Chapter 6 -
Motivational Theories and Psychological Needs
Chapter 7 -
Humanistic Theories and Self-Actualization
Chapter 8 -
Behavioural and Learning Theories
Chapter 9 -
Cognitive Theories and Cognitive Factors
Chapter 10 -
Interpersonal Theories and Interpersonal Styles
Chapter 11 -
Personality and the Self-Concept
Chapter 12 -
Personality and Health
Chapter 13 -
Personality, Mental Health, and Psychopathology
Chapter 14 -
Psychobiography and Personology: Summing up the Whole Person
See More
Gordon L. Flett is a Professor of Psychology at York University in Toronto. He received his B.Sc., M.A., and Ph.D. from the University of Toronto, and he began his appointment at York University in 1987. Dr. Flett has served as Director of Undergraduate Studies in York's Department of Psychology, and he received the Outstanding Teaching Award from the Faculty of Arts at York University in 1993 and again in 1997. Dr. Flett has taught courses on personality psychology, personality theory, and behavioural disorders at the undergraduate level, as well as courses in personality theory and research and in the self-concept at the graduate level.  In 2004, Dr. Flett was awarded a Tier I Canada Research Chair in Personality and Health. In 1999, he received the Dean's Award for Outstanding Research from the Faculty of Arts at
York
University
. In 1996, Dr. Flett was recognized by the American Psychological Society as one of the top 25 scholars in psychology, based on the number of publications over a five-year period. Dr. Flett's research interests include the role of personality factors in depression and the interpersonal aspects of anxiety. Dr. Flett is most recognized for his seminal contributions to research and theory on the role of perfectionism in psychopathology. His collaborative work with Dr. Paul Hewitt of the University of British Columbia on perfectionism has received widespread national and international attention and has been the subject of numerous media stories, including coverage on CTV, CNN, and the BBC. This work has been supported by major research grants from the Canadian Institutes of Health Research and the Social Sciences and Humanities Research Council of Canada. Dr. Flett has written more than 130 journal articles and book chapters. He co-edited (along with Paul Hewitt) the first academic book on perfectionism, entitled
Perfectionism: Theory, Research, and Treatment
, published in 2002, which received widespread praise from reviewers. More recently, in 2004, Dr. Flett and Dr. Hewitt also edited the first of three special issues on perfectionism for the
Journal of Rational-Emotive and Cognitive-Behaviour Therapy.
Dr. Flett has also teamed with Dr. Hewitt to create the Multidimensional Perfectionism Scale, which was published in 2004 by Multi-Health Systems Inc. They have also collaborated on the development of several other measures, including the Child-Adolescent Perfectionism Scale, the Perfectionism Cognitions Inventory, and the Perfectionistic Self-Presentation Scale. Dr. Flett is also the co-creator of the newly developed Endler Multidimensional Anxiety Scales (EMAS) – Social Anxiety Scales.
See More
Key Terms and Key Theorists
Key terms and key theorists are highlighted throughout each chapter as well as compiled at the end of the chapter, with page numbers for easy reference.
Glossary Key terms are defined in the glossary at the end of the text.
Key Points Summary Key points are provided throughout each chapter to help students focus on the main points of the material covered in each section.
Applied Perspective Each chapter includes one or more Applied Perspective feature that illustrates the real-world relevance and significance of personality factors.
International Focus on Discovery This textbook highlights contributions from around the world and discusses personality issues from a cross-cultural perspective. These are highlighted by the International Focus on Discovery feature, which is included in each chapter.
Chapter Summary and Questions to Consider Each chapter concludes with a summary of the chapter material as well as questions to help students further their analysis and understanding of the material covered. Students are encouraged to make their own summaries as they go through each section.
See More
Instructors Resources
ENHANCE YOUR COURSE
Digital evaluation copy available for this title
Request Copy

Contact your Wiley Representative
Find Your Rep

See More
See Less
Purchase Options
Paperback&nbsp&nbsp&nbsp
Personality Theory and Research: An International Perspective
ISBN : 978-0-470-83550-0
686 pages
May 2007, ©2008
$111.95&nbsp&nbsp&nbsp
BUY

Information about Wiley E-Texts:
Wiley E-Texts are powered by VitalSource technologies e-book software.
With Wiley E-Texts you can access your e-book how and where you want to study: Online, Download and Mobile.
Wiley e-texts are non-returnable and non-refundable.
WileyPLUS registration codes are NOT included with the Wiley E-Text. For informationon WileyPLUS, click here .
To learn more about Wiley e-texts, please refer to our FAQ.

Information about e-books:
E-books are offered as e-Pubs or PDFs. To download and read them, users must install Adobe Digital Editions (ADE) on their PC.
E-books have DRM protection on them, which means only the person who purchases and downloads the e-book can access it.
E-books are non-returnable and non-refundable.
To learn more about our e-books, please refer to our FAQ.