Textbook
Curriculum Theory and Methods: Perspectives on Learning and Teaching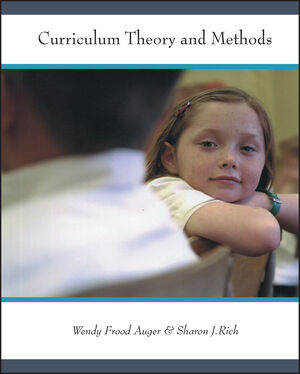 Written for use in pre-service and in-service curriculum courses, this text provides a balanced and engaging overview of how curriculum and developmental theories help inform the practical needs of the teacher. Authors Wendy Frood Auger and Sharon J. Rich help you build a critical appreciation of the subtleties of the learning process and the factors that influence the development of students' understanding. The strong pedagogical design provides practical resources as well as a framework that encourages self-reflection as a model for professional growth.
Hallmark Features
Personal Stories provide engaging stories that demonstrate how theories can be implemented in the classroom.
Reflective Practice activities focus on professional development and highlight the practical implementation of theoretical concepts.
Chapter Activities encourage the reader to reflect on the textual material and to make further connections as to how theory informs practice.
Running Glossary highlights and defines Key Terms as they appear in the text, enabling quick access, full understanding of terms, and ease of reading.
See More
PART I: CHILDREN AND LEARNING: How Does it Happen? 
Chapter 1: LEARNING & TEACHING: Charting the Course 
 The Shift from Behaviourism to Cognitivism to Constructivism 
Cognitive Development 
 Off to School 
 The Importance of Experience in Cognitive Development 
 Key Aspects of Cognitive Development 
Major Theorists 
  John Dewey 
  Jean Piaget 
  Piaget's Stages of Cognitive Development 
Social Cognition And Social Constructivism 
 Lev Vygotsky 
The Theory Of Multiple Intelligences 
  Howard Gardner 
Emotional Development 
  Daniel Goleman 
Physical Development 
  Physical Development in Younger Children 
  Physical Development in the Primary Grades 
  Physical Development in the Junior and Intermediate Grades 
Summary 
Chapter 2: CONSTRUCTIVISM: Making Connections, Risk-Taking, and Other Sundry Bits
What is Constructivism? 
 Bruner Thinks About Thinking 
  How Children Construct Knowledge 
Educating the Whole Child 
 Examining the 3 Cs: A Rationale for Teaching the Whole Child 
  Incorporating Students' Interests into Learning 
  The Reggio Emilia Approach 
Setting the Stage for Using Prediction: Adaptation Revisited 
 Adaptation in Action: The Prediction Learning Cycle  
  Summary of How the Prediction Learning Process Works 
  The Importance of Risk-taking 
The Serious Business Of Play 
  Key Characteristics of Play 
  Play: Is It a Valuable and Viable Part of Learning? 
  How Children Use Play 
  Play and Older Students 
  Piaget's Stages Revisited 
Organizing the Constructivist Classroom and the Role of the Teacher in Constructivism 
Summary 
Chapter 3: AUTONOMY: A Self-Starter is Born 
Invitational Learning 
Autonomy 
  Moral Autonomy ("Free will") 
  Intellectual Autonomy ("Free choice") 
  Practical Applications of Autonomous Teaching 
  Autonomy and Play 
Self-Concept & Self-Esteem 
Self-Esteem 
Creating An Atmosphere For Learning 
Summary 
Chapter 4:
THE BRAIN IN A PLAIN BROWN WRAPPER:
Everything You Ever Wanted to Know About the Brain and Might Be Afraid to Ask 
The Human Brain 
  Key Brain Structures 
  How a Message is Transmitted 
Brain Development in Young Children 
  The Role of Activity in Brain Growth and Development 
  If You Don't Use It, You'll Lose It 
  Novelty, Laughter, & Learning 
  "Food" for Thought 
Hemispheric Specialization 
  How the Hemispheres of the Brain Work 
  Adaptability and Flexibility 
  Important Considerations for Learning 
Cognitive Theory and the Human Brain 
  Learning Is an Active Process 
  Learning Is Non-linear 
  Learning Is Multi-dimensional 
  Learning Is Set Within a Social Context 
  Learning Is Influenced by the Affective Domain 
  Learning Is Concerned with Cognition and Metacognition 
Attention and the Brain 
Summary: Developing the Brain-Compatible Classroom 
Part II CREATING THE ROAD MAP FOR TEACHING & LEARNING 
Chapter 5: PLANNING: The Itinerary 
Getting Started: The "How People Learn" Framework 
  Knowledge 
  Students 
  Communities 
  Evidence 
Planning to Account for Knowledge, Student, Community, and Evidence 
  Getting Started 
  Theme Planning 
  Planning for Centres: Is It Necessary? 
  Professional Planning 
Summary 
Chapter 6: STARTING WITH WHAT YOU HAVE: Organizing Time, Space, and Materials 
Starting with the School: Design Principles 
  So What? Classroom Design 
  Primary and Upper Elementary Classroom Organization: The Same or Different 
  Matching Classroom Design and Teaching Philosophy 
  Classroom Decoration? Yours, Mine, and Ours 
  Storage: Things to Think About 
What Will You Do All Day? Thinking Through the Timetable 
  Biological Issues 
  Subject and Division Issues 
  Organizing Units 
  Daily Schedules 
  Time Management 
  Managing Resources 
  Centres in the Classroom 
Summary 
Chapter 7: STRATEGIES FOR TEACHING: The Teacher's Tool Kit 
Teaching Strategies 
 Personal Attitude and Management Skills 
  Classroom Management 
  Questioning Skills 
  Organization Strategies 
  Cooperative Learning 
The Integrated Day Approach 
  Rationale for Using the Integrated Day 
  Plan Sheets: A Method of Planning, Implementing, Adjusting, and Tracking in the Integrated Day 
  Benefits of the Integrated Day Approach 
Summary 
Chapter 8: THE CURRICULUM: Organizing Pieces of the Puzzle 
Views of Curriculum 
Curriculum: A Contested Arena 
  Curriculum Control in Canada 
Curriculum Development and Implementation 
  Curriculum Mapping for the Classroom Teacher 
  Subject Matter: Does It Matter? (Or should there be content-free curriculum) 
  A Current Curriculum Issue: Does One Size Fit All? 
Student Engagement and Alternative Curriculum Approaches 
  Problem- or Project-based Learning 
  Integration Across the Curriculum 
  Curriculum Orientation 
Summary 
Chapter 9: ASSESSMENT AND EVALUATION: The Glass is Half Full 
Assessment: The Context of Public Accountability 
  Principles of Authentic Accountability 
  Testing, Testing, and More Testing: Children, Tests, and Teacher Expectations 
  Evaluation and Assessment: The Same or Different? 
  Authentic Assessment: What Is It? 
  Strategies for Assessment 
  Data, Data, and More Data: Answering the "So What?" Question 
  Teacher Performance Appraisals 
 Summary
 
Part III ENHANCING CHILDREN'S THINKING 
Chapter 10: ADJUSTING THE PROGRAM: One Size Does Not Fit All 
What is Diversity? 
  Cultural and Linguistic Diversity 
  Maintaining and Fostering Socio-cultural Awareness 
  Multiliteracy Pedagogy: An Overview 
  Valuing Cultural and Linguistic Diversity 
  Another Form of Diversity: The Special Needs Student 
  Inclusive Pedagogy 
Diversity, Engagement, and Student Achievement 
Summary 
Chapter 11: ENRICHMENT: Letting the Genie Out of the Bottle 
The Process of Thinking 
Creative Thinking 
  Creativity and the Arts 
  How Teachers Can Foster Creativity 
Critical Thinking 
Problem Solving 
Encouraging Thinking & Promoting Metacognition 
  How Teachers Can Facilitate Metacognition 
  The Importance of Thinking Skills 
  Thinking Skills Revisits Questioning 
  Graphic Organizers 
  Mind Mapping 
  Making Connections 
Summary 
Part IV LOOKING AT THE BIG PICTURE
 
Chapter 12: ESTABLISHING BALANCE: Putting It Together 
Begin at the Beginning: What Makes a Good Teacher  
Becoming a Co-Learner: Assuming a Critically Reflective Stance 
  A Learning Community: What Is It? 
  Action Research as a Means to Understand Teaching 
Parents, Teachers, and Schools: Partners? 
  Getting to Know Parents: What to Do? 
  Preparing to Meet Parents: First Impressions Matter 
Understanding Performance Appraisal: Teacher Evaluation 
  Self Evaluation 
The Creation of the Context for Sharing: No More Boundaries 
Summary: Finding Balance-Taking Care of the Self 
Chapter 13: CLOSING THOUGHTS: "This Way to the Egress!" 
Alphabet Soup… The 3 Rs 
What is Effective Teaching? 
  Professional Learning Communities 
  Learning with Colleagues 
  Benefits of Participation in a Professional Learning Community 
  Moral Development 
  Character Education 
The Only Constant is Change 
  Educational Reform and Leadership 
 Initiatives in Teacher Education 
  The ABC's of Beginning Teaching 
  Final Inspirational Thoughts: A Credo for Children 
Summary
See More
The text makes extensive use of pedagogical elements to help make it practical and informative. The pedagogical elements are strongly focused on helping to make the connections between theory and practice, and to emphasize the practical value of theory in the classroom. The key pedagogical elements are:
Chapter Openers
Each chapter begins with Study Objectives and an Introduction to help set the context of the chapter and to help reader comprehension.
Glossary
In order to highlight important terms, a Running Glossary has been incorporated into the margins of each chapter. Key terms appear in colour in the text and are defined in the margin. This allows the reader quick access to definitions as they are encountered in the text.
Information Boxes
To assist the reader in searching for more information on important topics covered in the text, More Information boxes have been placed in the margins of each chapter. In addition to providing immediate assistance for the interested reader, these boxes also highlight key concepts.
Personal stories
To emphasize the importance of connecting theory to practice, Personal Stories boxes have been integrated throughout the text. These engaging first-person accounts and cases are designed to show how theory is implemented in the classroom to aid in the student's understanding.
Reflective practice
These boxes highlight insights, realizations, and the importance of critical reflection in order to provide a context for professional growth. Reflective Practice activities encourage professional development and show how theoretical concepts can continually be applied throughout a teacher's career and help put into practice the ideas and concepts contained within the text.
Summary and chapter activities
Chapter Summaries at the end of each chapter go over the chapter content, reemphasize key concepts, and help make connections to the subject areas covered. Each chapter then ends with an activities specially designed to encourage critical reflection and practical strategies to implement theoretical concepts.
See More
Instructors Resources
Request a print evaluation copy
Contact us

Contact your Wiley Representative
Find Your Rep

See More
See Less
Purchase Options
Hardcover
Curriculum Theory and Methods: Perspectives on Learning and Teaching
ISBN : 978-0-470-83774-0
424 pages
September 2006, ©2007

Information about Wiley E-Texts:
Wiley E-Texts are powered by VitalSource and accessed via the VitalSource Bookshelf reader, available online and via a downloadable app.
Wiley E-Texts are accessible online and offline, and can be read on a variety of devices, including smartphones and tablets.
Wiley E-Texts are non-returnable and non-refundable.
Wiley E-Texts are protected by DRM. For specific DRM policies, please refer to our FAQ.
WileyPLUS registration codes are NOT included with any Wiley E-Text. For informationon WileyPLUS, click here .
To learn more about Wiley E-Texts, please refer to our FAQ.

Information about e-books:
E-books are offered as e-Pubs or PDFs. To download and read them, users must install Adobe Digital Editions (ADE) on their PC.
E-books have DRM protection on them, which means only the person who purchases and downloads the e-book can access it.
E-books are non-returnable and non-refundable.
To learn more about our e-books, please refer to our FAQ.