Textbook
Industrial Relations in Canada, 2nd Edition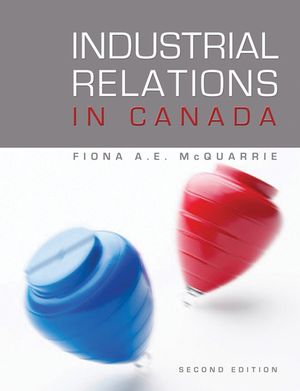 Fiona McQuarrie's
Industrial Relations in Canada
received wide praise for helping students to understand the complex and sometimes controversial field of Industrial Relations, by using just the right blend of practice, process and theory.  The text engages business students with diverse backgrounds and teaches them how an understanding of this field will help them become better managers.
The second edition retains this student friendly, easy-to-read approach, while being updated to reflect the relevant economic social and legal events since the publication of the first edition.
Table of Contents
1. An Introduction to Industrial Relations in Canada
2. Theories of Industrial Relations
3. History of the Canadian Union Movement
4. The Structure of Canadian Unions
5. The Organizing Campaign
6. Establishing Union Recognition
7. Defining and Commencing Collective Bargaining
8. The Collective Bargaining Process
9. Strikes and Lockouts
10. Third-Party Intervention during Negotiations
11. The Grievance Arbitration Process
12. Changes to the Union or the Employer
13. Future Issues for Workers, Work Arrangements, Organizations, and the Industrial Relations System
New To This Edition
"In the News" Feature: Each chapter now includes an actual news article to highlight interesting real world events. Many students in this course have limited or negative union experience, prior to the course. This feature helps to show students that the field is diverse and is "not just about strikes and lockouts". For example, Chapter 13 includes an article from the Kamloops Daily News that highlights the aging of Canadian unions and the cultural gaps that may be affecting new membership.
All cases in the text are new!  The cases are adapted from actual labour relations boards' cases from across Canada which put the student in the position of a labour relations board member who must assess the evidence from both sides and render a decision. Based on reviewer feedback, suggested answers and the actual labour relations board decision are provided in the Instructors Manual.
Currency:  The second edition has been thoroughly updated with new examples and references. It includes coverage on the recent and well publicized disputes in Canada at Telus, CBC and the NHL.
Expanded Supplements Package: The second edition includes new video cases as well as revised PowerPoint slides, lecture notes, test bank and website resources.
Hallmark Features
Rather than emphasizing the economic or theoretical approach to the discipline, there is a focus on the practical or process oriented side of labour relations as it applies in today's workplace.
Relevant, current topics including technological changes, downsizing, union membership and survival issues are covered, providing students with the most up-to-date information on the subject.
A host of pedagogical tools including chapter objectives, new terminology definitions, discussion questions, charts and graphs, and cases and simulation exercises are included to help students with no experience in industrial relations.
Numerous examples, cases, vignettes, and photos highlight real-world practice. Cases from actual labour relations board decisions from across Canada are presented so that students can experience real IR situations.
Available Versions