Textbook
Abnormal Psychology, Canadian Edition, 3rd Edition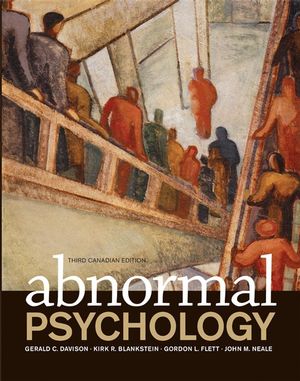 Based upon the best-selling
Abnormal Psychology
, Second Canadian Edition by Davison, Blankstein, Flett, & Neale, the third edition has been thoroughly revised and updated to continue its reputation as the definitive text in the discipline.
Abnormal Psychology
, Third Canadian Edition follows the widely praised scientific-clinical approach and encourages the reader to critically consider the various theories and perspectives in this dynamic field.
Based upon reviewer comments, sections of the text have been updated extensively to incorporate numerous new research developments, and many new cases have been added to illustrate specific disorders. The text includes an increased coverage of new trends in psychotherapy and a stronger emphasis on tying themes to emerging research findings.  Over 400 new international and Canadian references have been added to this edition.
See More
Part One: Introduction and Basic Issues.
1. Introduction: Definitional and Historical Considerations and Canada's Mental Health System.
2. Current Paradigms and the Role of Cultural Factors.
3. Classification and Diagnosis.
4. Clinical Assessment Procedures.
5. Research Methods in the Study of Abnormal Behaviour.
Part Two: Psychological Disorders.
6. Anxiety Disorders.
7. Somatoform and Dissociative Disorders.
8. Psychophysiological Disorders and Health Psychology.
9. Eating Disorders.
10. Mood Disorders.
11. Schizophrenia.
12. Substance-Related Disorders.
13. Personality Disorders.
14. Sexual and Gender Identity Disorders.
Part Three: Life-Span Developmental Disorders.
15. Disorders of Childhood.
16. Aging and Psychological Disorders.
Part Four: Intervention and Legal and Ethical Issues.
17. Outcomes and Issues in Psychological Intervention.
18. Legal and Ethical Issues.
See More
New Canadian references (from 2005-2007) have been added, including extensive reference to significant new Canadian empirical studies.

Extensive chapter updates based on research, particularly in Chapter 6 "Anxiety Disorders," in Chapter 10 "Mood Disorders," in Chapter 11 "Schizophrenia," and in Chapter 17 "Psychotherapy."  

Includes an even greater focus on biological factors and related research developments to represent advances in neuroscience and genetic research.

"Hot Topics" expanded and new emerging issues added including: pending changes in the upcoming DSM-V, the fate of harm reduction efforts to treat addiction in Vancouver, and the nature and implementation of community treatment orders across Canada and elsewhere.

Extensive new Canadian epidemiological data cited throughout the text using material from 2006 Government of Canada Report The Human Face of Mental Health and Mental Illness in Canada 2006.

Updated Case Material: Accounts of actual Canadian case studies described in previous editions are updated and new case studies have been added, including new chapter-opening cases in chapters 8 "Psychological Disorders and Health Psychology" and 9 "Eating Disorders."

More detailed description and discussion of meta-analyses and its use. Highlights the increasing dominance of this review method and evaluates its pros and cons.

Additional coverage of the role of physiological factors to parallel an increase in research on the link between physical and psychological functioning.
See More
Follows the widely praised scientific clinical approach that balances clinical and empirical/experimental coverage.
Analyzes research, rather than simply citing it, encouraging students to think critically about what they are learning and to develop a framework for evaluating research evidence.
Involves the reader in a collaborative quest for answers to questions in the discipline. This serves both to motivate the study of abnormal psychology while also enhancing student problem-solving skills.
Excels in its integration of current research. Davison, Neale, Blankstein and Flett include one of the largest and most current collections of references of any abnormal psychology text.  Focus on Discovery boxes provide interesting, in-depth discussions of specialized topics related to the text material. These allow students to deepen their understanding and strengthen their analysis skills. The Canadian Clinic Focus boxes examine both specific clinics in various regions of Canada and clinical intervention issues.
Provides the most comprehensive coverage of aging available (Chapter 16), an important topic first pioneered by an earlier edition of the text.
Includes considerable material on cultural factors and how behaviour is conceptualized in different cultures.
Full chapter on outcomes and issues in psychological intervention. Chapter 17 discusses process and outcome research on treatment; it reviews, evaluates and offers critical appraisal of various interventions and examines controversial issues such as cultural and racial factors; politics and ethics of community psychology; and the integration of psychotherapy.
See More
Instructors Resources
Contact your Wiley Representative
Find Your Rep

See More
See Less
Purchase Options

Information about Wiley E-Texts:
Wiley E-Texts are powered by VitalSource and accessed via the VitalSource Bookshelf reader, available online and via a downloadable app.
Wiley E-Texts are accessible online and offline, and can be read on a variety of devices, including smartphones and tablets.
Wiley E-Texts are non-returnable and non-refundable.
Wiley E-Texts are protected by DRM. For specific DRM policies, please refer to our FAQ.
WileyPLUS registration codes are NOT included with any Wiley E-Text. For informationon WileyPLUS, click here .
To learn more about Wiley E-Texts, please refer to our FAQ.

Information about e-books:
E-books are offered as e-Pubs or PDFs. To download and read them, users must install Adobe Digital Editions (ADE) on their PC.
E-books have DRM protection on them, which means only the person who purchases and downloads the e-book can access it.
E-books are non-returnable and non-refundable.
To learn more about our e-books, please refer to our FAQ.