Textbook
Education Methods: A Case Study Approach to Professional Development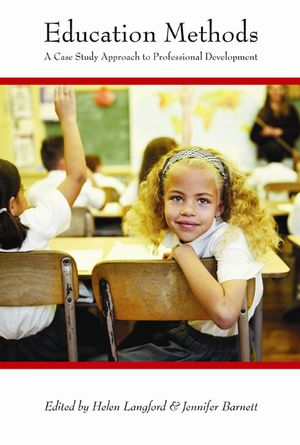 Education Methods
has been designed to provide students and professionals with strategies and practical approaches to situations that arise in today's educational settings. The real life case studies provide a much needed forum to address key scenarios that can impact the daily life of teaching. Each chapter integrates descriptive text, case studies and reflective questions. This dynamic format has been designed to encourage reader reflection on key scenarios as they may occur in the classroom or at schools, and to help develop the skills and tools of the reader.   
Each chapter focuses on pertinent topics such as School Communities; Teaching/Learning Strategies; Communications; Information Technology; Assessment, Evaluation and Reporting; Literacy, Numeracy and Other Curriculum Areas; Bullying; Classroom Management; Administration; Leadership; Outdoor Education and Field Trips; Extracurricular Activities and Health and Safety.
Table of Contents
Introduction      
Chapter 1  ~  Classroom Management                    
Chapter 2  ~  Curriculum Change Issues Related to Literacy & Numeracy       
Chapter 3   ~  Assessment, Evaluation, and Reporting      
Chapter 4  ~  Special Education          
Chapter 5  ~  Exceptionality in the Classroom       
Chapter 6   ~  Computers in Education     
Chapter 7  ~   Teaching/Learning Strategies      
Chapter 8  ~  Outdoor Education       
Chapter 9  ~  Communication    
Chapter 10  ~  School Communities Interacting      
Chapter 11  ~  Safe Schools       
Chapter 12   ~  Extracurricular Activities          
Chapter 13   ~  Legal Issues in Teaching    
Chapter 14   ~  Gender Issues                                
Chapter 15   ~  Outside Agencies and Partnerships                                       
Chapter 16   ~  Administration
Chapterr 17   ~  Leadership
Hallmark Features
This text was born of an identified need for practice-oriented tools for use with students and teachers. It has been created by teachers for teachers to provide a balanced approach to curriculum theory and practice within a Canadian context.
Neutral, reality-based scenarios can be used independently, both in small groups or in larger group settings to assist in developing a reader's expertise or improving performance in critical areas such as bullying and dealing with irate parents.
The reflective nature of this text helps the reader to develop the skills and tools needed to analysis his/her own practices. 
Each chapter includes an introductory explanation of the chapter topic, case studies, critical thinking questions, a summary, and a list of references and resources.
Each case study is chosen to provoke thought, compel reactions and infuse discussion. 
Available Versions