Textbook
History of Psychology 3e
June 2008, ©2008, Wiley-Blackwell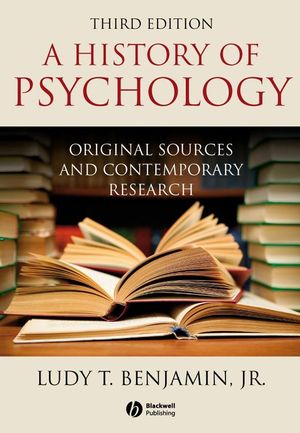 A History of Psychology is a unique collection of readings in psychology designed to meet three principal goals: a) to expose students to primary source readings in psychology (e.g., Locke, James, Freud, Watson, Leta Hollingworth, Skinner), b) to expose students to some of the best contemporary historical scholarship by active historians of psychology (e.g., Sokal, Leary, Milar, Fancher, Hornstein, Rutherford), and c) to provide students with an understanding of the philosophy and methods of historiography.

In the Third Edition, the author directly links the primary source readings with the contemporary research articles so that the two tell a complete and engaging story - for example, students will read John Watson's behaviorist manifesto followed by Franz Samelson's article showing the slow effect of that message in fostering a behavioral "revolution." Alone or paired with a narrative text, this updated volume will provide students with an integrated understanding of the history of psychology.

Changes for the 3rd Edition

* More concise with 44 articles.

* Twenty-two articles are new

* Thirteen of the contemporary readings are since 2000.

* Specific connections are made between original sources from the founders with the contemporary research.
Available Versions