Textbook
¡Vívelo! Beginning Spanish, 1st Edition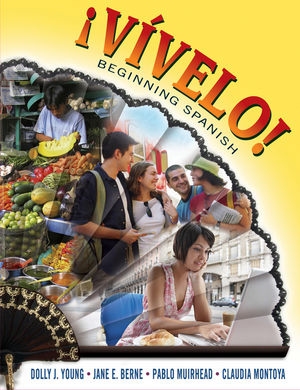 ¡Vívelo!
offers a fresh approach to beginning Spanish based on a solid foundation of what second language acquisition research tells us about how students acquire and assimilate language and cultural competence. It is a holistic, culturally rich, task-driven program with engaging input and realistic expectations of what beginning learners can achieve in a first college Spanish course. 
¡Vívelo!
pays close attention to the role of affect in the foreign language learning process by emphasizing what students know and can readily do with language, and by going beyond exposing them to the products and practices of other cultures to explore, compare, and embrace the perspectives they come from. It is designed strategically to ensure that beginning students of Spanish, even with a limited amount of language, can understand and make themselves understood well enough to function at levels parallel to their cognitive abilities and in a culturally appropriate manner.
¡Vivelo!: Beginning Spanish Annotated Instructor's Edition 978-0-470-55497-5
See More
Investigación preliminar
Capitulo 1: Los compañeros y la clase
Capitulo 2: Más allá de la clase
Capitulo 3: El mundo hispano
Capitulo 4: El mundo hispano en tu vida
Capitulo 5: Lo que influye en la formación de una cultura y sociedad
Capitulo 6: Costumbres sociales y culturales
Capitulo 7: El arte y lo objetivo
Capitulo 8: El arte y la interpretación
Capitulo 9: Los días feriados
Capitulo 10: Perspectivas distintas
Capitulo 11: Los avances tecnológicos
Capitulo 12: Perspectivas globales
See More
Each chapter opens with an Adelante section, a list of easily recognizable cognates with activities that establish context and engage student's right from the start.

Vívelo: Cultura and Contextos y perspectivas aids students cultural awareness by reflecting on their own cultures and the cultures of the Spanish-speaking world.

The role of culture is maximized throughout the text to assist in the breakdown of ethnocentric interpretations and suspension of ethnocentricism; a principle objective of ¡Vivelo!

Retrato de la clase sections offer students the chance to become familiar with each other through interactive activities, creating a sense of class identity and a willingness to communicate.

Content in the book is linked to real world, up-to-date knowledge, experiences, and events via online connections.

Textbook and workbook tasks are varied to offer all students opportunities to learn in ways that will be most successful to them.

See More
Instructors Resources
ENHANCE YOUR COURSE
Request a print evaluation copy
Contact us

Contact your Wiley Representative
Find Your Rep

See More
See Less
Students Resources
See More
See Less
Purchase Options
¡Vívelo! Beginning Spanish
ISBN : 978-0-470-56392-2
July 2010, ©2011
Loose-leaf&nbsp&nbsp&nbsp
¡Vívelo! Beginning Spanish, Binder Ready Version
ISBN : 978-0-470-55649-8
640 pages
January 2010, ©2011
Hardcover&nbsp&nbsp&nbsp
¡Vívelo! Beginning Spanish
ISBN : 978-0-471-72776-7
640 pages
January 2010, ©2011

Information about Wiley E-Texts:
Wiley E-Texts are powered by VitalSource technologies e-book software.
With Wiley E-Texts you can access your e-book how and where you want to study: Online, Download and Mobile.
Wiley e-texts are non-returnable and non-refundable.
WileyPLUS registration codes are NOT included with the Wiley E-Text. For informationon WileyPLUS, click here .
To learn more about Wiley e-texts, please refer to our FAQ.

Information about e-books:
E-books are offered as e-Pubs or PDFs. To download and read them, users must install Adobe Digital Editions (ADE) on their PC.
E-books have DRM protection on them, which means only the person who purchases and downloads the e-book can access it.
E-books are non-returnable and non-refundable.
To learn more about our e-books, please refer to our FAQ.
This title is also available on :
Learn more about