Textbook
International Business, 8th Edition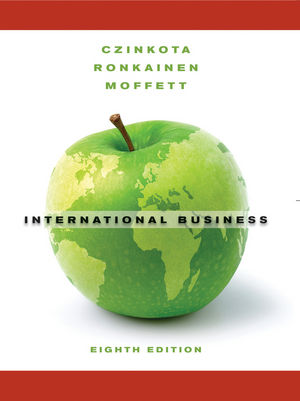 International Business, 8th edition
enables students to become better, more successful participants in the global business place.  The internationally cited author team of Czinkota, Ronkainen, and Moffet balance conceptual understanding and knowledge of day-to-day realities.  Covering all key aspects of international business, the authors emphasize a few key dimensions: international context, role of government in international business, small-and medium-sized firms, and social responsibility.
This new edition is even more global and user-friendly.  Now organized into five parts, students can more clearly make connections between introductory material, the international environment, marketing, and financial considerations in the international marketplace.  A truly global presentation draws on worldwide examples, trends, and data, and includes an exemplary case selection based on firms from around the world, from Vietnam and Russia, to Iceland and Turkey.  With this new Wiley edition of International Business, students will better understand the intricacies of international marketplace, and be better versed in theory, policy, and strategic aspects of global economy. 
See More
PART I: IMPACT
Chapter 1 The International Business Imperative
PART II: FOUNDATIONS
Chapter 2 Trade and Investment
Chapter 3 The Theory of Trade and Investment
Chapter 4 The Balance of Payments
Part II Cases:
Iceland 2006: A Small Country in a Global Capital Market
The Venezuelan Bolivar Black Market
Will Tire Tariffs Launch a Trade Dispute?
The Catfish Dispute
PART III: ENVIRONMENT
Chapter 5 Culture
Chapter 6 Politics and Law
Chapter 7 Financial Markets
Chapter 8 Economic Integration, Emerging and Developing markets
Part III Cases:
Mattel's Chinese Sourcing Crisis of 2007
Nine Dragon's Paper
The H1-B
The Banana Wars
MG Rover Plant
PART IV: STRATEGY
Chapter 9 Strategic Planning
Chapter 10 Corporate Governance and Reform,
Chapter 11 Coordination, Implementation, and Control (incl. Knowledge Transfer)
Chapter 12 Building the Knowledge Base (Research Tools)
Chapter 13 Entry and Expansion
Part IV Cases
Koch Industries Acquires Georgia Pacific
Petroleum Development and The Curse of Oil
Honey Land
Tao kae noi Seaweed Snack
PART V: OPERATIONS
Chapter 14 Marketing
Chapter 15 Services
Chapter 16 Logistics
Chapter 17 Financial Management
Chapter 18 Human Resource Management
Chapter 19 New Horizons
Part V Cases:
Nova Macedonia
Porsche Changes Tack
When Diamonds Weep
The Market Entry Strategy Social Approach
See More
New and improved topic coverage and organization: The 8th edition is organized to flow logically from introductory material to the international environment to marketing and financial considerations on the marketplace.
Focus on the international manager: Special attention has been given to topics critical to the international manager.
Current coverage: Most current text and resources reflect on recent controversies in international business
Business Weekly Update Site: Each week you will find links to 5 new articles, video clips, business news stories, and so much more with discussion questions to elaborate on the stories in the classroom. http://wileybusinessupdates.com/
Geodiscoveries for Intl Business: Enhance your geographic literacy with Wiley's online world map activities
See More
Blend of current theory and application: Gives students the understanding of concepts and how to apply them
Emphasis on governmental involvement: The author team's Washington location gives them the unique ability to follow, analyze, and incorporate government
Focus on small-and medium-sized firms: These firms are emerging as significant players in international field
Research emphasis: Students now have the information and tools to conduct further research in the international business field
Geographic literacy: The text includes many colorful maps covering social, economic, and political features of the world
Exemplary case selection: Help to further link theory and practice and questions engage students in critical thinking
See More
Instructors Resources
ENHANCE YOUR COURSE
Digital evaluation copy available for this title
Request Copy

Contact your Wiley Representative
Find Your Rep

See More
See Less
Students Resources
Wiley Student Companion Site
Coming Soon!
View Sample content below:
See More
See Less
Purchase Options
International Business, E-Text, 8th Edition
ISBN : 978-0-470-91201-0
October 2010, ©2011
Loose-leaf&nbsp&nbsp&nbsp
International Business, 8th Edition Binder Ready Version
ISBN : 978-0-470-91565-3
768 pages
June 2010, ©2011
Hardcover&nbsp&nbsp&nbsp
International Business, 8th Edition
ISBN : 978-0-470-53065-8
746 pages
August 2010, ©2011

Information about Wiley E-Texts:
Wiley E-Texts are powered by VitalSource technologies e-book software.
With Wiley E-Texts you can access your e-book how and where you want to study: Online, Download and Mobile.
Wiley e-texts are non-returnable and non-refundable.
WileyPLUS registration codes are NOT included with the Wiley E-Text. For informationon WileyPLUS, click here .
To learn more about Wiley e-texts, please refer to our FAQ.

Information about e-books:
E-books are offered as e-Pubs or PDFs. To download and read them, users must install Adobe Digital Editions (ADE) on their PC.
E-books have DRM protection on them, which means only the person who purchases and downloads the e-book can access it.
E-books are non-returnable and non-refundable.
To learn more about our e-books, please refer to our FAQ.