Textbook
Critical Community Psychology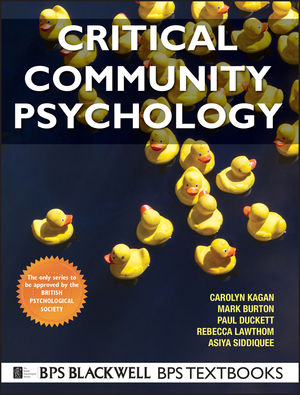 Interest in community psychology, and its potential has grown in parallel with changes in welfare and governmental priorities. Critical Community Psychology provides students of different community based professions, working in a range of applied settings, at both undergraduate and postgraduate levels, with a text which will underpin their community psychological work.
Key Features:
· Clear learning objectives and chapter contents outlined at the start of each chapter.
· Key terms highlighted with definitions, either as marginal notes or in chapter glossaries.
· Case examples of community psychology in action.
· Each chapter ends with a critical assessment section .
· Discussion points and ideas for exercises that can be undertaken by the reader, in order to extend critical understanding.
· Lists of further resources - e.g. reading, film, electronic.
· Authors are members of the largest community psychology departmental team in Europe.
See More
1 Introduction 1

Critical community psychology in Manchester 2
Why Manchester? 3
Learning through action and action through learning 5
Action learning 7
Action research 7
Language, discourse and representation 9
What do we mean by 'critical'? 12
Orientation to the book 13
PART I: THINK! 15
2 What is critical community psychology? 17
The nature and origins of community psychology 18
Definitions 21
The emergence of community psychology in different parts
of the world 24
Key themes in critical community psychology 28
From prevention to liberation 29
Global trends and critical community psychology 30
Think global, act local? 32
Localism as a philosophy 32
Sharing experiences, strategies and programmes 33
Being part of a wider movement 33
The role of social movements 34
Social justice and a just society 35
Core values underpinning a critical community
psychology 36
Social justice 37
Stewardship 38
Community 38
Conclusion 39
3 Core elements of a critical community psychology 41
Elements of critical community psychology 42
The ecological metaphor 42
Adaptation 44
Cycling of resources 44
Interdependence 44
Succession 44
Unintended consequences 45
Non-linearity 45
Fields and edges 46
Nesting 46
Ecological design 47
The systems perspective 47
Multiple levels of analysis 48
The person-in-context 49
An ontology of individual and society 50
The person-situation formula 50
Person-situation level elements of analysis 51
Role-rule contexts 51
Group dynamics 52
Leadership 53
Community-society level elements of analysis 54
Society and the individual 55
Facing the nature of oppression and liberation, immersion in the lived
experiences of people oppressed by the social system 56
A dialectical relationship between people and systems:
conscientisation 58
Working together 59
Interdisciplinarity 59
Agency, power and collective action 59
Participation 59
Prefigurative action 60
Core principles underlying a critical community psychology 62
Diversity 62
Innovation 62
Liberation 63
Commitment 63
Critical reflection 63
Humility 63
Conclusions 67
4 The contested nature of community 69
What is community? 71
Theory descriptions of community 73
Dimensions of community: Sentiment, social structure and space 74
Sentiment 74
Psychological sense of community 75
The cultural and symbolic sense of community 76
Space 79
Social structure 81
Multi-dimensional communities 83
Power and community 84
Social exclusion 85
Conclusions 87
5 Community as social ties 89
Social ties 90
Affection 91
Interdependence 91
Coercion 92
Theory prescriptions for community 93
Ties of affection and co-operation: Community as social capital 94
Ties of coercion: Community as ghetto 98
The ghetto walls 100
Social boundaries: benign or benevolent? 102
Community and social policy 103
Nature of participation 104
Conclusion 110
Critical disruption of Think! 111
Critically disrupting the challenge to individualism 111
Critically disrupting our history of community psychology 113
Resources for Part One 117
PART II: ACT! 121
6 Problem definition 123
Social issues 125
Need 126
Positionality and problem definition 130
Whose need? 131
Getting to know the community 132
Community audit 132
Community profiling 133
Use of statistics 137
Observation 137
Community walks 138
Making contact and gaining entry in the community 139
Problem situations as human systems 141
Stakeholders and stakeholder analyses 151
Conclusion 153
7 Action planning 155
Decision making 156
Stakeholder analysis and action planning 160
Boundary critique: towards value-based decision making 161
Fourth generation evaluation 168
Participatory appraisal of needs and development of action 169
Strengths, weaknesses, opportunities and threats 170
Force fi eld analysis 171
Option appraisal 174
Compromise 175
Visioning 176
Mixing methods 178
Complex decision making: Polarity management 179
8 Action 1: furtherance of critical consciousness and creation
of new forms of social settings 183
Action for change 184
Strategies of critical community psychological action 186
Furtherance of critical consciousness (conscientisation) 186
Problematisation 188
Experiential learning 191
'Capacitation' 195
Deideologisation 197
Creation of new forms of social relations and settings 198
Multi-dimensional nature of social situations 198
Behaviour settings 200
New or alternative social settings 202
The radical nature of alternative social settings 206
9 Action 2: Development of alliances, and accompaniment,
advocacy and analysis of policy 209
Making links, the development of alliances and counter systems 210
Processes of making links and working together 210
Communities of interest or communities of practice 213
Alliances and coalitions 213
Partnerships 216
Working at the ecological edge 217
Alliances, new social settings and connecting with social movements 222
Accompaniment, advocacy and analysis of policy 224
Accompaniment 224
Skills needed for accompaniment 227
Knowledge and accompaniment 228
Advocacy 228
Analysis of policy 234
Policy implementation 236
Policy analysis 237
Conclusions 240
Critical disruption of Act! 241
Chronic uncertainty 242
Work ethic 243
Resources for Part Two 245
PART III: REFLECT! 249
10 Evaluation 251
Purpose of evaluation 252
Principles of evaluation 253
Evaluation frameworks 255
Politics of evaluation 256
What is to be evaluated? 261
'Theory of change' perspectives on evaluation 262
Realistic or realist perspectives on evaluation 263
Capacity building for evaluation 268
Participation and evaluation 270
Participation and empowerment in evaluation 271
Resistance to involvement as a barrier to participation
in evaluation 274
Skills for evaluation 276
Conclusions 278
11 Change, influence and power 279
The nature of social change 280
Incremental or radical change 283
Linear and non-linear change 284
Stage approaches to change 285
Strategic change 286
Resistance to change 287
Action research as change 290
Social movements, power and ideology 291
Social influence 292
Social change tactics 294
Social power, powerlessness and empowerment 294
Taxonomy of power 295
The social structure of social power 298
Power analysis 300
12 Roles, skills and reflections on learning
for community psychologists 303
Roles for facilitating change 304
Facilitation roles 304
Educational roles 304
Representational roles 305
Technical roles 306
Skills for facilitating change 307
Interpersonal communication skills 308
Social problem solving skills 308
Organisation skills 309
Research skills 309
The context of community psychological action 310
Reflexivity as part of practice 314
Constraints on working as a community psychologist
and spaces for resistance 316
Ethical issues 319
Risk 320
Power (again) 322
Prefigurative learning 323
The case for and against community psychology 323
Community psychology as oppression or liberation 325
Conclusion 327
Critical disruption of Reflect! 329
Evaluation and the audit culture 329
Auditing skills 331
Critical disruption of critical reflection 333
Resources for Part Three 335
13 Critical disruption: Does critical community psychology
have an adequate praxis? 337
A new context: extreme and globalised oppression 340
Rethinking the amelioration-transformation distinction 341
References 343
Index 369
See More
All the authors are members of the largest community psychology team in Europe, practising and researching community psychology and teaching undergraduate and postgraduate courses in community psychology at Manchester Metropolitan University.
Mark Burton, Visiting Professor of Health and Disability at Manchester Metropolitan University and Head of the Manchester Learning Disability Partnership: I have a background in both psychological research and clinical psychology, and have worked for the last 20 years in services for intellectually disabled people as a development manager, using a community psychological approach to inform this work, which is carried out by myself and by colleagues with both psychological and non-psychological backgrounds. I have also participated in the work of a variety of non governmental organisations and campaigning groups. I have taught courses on social theory and psychological practice, organisational and social change, action research and aspects of community clinical psychology both at postgraduate level and outside the University context.
Paul Duckett, Senior Lecturer, is a community psychologist who works in the fields of disability, mental health and unemployment. I work alongside disabled people including people with mental health difficulties and people with learning difficulties. I am interested in exploring ways of promoting student mental health and promoting the integration of a social justice perspective in psychological teaching, research and practice. In addition I have published in the areas of criminal (in)justice, children's wellbeing and social critiques of war.
Carolyn Kagan, Professor of Community Social Psychology at Manchester Metropolitan University: I am a community psychologist with a background in social psychology, counselling psychology and social work. I am a founding co-editor of the international journal, Community, Work and Family (published by CARFAX, now Taylor and Francis). I have worked for 25 years on projects in the community, with disabled people, their families and services and with people living in poverty. Much of my work has been action oriented, with projects extending over several years, and I have been involved with the establishment of new projects and new forms of community organisation. I teach Community psychology to both undergraduates and postgraduates, and have developed the first UK Masters programme in Community Psychology. I have supervised and examined MSc and PhD theses in community psychology in the UK and Australia. I convened and chaired the 1999 UK Community Psychology Conference in January 1999 and am a regular contributor to UK and European community psychology conferences.
Rebecca Lawthom, Principal Lecturer. My research interests centre on gender and feminism, particularly in workplace settings. I am also interested in working with other non dominant groups, including disabled people, and in relation to social inclusion approaches. Ihave a particular interest in the concept of 'communities of practice' and am currently exploring its utility in relation to narrative work and to different forms of creativity.
Asiya Siddiquee, Lecturer. I am a community psychologist with a particular interest in critical perspectives on established forms of both quantitative and qualitative research. My recent doctoral work was 'A Community Psychology Approach to Investigating the Impact of the Internet', and as part of this I examined the impact of the Internet on refugee women, ethnic minorities, community development workers and the health sectorI am currently applying action research processes to explore issues such as marginalisation and the use of the digital technologies, and am part of an international community psychology virtual network.
Other, newly appointed members of the team may also contribute to the book. For example Professor Dan Goodley (expertise- critical disability studies) and Jenny Fisher (expertise - community development).
See More
Clear learning objectives and chapter contents outlined at the start of each chapter
Key terms highlighted with definitions, either as marginal notes or in chapter glossaries
Case examples of community psychology in action
Each chapter ends with a critical assessment section
Discussion points and ideas for exercises that can be undertaken by the reader, in order to extend critical understanding
Lists of further resources – e.g. reading, film, electronic
Authors are members of the largest community psychology departmental team in  Europe
See More
"At last, an exciting new textbook on community psychology that is informed by contemporary debates within critical psychology.  It provides a refreshing and well-written overview of both theoretical and practical issues around psychological work in a range of community settings. Filled with examples and reflections on practice drawn from years of experience, the book is a modern handbook for community scholar-activists."
Michael Murray, Professor of Social & Health Psychology, Keele University
"Psychology – and psychologists – are all too often disengaged from the very real challenges facing modern societies. This book provides a timely and powerful nudge to contribute our various skills and approaches to improve and enhance local and global communities. It deserves to be widely read by students and professionals alike."
Roger Ingham, Professor of Health and Community Psychology, University of Southampton
"This important new book encapsulates an enormous range of helpful concepts and practical tools within the field of community psychology that link local action with more ambitious social and political change.  It draws on a wealth of shared experience in critical community psychology praxis and is an essential resource for all community based professionals working with excluded or marginalised communities."
Steve Melluish, University of Leicester
"This book stands out from the crowd of community psychology textbooks – it is a fascinating, compelling read, brought to life with practical examples from the authors' rich experience, all the while educating us in critical thinking. If you want to learn about how to do community psychology, this is the book for you!"
Flora Cornish, Editor, Journal of Community & Applied Social Psychology & Reader, Glasgow Caledonian University
See More
Instructors Resources
Digital evaluation copy available for this title
Request Copy

Contact your Wiley Representative
Find Your Rep

See More
See Less
Purchase Options
Paperback
Critical Community Psychology
ISBN : 978-1-4051-8884-5
394 pages
May 2011, ©2011

Information about Wiley E-Texts:
Wiley E-Texts are powered by VitalSource and accessed via the VitalSource Bookshelf reader, available online and via a downloadable app.
Wiley E-Texts are accessible online and offline, and can be read on a variety of devices, including smartphones and tablets.
Wiley E-Texts are non-returnable and non-refundable.
Wiley E-Texts are protected by DRM. For specific DRM policies, please refer to our FAQ.
WileyPLUS registration codes are NOT included with any Wiley E-Text. For informationon WileyPLUS, click here .
To learn more about Wiley E-Texts, please refer to our FAQ.

Information about e-books:
E-books are offered as e-Pubs or PDFs. To download and read them, users must install Adobe Digital Editions (ADE) on their PC.
E-books have DRM protection on them, which means only the person who purchases and downloads the e-book can access it.
E-books are non-returnable and non-refundable.
To learn more about our e-books, please refer to our FAQ.
More in this series