Textbook
An Introduction to Developmental Psychology, 2nd Edition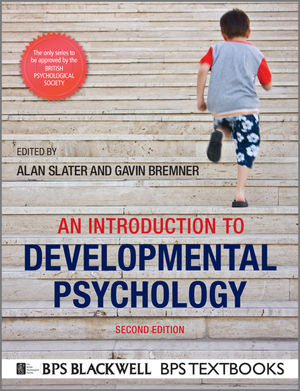 An Introduction to Developmental Psychology
is a representative and authoritative 'state of the art' account of human development from conception to adolescence. The text is organised chronologically and also thematically and written by renowned experts in the field, and presents a truly international account of theories, findings and issues.  The content is designed with a broad range of readers in mind, and in particular those with little previous exposure to developmental psychology.
For the second edition, An Introduction to Developmental Psychology is now part of the BPS Blackwell series - the only series to be approved by the British Psychological Society.
See More
List of Contributors xxiii
Preface to Second Edition xxv
Part I INTRODUCTION 1
1 The Scope and Methods of Developmental Psychology 3
Alan Slater, Scott P. Johnson, and Darwin Muir
2 Theories and Issues in Child Development 41
Scott P. Johnson, Alan Slater, and Ian Hocking
3 The Nature–Nurture Issue (an Illustration Using Behaviour-Genetic Research on Cognitive Development) 79
Elisa A. Esposito, Elena L. Grigorenko, and Robert J. Sternberg
PART II INFANCY 115
4 Prenatal Development 117
Christine Moon and William P. Fifer
5 Perception, Knowledge, and Action in Infancy 149
J. Gavin Bremner
6 Emotional Development and Attachment Relationships 183
Elizabeth Meins
7 Social Interaction and the Beginnings of Communication 217
H. Rudolph Schaffer
8 The Development of Self and Gender 243
Wendy Lawrenson
PART III CHILDHOOD 285
9 Cognitive Development 287
Margaret Anne Defeyter
10 The Development of Language 319
Heather M. Hill and Stan A. Kuczaj II
11 Acquiring a Theory of Mind 357
Peter Mitchell
12 Reading and Mathematics in Developmental Psychology 385
Peter Bryant
13 Memory Development and Eyewitness Testimony 417
Stephen J. Ceci, Stanka A. Fitneva, Cagla Aydin, and Nadia Chernyak
14 Play and the Beginnings of Peer Relationships 453
Peter K. Smith
15 Prosocial Tendencies, Antisocial Behaviour, and Moral Development in Childhood 487
Daniel Hart, Nyeema Watson, Anandini Dar, and Robert Atkins
PART IV ADOLESCENCE 515
16 Cognitive Development in Adolescence 517
Kang Lee, Gizelle Anzures, and Alejo Freire
17 Social Development 551
William M. Bukowski, Tanya Bergevin, and Richard Miners
PART V PRACTICAL ISSUES 585
18 Educational Implications 587
Alyson Davis and Naomi Winstone
19 Risk and Resilience in Development 613
Leslie Morrison Gutman and Eirini Flouri
20 Social Problems in Schools 649
Peter K. Smith and Julian Elliott
21 Atypical Development 681
Sarah Norgate
Glossary 717
Names Index 747
Subject Index 757
See More
Additional chapters to fit within the current BPS syllabus in developmental psychology, including coverage of infants' and children's cognitive development, social development, gender socialisation and the development of identity, as well as covering atypical development, schooling issues, and risk and resilience.
New and enhanced full-colour page design
See More
Written to an understandable level by an international team of respected researchers, conveying their knowledge with enthusiasm and skill
Full supporting materials – chapter overviews, discussion questions, suggestions for further reading, and glossary
Chapters covering applied issues in developmental psychology
See More
"Slater and Bremner's
Introduction to Developmental Psychology
is a terrific new textbook. It will likely become the preferred choice for undergraduate courses in Developmental Psychology. Leading researchers in their respective areas of expertise have prepared the chapters, and while multi-authored texts can sometimes suffer from a lack of unity, this one has been skillfully edited so as to provide a coherent narrative. Other strong features include: (1) use of major theories as organizers of factual information, (2) excellent coverage of relevant empirical work with a nice balance of classic experimental findings reviewed alongside the latest research findings, and (3) sophisticated insights on the question of how the our knowledge of child development can be applied to improve the lot of children in the areas of parenting, schooling, and treatment of childhood disorders."
Professor Paul Quinn, Washington and Jefferson College, Washington
"an informative textbook that undergraduates and postgraduates would benefit from ... It is a definite choice for my reading list." Janine Spencer, Brunel University, The Times Higher Education Supplement, March 26 2004

"In this new Introduction to Developmental Psychology richly illustrated chapters cover infancy, childhood, and adolescence in a concise and stimulating way. In the first section of the book, developmental theory and methodology is discussed with special emphasis on the complex nurture-nature transactions shaping the child's development. In a closing section educational and clinical implications of developmental research are presented. Leaders in the field document the tremendous advances made in developmental psychology that now is coming of age. This Introduction is truly international in presenting not only American but also European contributions to developmental science. Undergraduate students are supported in their study of this book by the lists of key-concepts, and the overview with which each chapter starts. Anecdotes about children, graphs of empirical results, pictures of experimental apparatus, and a set of discussion points at the end of each chapter facilitate the students' understanding of developmental achievements. The combined efforts of specialists in their respective fields lead to an Introduction which at the same time is a balanced and comprehensive state-of-the-art of current developmental psychology." Professor Marinus Van IJzendoorn, Leiden University

"If you are looking for an introduction to developmental psychology that is rigorous, thoughtful and comprehensive, look no further. Two distinguished British psychologists - Alan Slater and Gavin Bremner have assembled an international set of experts to bring you the latest and the best research from virtually every corner of this exciting field. Students new to the subject - and teachers who have taught it for many years - will both enjoy this innovative text." Paul Harris, Harvard Graduate School of Education

"The book looks to be singularly easy to teach from. The diversity of psychology has been coped with by a selection of research-oriented writers. Manageable chunks of interesting information have been organised through firm editorial control." Norman Freeman, Professor of Psychology, University of Bristol
See More
"As with the first edition, the second edition of An Introduction to Developmental Psychology offers an excellent focus on research from infancy through adolescence, with chapters written by experts in the field.  It is great to see the addition of the new and interesting chapters covering the development of self and gender as well as risk and resilience.  Slater and Bremner have done an outstanding job in editing this text to ensure that the content is thorough, engaging, comprehensive and up to date."
Dr Dawn Watling, Royal Holloway, University of London
"This text sets out both what is enduring and what is new in the science of developmental psychology.  It introduces fundamental theoretical issues as well as important applications in the classroom, the courtroom and the clinic.  Students who read this text will get a clear sense of the range and excitement of the field."
Paul Harris, Professor of Human Development and Psychology, Harvard Graduate School of Education
See More
Instructors Resources
Contact your Wiley Representative
Find Your Rep

See More
See Less
Purchase Options
Paperback
An Introduction to Developmental Psychology, 2nd Edition
ISBN : 978-1-4051-8652-0
800 pages
August 2011, ©2010

Information about Wiley E-Texts:
Wiley E-Texts are powered by VitalSource and accessed via the VitalSource Bookshelf reader, available online and via a downloadable app.
Wiley E-Texts are accessible online and offline, and can be read on a variety of devices, including smartphones and tablets.
Wiley E-Texts are non-returnable and non-refundable.
Wiley E-Texts are protected by DRM. For specific DRM policies, please refer to our FAQ.
WileyPLUS registration codes are NOT included with any Wiley E-Text. For informationon WileyPLUS, click here .
To learn more about Wiley E-Texts, please refer to our FAQ.

Information about e-books:
E-books are offered as e-Pubs or PDFs. To download and read them, users must install Adobe Digital Editions (ADE) on their PC.
E-books have DRM protection on them, which means only the person who purchases and downloads the e-book can access it.
E-books are non-returnable and non-refundable.
To learn more about our e-books, please refer to our FAQ.
More in this series