Textbook
Evolutionary Psychology: A Critical Introduction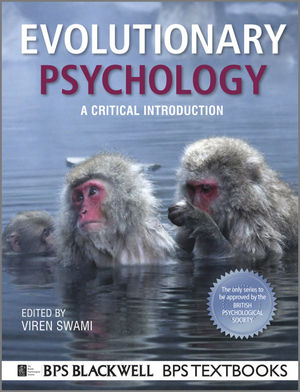 The last decade has witnessed an exciting change in our understanding of the way in which the mind operates and the reasons behind a myriad of human behaviours. The traditional idea that nurture trumps nature in explanations of human behaviour has been supplanted by the evolutionary argument that human beings share evolved mental architectures that govern their behaviour.
This volume is an introduction to evolutionary approaches to psychology, bringing together seminal work in the field and exploring the ways in which evolutionary psychological research can illuminate our understanding of human behaviours and nature. Together, the chapters in this volume present a fresh perspective on evolutionary approaches to psychology, critically evaluating the extant literature while maintaining the need for evolutionary psychologies.
See More
Chapter 1: Evolutionary Approaches to Behaviour.
Chapter 2: The Evolution of Cognition.
Chapter 3: Cooperation as a Classic Problem in Behavioural Biology.
Chapter 4: Mate Choice and Sexual Selection.
Chapter 5: The Evolutionary Psychology of Human Beauty.
Chapter 6: Life History Theory and Human Reproductive Behaviour.
Chapter 7: Parenting and Families.
Chapter 8: Personality and Individual Differences.
Chapter 9: Social Cognition and Psychoses: The Imprinted Brain Theory.
Chapter 10: Interactions Between Cognition and Culture.
Chapter 11: The Future of Evolutionary Psychology.
See More
Viren Swami trained as an evolutionary psychologist, and for his doctorate examined the roles that body shape and weight play in judgements of physical attractiveness across cultures. Viren's current research in the area focuses on the influence of evolution, culture, and individual psychology on perceptions of human beauty, and his work has been widely discussed in national and international media. Viren is also currently conducting research in other fields of interpersonal attraction, including identifying predictors of positive body image, the effect of romantic love on partner perceptions, weight-based discrimination, and the history of beauty in art and sculpture. Other current projects include research on sociocultural adjustment among sojourners, and cross-cultural differences in lay beliefs about various topics, including intelligence, conspiracy theories, mental illness, and extraterrestrial life.
See More
Written by key scholars in the field
Full compliant with the BPS syllabus
Critical evaluation of the literature from different evolutionary perspectives
See More
"This book is a refreshing and contemporary contribution to the field, and focuses on some of the most interesting recent developments in evolutionary psychology.  The content is given appropriate historical context, and the necessarily multi-disciplinary nature of evolutionary psychology is clear throughout.  Written by leading and productive figures, this text will be of great value to students interested in the evolution of human behaviour and cognition."
Dr Bridget Waller, University of Portsmouth
See More
Instructors Resources
Request a print evaluation copy
Contact us

Contact your Wiley Representative
Find Your Rep

See More
See Less
Purchase Options
Paperback
Evolutionary Psychology: A Critical Introduction
ISBN : 978-1-4051-9122-7
388 pages
February 2011, ©2010

Information about Wiley E-Texts:
Wiley E-Texts are powered by VitalSource and accessed via the VitalSource Bookshelf reader, available online and via a downloadable app.
Wiley E-Texts are accessible online and offline, and can be read on a variety of devices, including smartphones and tablets.
Wiley E-Texts are non-returnable and non-refundable.
Wiley E-Texts are protected by DRM. For specific DRM policies, please refer to our FAQ.
WileyPLUS registration codes are NOT included with any Wiley E-Text. For informationon WileyPLUS, click here .
To learn more about Wiley E-Texts, please refer to our FAQ.

Information about e-books:
E-books are offered as e-Pubs or PDFs. To download and read them, users must install Adobe Digital Editions (ADE) on their PC.
E-books have DRM protection on them, which means only the person who purchases and downloads the e-book can access it.
E-books are non-returnable and non-refundable.
To learn more about our e-books, please refer to our FAQ.
More in this series