Textbook
Tasting Success: Your Guide to Becoming a Professional Chef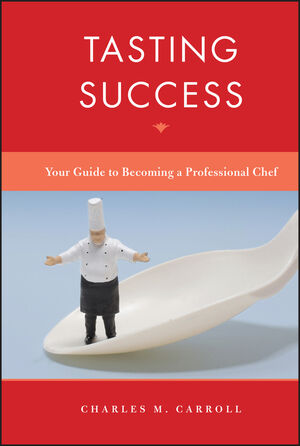 Tasting Success: Your Guide to Becoming a Professional Chef
is for every student in the beginning months of their education, or every new employee just starting out in a new hospitality job. It will be an asset to any introductory course in culinary, foodservice, or the hospitality industry, as well as a benefit for career planning or career development courses, intern or externships, leadership, and organizational development classes, or self study.
In this book, Chef Charles Carroll expertly coaches students on how to attack their time and plan their future, while giving them encouragement and words of wisdom along the way to ensure success. With its no nonsense, upbeat, and inspiring style, Tasting Success: Your Guide to Becoming a Professional Chef outlines the most important, tangible decisions a young culinary professional can make now to achieve lifelong success, and provides the essential career map every young professional needs to travel the road to culinary career success!

See More
Foreword vii
Preface ix
Introduction: What's Your Plan? xv
Chapter 1 Stickability 1
The Story of Stickability as Told Chef John Folse 4
Interview Champ George Foreman 9
Chapter 2 Focusing on Your First Year at School 12
Interview Chef Paul Prudhomme 23
Chapter 3 Work Ethic and Habits 26
Interview Coach Bela Karolyi 37
Chapter 4 Time Management 40
Interview Chef Sam Choy 55
Chapter 5 Choosing Your Externship 58
Interview Chef Norman Van Aken 69
Chapter 6 Your Culinary Investment 75
Interview Mrs. Joanne Herring 83
Chapter 7 Completing Your Degree 87
Interview Chef Monica Pope 94
Chapter 8 The Real World 97
Interview Charlie "The Razor" Frazier 103
Chapter 9 Achieving Success 108
Interview Coach Rudy Tomjanovich 120
Collection of Quotes 125
Index 135
See More
Invaluable lessons and inspirational life stories from champions in the culinary world, the world of sports, and the world stage

Real-life advice from an author who knows and values what it takes to be a success in this business

A Game Plan to put the tools discussed within each chapter into action for your success
See More
Purchase Options
Hardcover&nbsp&nbsp&nbsp
Tasting Success: Your Guide to Becoming a Professional Chef
ISBN : 978-0-470-58154-4
160 pages
August 2010, ©2011

Information about Wiley E-Texts:
Wiley E-Texts are powered by VitalSource technologies e-book software.
With Wiley E-Texts you can access your e-book how and where you want to study: Online, Download and Mobile.
Wiley e-texts are non-returnable and non-refundable.
WileyPLUS registration codes are NOT included with the Wiley E-Text. For informationon WileyPLUS, click here .
To learn more about Wiley e-texts, please refer to our FAQ.

Information about e-books:
E-books are offered as e-Pubs or PDFs. To download and read them, users must install Adobe Digital Editions (ADE) on their PC.
E-books have DRM protection on them, which means only the person who purchases and downloads the e-book can access it.
E-books are non-returnable and non-refundable.
To learn more about our e-books, please refer to our FAQ.
This title is also available on :