Textbook
Introducing Physical Geography, 5th Edition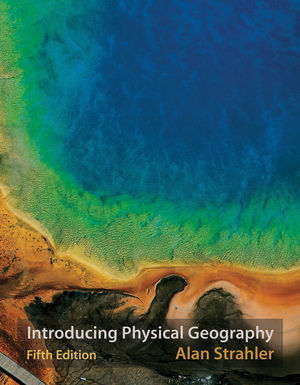 Introducing Physical Geography, Fifth Edition is a comprehensive text that builds upon the decades of success of Strahler, who is one of the foremost geographers in the world. This new fifth edition includes all new sections with the capabilities of connecting to multimedia and covers new updates to the subject area. The text also includes current examples of environmental phenomena relating to the global changes. The readability of the text has been enhanced with new placements of boxed features and supplementary material.
See More
Intro Pt 1: Introducing Physical Geography
Intro Pt 2: Tools of Physical Geography
Chapter 1 The Earth as a Rotating Planet
Chapter 2 The Earth's Global Energy Balance
Chapter 3 Air Temperature
Chapter 4 Atmospheric Moisture and Precipitation
Chapter 5 Winds and the Global Circulation
Chapter 6 Weather Systems
Chapter 7 Global Climates
Chapter 8 Biogeographic Processes
Chapter 9 Global Biogeography
Chapter 10 Global Soils
Chapter 11 Earth Materials and Plate Tectonics
Chapter 12 Volcanic and Tectonic Landforms
Chapter 13 Weathering and Mass Wasting
Chapter 14 Fresh Water of the Continents
Chapter 15 Landforms Made by Running Water
Chapter 16 Landforms Made by Waves and Wind
Chapter 17 Glacial Landforms and the Ice Age
App 1 Climate Definitions and Boundaries
App 2 Conversion Factors
App 3 Topographic Map Symbols
Glossary
Photo Credits
Index
See More
Geographer's Tools now separated as its own introductory chapter
More photos, including satellite images
Expanded coverage of global change
New organization with streamlined content in Earth Materials, Plate Tectonics and Volcanic & Landforms chapters
See More
Putting You In The Picture
features involve the student and personalize the study of geography.
The Visualization theme uses illustrations, word pictures, and multimedia to help students form lasting visual images of the processes of physical geography.
Test Your Knowledge boxes found at the end of each chapter guides students to additional assessment questions and complimentary resources available in WileyPLUS (for more information on Wiley's online management system, click on the WileyPLUS tab above).
See More
Instructors Resources
ENHANCE YOUR COURSE
Digital evaluation copy available for this title
Request Copy

Contact your Wiley Representative
Find Your Rep

See More
See Less
Students Resources
See More
See Less
Purchase Options
Introducing Physical Geography, 5th Edition
ISBN : 978-0-470-47316-0
July 2010, ©2009
Paperback&nbsp&nbsp&nbsp
Introducing Physical Geography, 5th Edition
ISBN : 978-0-470-13486-3
656 pages
March 2010, ©2011
Paperback&nbsp&nbsp&nbsp
Introducing Physical Geography 5th Edition with National Geographic EarthPulse Set
ISBN : 978-0-470-57907-7
August 2009, ©2009

Information about Wiley E-Texts:
Wiley E-Texts are powered by VitalSource technologies e-book software.
With Wiley E-Texts you can access your e-book how and where you want to study: Online, Download and Mobile.
Wiley e-texts are non-returnable and non-refundable.
WileyPLUS registration codes are NOT included with the Wiley E-Text. For informationon WileyPLUS, click here .
To learn more about Wiley e-texts, please refer to our FAQ.

Information about e-books:
E-books are offered as e-Pubs or PDFs. To download and read them, users must install Adobe Digital Editions (ADE) on their PC.
E-books have DRM protection on them, which means only the person who purchases and downloads the e-book can access it.
E-books are non-returnable and non-refundable.
To learn more about our e-books, please refer to our FAQ.
This title is also available on :